The Enduring Nostalgia of Hawaii's Historic Drive-In Restaurants
These Oahu restaurants have stood the test of time to become beloved icons in Hawaii's culinary history.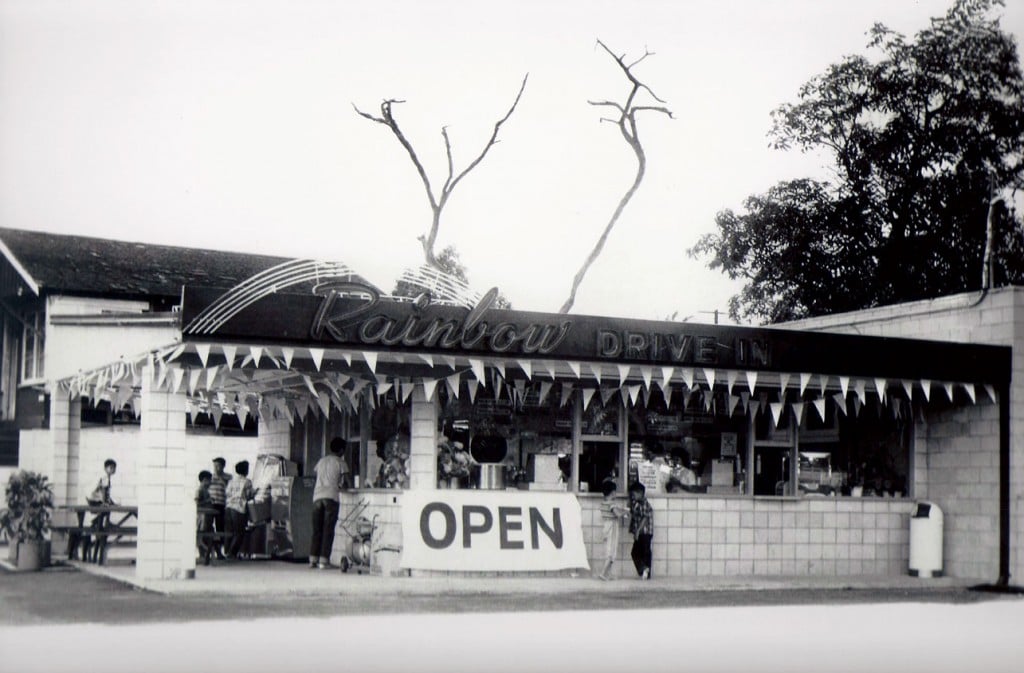 Drive some of Hawaii's main thoroughfares and you might notice a curious thing: The presence of restaurants declaring themselves "drive-ins," although that is clearly not the case. An idea popularized in the 1950s across America and recreated in the Islands with local-style plate lunches, loco moco and saimin, Hawaii drive-in restaurants now operate as traditional diners or take-out counters, but the name remains, preserving memories of a bygone era.
Long gone are the carhops wearing colorful uniforms and serving food to customers in their cars, but these restaurants have stuck around and a few continue to thrive. Perhaps it's the appeal of their simple, reasonably priced food, or maybe it's the nostalgia of a place frequented by generations of local eaters. Beneath the faded paint, hand-lettered signs and well-used grill is a long legacy of sated appetites and a name that many owners have decided not to change, representing a comfortable and familiar link between present and past.
Like Like Drive Inn on Keeaumoku Street in Honolulu was started by James and Alice Nako in 1953. The Nakos capitalized on the soon-to-be-built Ala Moana Shopping Center nearby, starting a family owned and operated tradition of affordable meals that has lasted for over 60 years. And even though it was converted to a restaurant in the '60s, and the building was completely remodeled in 1994, some things, such as the food and the distinctive, historic neon sign outside the restaurant, have never changed.
"We are fortunate to have that sign still there because everything around us has changed," says their daughter Dora Hayashi, current owner of the establishment with her husband, Roy. "For people to recognize that we're still here, we decided to keep our name. I asked my husband why, and he said, 'Nostalgia.' People who know us came to the restaurant as children with their parents and they still remember."
For the Hayashis, the restaurant is a family project they hope continues. "I'm glad my two daughters are taking over—they will be the third generation," she says.
Perhaps the most widely known Hawaii brand that started as a drive-in restaurant is L&L Hawaiian Barbecue. Its original L&L Drive Inn Liliha location in 1976 advertised "Bar-B-Que Hamburgers, Fries, Chili and Saimin." With the addition of franchising in 1988, it soon grew into a chain with locations throughout the Islands, until 1999, when its founders, Johnson Kam and Eddie Flores Jr., introduced L&L's Hawaii-style plate lunches to California. Now there are approximately 200 L&L Hawaiian Barbecue restaurants in Hawaii, the continental U.S., Guam, New Zealand, Japan, Malaysia, Indonesia and the Philippines. Aware of the different expectations as to what constitutes a "drive-in," the owners changed the name of the restaurant to L&L Hawaiian Barbecue to better reflect its island origin.
Rainbow Drive-In, founded in 1961 by Seiju "George" Ifuku and his wife Ayako, is an iconic restaurant on Kapahulu Avenue, right outside of Waikiki. Besides being one of President Barack Obama's regularly reported stops while on Oahu, the classic drive-in was featured on Food Network's "Diners, Drive-Ins and Dives," which won it an increasing number of fans. Co-owner Jim Gusukuma inherited the restaurant from his in-laws after 20 years as a customer service manager for United Airlines, and dedicated himself to keeping the original Kapahulu Avenue restaurant both nostalgic for his loyal regulars and relevant for a new era of social media foodies and bloggers.
"Our basic recipes and plates are still the same as when we started 50-plus years ago," says Gusukuma. "We're kind of like home base."
A few other things haven't changed. The old-fashioned to-go boxes and the plates the food is served on, for one. "It's less cost-effective, but we do it because it's an expectation of our customers. For me personally, a plate lunch has got to be served on a plate," Gusukuma says. "We don't charge tax, either, never have. It's figured into the final price on the menu. The real reason is that my father hated pennies, and didn't want to deal with them."
"It's a very exciting time in Honolulu right now, because of the great diversity of food, and the younger chefs are not afraid to try different things. We've got to figure out where we fit into that mix," Gusukuma adds. "In the long run, we're trying to stay faithful to our roots and do what we know best."
---
Like Like Drive Inn, 745 Keeaumoku St., Honolulu, (808) 941-2515, likelikedriveinn.com. (Closed in 2020.) L&L Hawaiian Barbecue, various locations and times, hawaiianbarbecue.com. Rainbow Drive-In, 3308 Kanaina Ave., Honolulu, (808) 737-0177, rainbowdrivein.com. Open daily, 7 a.m. to 9 p.m.