The Fascinating Origins Behind 7 Famous Hawaiian Place Names
What they mean and what they tell us about a place's history and culture.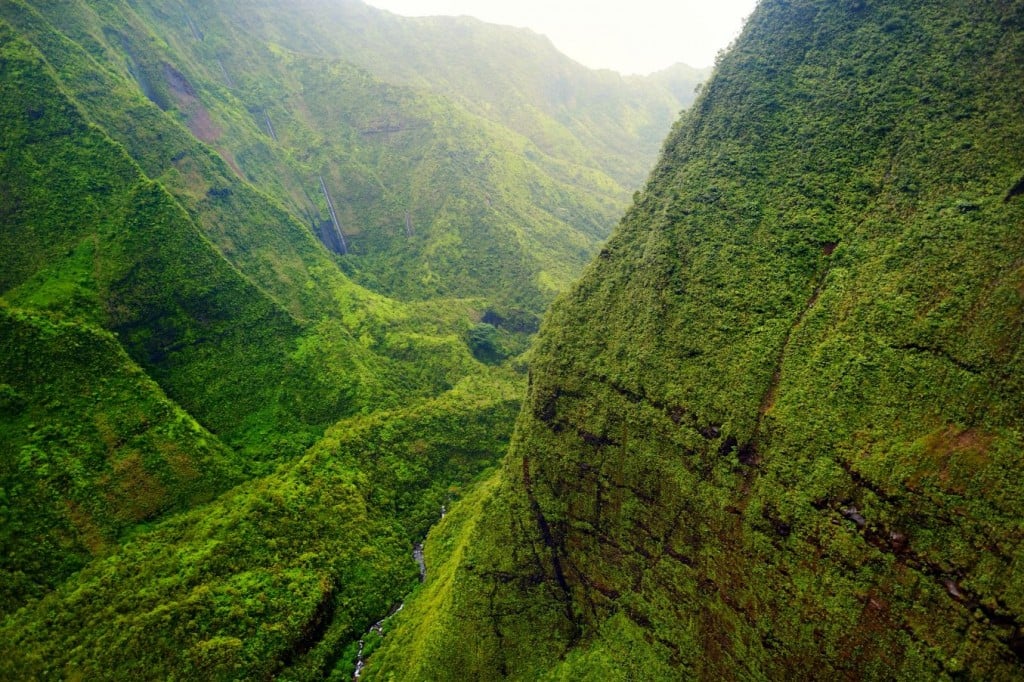 What's in an outdoor name?
Many people know the story of how Diamond Head got its English-language name—19th-century British sailors initially mistook calcite crystals on its slopes for the precious stone. The Oahu volcanic crater's original name, however, was Leahi, bestowed by Hawaiians who thought the crater's shape resembled the dorsal fin of a tuna. (Diamond Head also claims the Hawaiian name Kaimanahila, or "diamond hill.") Knowing the meaning of place names in Hawaii, where history and mythology often intertwine, adds depth and perspective to our travels here.
"Every Hawaiian place name has a moolelo, or backstory, that explains why the place was called what it's called," says John R.K. Clark, author of multiple Hawaii outdoor books. "Place names capture the history and the culture of the people who coined them. They help us to understand what life was like and what was important at the time they were given."
In the spirit of that thought, seeking to add some cool knowledge to future outdoor journeys and, well, out of pure curiosity, we looked into the name origins of seven well-known Hawaii places.
Iao
Valley and rock formation, Maui
The word iao, on its own, means "cloud supreme" in Hawaiian. The name may have originated with the verdant valley's near-omnipresent cloud cover, largely provided by the equally emerald surrounding West Maui Mountains. The valley, now a 4,000-acre state park, is sacred and culturally significant. Remains of the highest Hawaiian alii (royalty) are believed buried in secret places. On a ridge near the mouth of valley-coursing Iao Stream are two important heiau (temples), Halekii and Pihana. Iao was also the site of the Battle of Kepaniwai, during which the army of Maui chief Kalanikupule fell to the forces of King Kamehameha the Great in 1790, leading to the unification of the Hawaiian Islands. Iao Needle, the spire-like natural ridge rising 1,200 feet from the valley's floor, was originally given the not-terribly-flattering name Kukaemoku by early Hawaiians. Its meaning? Broken excreta.
Puu Pehe
Offshore rock formation, Lanai
One of Lanai's most famous—and most photographed—natural landmarks, Puu Pehe, aka Sweetheart Rock, rises 80 feet from the offshore shallows between Hulopoe and Manele bays on the island's south side. The Hawaiian name for this sea stack literally means "owl trap hill," with some believing it was once home to a shrine for bird hunters. A more famous name origin story for Puu Pehe is rooted in Hawaiian legend, which tells of a beautiful Maui girl of similar name who was captured by a young warrior from Lanai. Afraid of losing her, he brought Puu Pehe to the area's cliffs and kept her hidden in a sea cave. One day, a storm arose on a day he'd left the cliffs. Huge waves devastated the cave and drowned his beloved. Stricken with grief, the warrior retrieved her body and carried it to the top of the steep rock formation for burial before leaping to his death in the ocean below.
Polihale
Beach, Kauai
Some confusion exists about the name meaning of this remote beach on Kauai's west side. Polihale has been translated as hale (house) of po (which has multiple meanings, including "realm of the gods")—the thought being that the beach's north cliff faces were a leaping place for departing souls. Its more likely meaning, however, is its literal translation, "house bosom," with the use of both words here representing a place of birth or a source of life. A legend about the beach tells of a pahapaha ("sea lettuce") that grows in Polihale's offshore waters and possesses a special quality: after being dried out, it can be revived to its original freshness when submerged in water. According to Hawaiian moolelo, the sea goddess Namaka gave the lettuce this rejuvenation quality and only Polihale pahapaha can do this. The story appears frequently in Kaua'i mele (songs and chants), including the Hawaiian music standard "Pua Mamane."
Waipio
Valley, Hawaii Island
Look at an aerial map of Waipio and you'll quickly notice the curve of the bay fronting the fertile valley and meandering Wailoa, Nanaue and Hiilawe streams snaking across its vast floor. Small wonder that the name of the massive valley, situated on Hawaii Island's northeastern Hamakua coastline, means "curved water" in Hawaiian. One of several lush, isolated coastal valleys carved into long-extinct Kohala mountain, Waipio is often called Valley of the Kings because of its long history as a place of residence for many Hawaiian alii. The valley floor was also once the largest wetland kalo (taro) cultivation site on the island. Today, kalo is grown only in a small portion of the valley, mostly by farmers who commute from homes outside the valley.
Waialeale
Mountain and extinct volcano, Kauai
Its summit now designated by multiple modern scientific sources as one of the rainiest places on earth, Mount Waialeale's perpetual precipitation was recognized centuries before by Hawaiians who gave the volcano the name meaning "rippling or overflowing water." (Waialeale was actually first the name of a small lake on the summit.) The island-dominating shield volcano, rising 5,148 feet above sea level, has averaged more than 450 inches of rainfall annually since 1912, according to summit rain gauges. Limited access routes make reaching Waialeale's near-always rainy summit a challenge for botanists, surveyors and hardy hikers. The summit remains of a heiau, however, are testament that early Hawaiians made the climb at least annually, likely to present offerings to Kane, one of their most exalted deities.
Puuloa/Wai Momi
Lagoon and estuary, Oahu
The Oahu natural lagoon now known as Pearl Harbor was given two names by early Hawaiians: Puuloa, or "long hill," and "Wai Momi," meaning "waters of pearl." According to writer Michael Walther's book, "Pearls of Pearl Harbor and the Islands of Hawaii," Hawaiians would harvest the lagoon's abundance of oysters to eat and use their mother-of-pearl shells for fishhooks and adornments. It's likely they didn't realize the monetary value of the momi (pearls) inside, but European settlers in the 1770s did. When Kamehameha the Great learned the value of momi, he declared all of the lagoon's oysters his own and made oyster gathering an act punishable by death. Harbor development in the 1840s choked Wai Momi with silt and debris, killing much of its oyster population by 1901.
Halawa
Valley and waterfall, Molokai
One of the largest of six coastal valleys on Molokai's north shore and the only one accessible by road, Halawa's name can be traced to two origins: its literal meaning and translation, "curved," perhaps referring to its naturally twisting stream, and "ample taro stems," shedding light on the agricultural history of the culturally significant amphitheater valley. Polynesian voyagers are believed to have settled in Halawa as early as 650 A.D., drawn to its size (a half-mile wide and extending two miles inland from the ocean) and plentiful water. Halawa Ohana Loi Kalo, a family of taro farmers who still reside in the valley, recounts that irrigated taro terraces here once numbered more than 1,500. The French naturalist Jules Remy, who visited Halawa in 1854, compared the valley and its loi kalo to Waipio ("curved water," remember?) on Hawaii Island. Halawa supplied most of the taro for Molokai and parts of Maui well into the 1800s.