The Hidden Taco Truck You Need to Find on the Road to Hana
Garden Café's got your back when you're feeling hangry on the Road to Hana.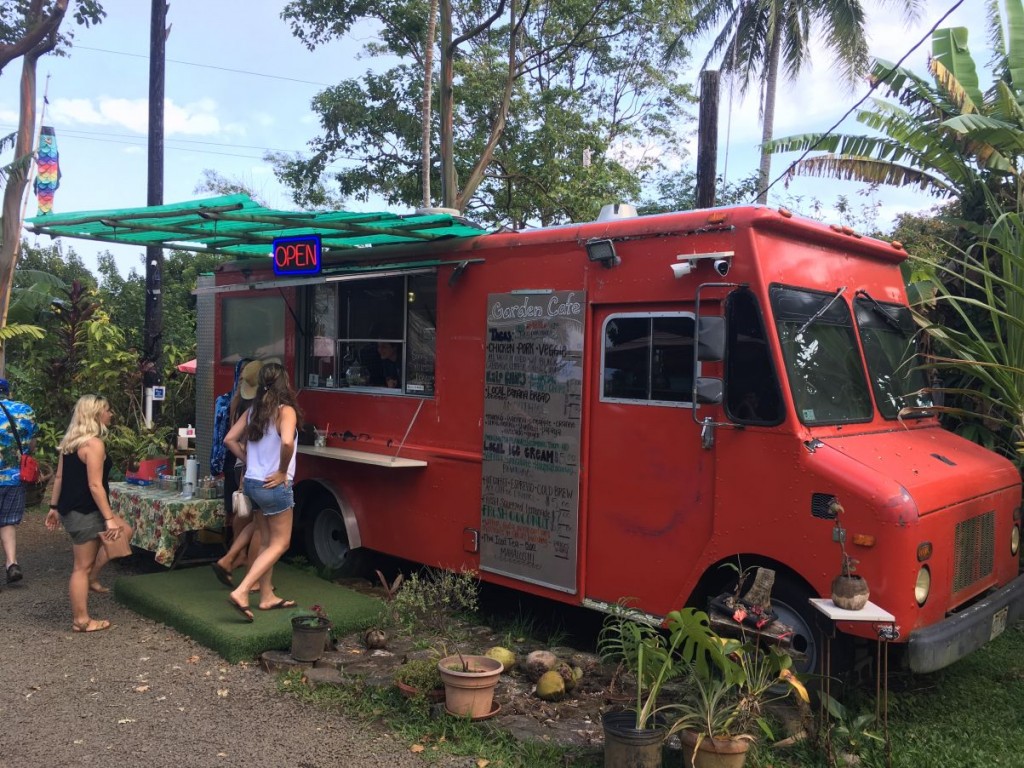 The Road to Hana is a long and arduous journey, packed with twists and turns and plenty of stops. Around the 10-mile marker, when the waterfall hikes have got you feeling tired and hungry, take a break from the road and turn into the Garden of Eden. Here, you'll find the Garden Café, a bright red taco truck sitting at the entrance to the arboretum, shaded by a colossal rainbow eucalyptus, and ready to quell the hunger many travelers feel on the East Maui road.
Let's be honest, the tacos are a bit pricey at $9 each, but after throwing down the cash ($58 for 5 tacos, a banana bread and smoothie), we can vouch for their worthiness. The tacos are loaded with your choice of meat or veggies, black beans, cabbage, cheese, salsa and a generous dollop of avocado, with many of the ingredients coming from a Wailuku farm that's owned and operated by Garden Café's owner, Tim Bachand.
Its seating area looks like a full-sized fairy garden, where statues and fountains are complemented by natural greenery, and its sizable parking lot has got to be the easiest place to park on the Road to Hana. To supplement your meal or to have as a snack on the go, the sweet banana bread, brushed with coconut oil, and fresh fruit smoothies are also a must. You'll have a filling meal that will get you ready to go back out and conquer the road, although you may want to take your time and reconnect with the outside world when you learn that the Garden Café also offers free Wi-Fi.
When you're done, consider walking the garden (there's a $15 admission) before you go, but don't feed the wild peacocks that roam the property, or they won't leave you alone.
Open Monday through Sunday, 8 a.m. to 4:30 p.m., 10600 Hana Hwy., between Mile Markers 10 and 11, mauigardenofeden.com/garden-cafe.