The Latest Buzz in Massage Treatments is Now at The Kahala Spa
The luxe spa's new signature treatment, Hemp Recovery Remedy, uses hemp-infused products to relax and restore your body. And yes, it's legal.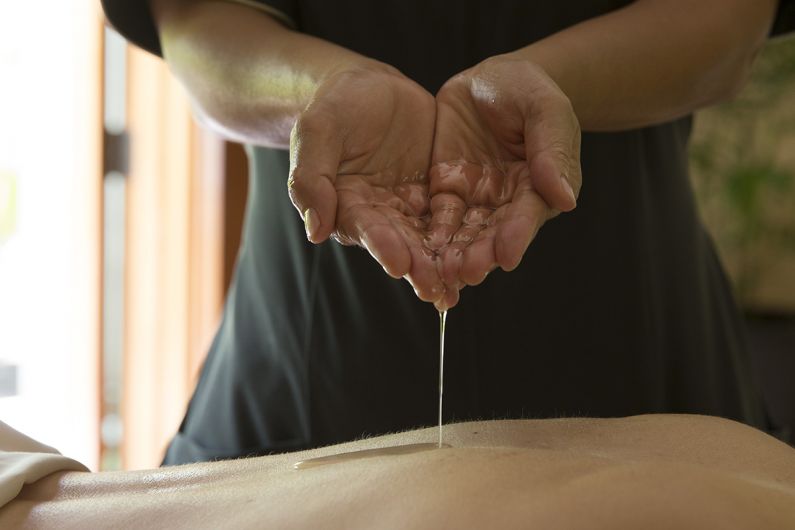 Last year we started hearing about a new massage treatment offered at the spa at The Kahala Hotel & Resort—and it had a lot of buzz around it. No pun intended.
The buzz surrounded the use of high-quality oil derived from organic industrial hemp plans grown in Colorado. The new 90-minute Hemp Recovery Remedy treatment utilizes a few hemp-infused products from Colorado-based Mary's Nutritionals that help clients with muscle fatigue and stiff joints.
"This is the newest thing to hit us for quite awhile," says Gloria Ah Sam, spa and wellness director for The Kahala Hotel & Resort, the first Hawaii resort spa to offer a treatment using hemp products.
Hemp oil is extracted from the seeds of industrial hemp plants and used most often in lotions and soaps. (CBD, short for cannabidiol, oil, is extracted from the flower and leaves of the hemp plant. It's a naturally occurring chemical in marijuana and is non-psychoactive.) Hemp oil has been thought to do everything from moisturizing your skin to aiding sleep.
The spa decided to offer these hemp-infused products last May to help with muscle restoration and relaxation. Even the massage therapists who use these products on guests say their hands don't hurt as much at the end of the day. Win-win!
The 90-minute treatment starts with the spa's signature foot ritual, beginning with a foot soak in a bowl of warm water and Hawaiian alaea sea salt and followed by an aromatic foot scrub that's equal parts relaxing and necessary. As you sit here in one of the spa's spacious Balinese-style rooms, there's a cold oshibori (wet towel) infused with kinehe flower essence covering your eyes. It's a good day.
The massage incorporates stretching, deep-tissue pressure and a full-body massage—using three different Mary's Nutritionals: Muscle Freeze, with a soothing and cooling effect; hemp-infused massage oil; and Elite Compound, which is applied to muscles, joints or any tender area.
I can feel the cooling sensation almost immediately—so much so the once-comfortable room gets suddenly colder and I'm glad the massage table has a warming function.
The therapist uses long, even strokes with the right amount of pressure to work out any tension in my muscles. She focuses on pressure points and can immediately tell that I spend most of my time hunched over a computer—true—and, from my tight calves, probably use my legs a lot, too. (Also true; I hike.)
Her movements are rhythmic and thoughtful, and my body eases into a state of relaxation that feels like I've been on vacation for a week instead of an hour. We casually chat about our favorite vegan dishes and ways I can relieve my neck tension (lying on my back on a pillow at night should help) and I can't seem to recall anything about the meeting I just had right before the massage. It's gone—just like the pain in my right shoulder and lower back.
Friends who have had this treatment had warned me: Don't have anything planned for the rest of the day. You won't be in any shape to work. You'll be too relaxed. And normally I believe I can power through anything, including a midday massage.
Let's just say I took the rest of the day off.
$325 for 90 minutes, The Kahala Spa, 5000 Kahala Ave., Honolulu, (808) 739-8938, kahalaresort.com/experiences/spa-wellness