The long-awaited Culinary Institute of the Pacific opens, offering new opportunities for students
The new campus will teach students to make all kinds of cuisines and handle the challenges of running a business.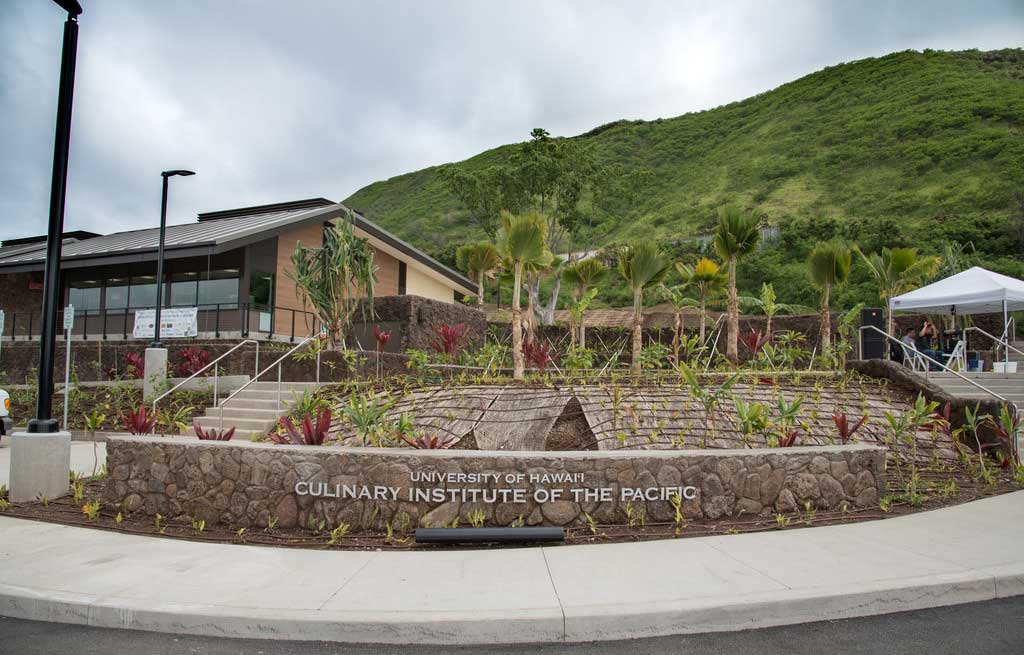 This past fall, the Culinary Institute of the Pacific (CIP), the University of Hawaii's flagship culinary campus, opened. "It's beautiful," says Kapiolani Community College culinary arts professor Alan Tsuchiyama of the $25 million dollar, 7.8-acre culinary facility on the slopes of Diamond Head. "The stoves, ovens and burners are all modular: you can unplug each unit to make the kitchen more versatile." The campus has two kitchens, one described as Western and the other Asian—for instance, equipped with burners that can accommodate woks.
Although the CIP will teach students to prepare all kinds of cuisines, Hawaii's proximity to Asia and its multiethnic, local culture sets it apart from other culinary schools. Tsuchiyama hopes "to use our expertise in Hawaii regional cuisine to attract students and guest chefs."
The two single-story laboratory buildings, outdoor cooking area, landscaped gardens, and parking lot (with the promise of more facilities to come) replaces the crumbling Cannon Club that once stood there. This transformation was brought about thanks to the guidance and leadership of CIP Director Conrad Nonaka.
When Nonaka first started, he says, "There were quite a few that couldn't believe what we were trying to do. They'd look at me like, 'How much you need? And how much you got?' Like this was a joke. 'Good luck!' they'd say." Despite the challenges, Nonaka persisted, because he as well as other leaders within the university and industry recognized a need in advanced culinary education for Hawaii's food and hospitality industry.
Early on in Nonaka's tenure as director, he said that chef Sam Choy told him, "If I take the dining room manger and promote him to general manager, initially he's happy. But after a few weeks or months maybe he doesn't feel confident about taking on sales and marketing or watching costs. Eventually, he'll float back." Choy felt that chefs and managers could use more training in human resources, business law, managing people and hiring.
The CIP hopes to give graduates the needed skills, experience, and confidence to move them from line chef to restaurateur. Along with the CIP comes a new degree program: Bachelor of Applied Science (BAS) with a concentration in Culinary Management. Students begin by earning their two-year associate's degree in science offered at six community colleges across the state. Then they earn a one-year Advanced Professional Certificate (APC) at the Diamond Head campus. In their fourth year, students enroll at UH West O'ahu to study business. "In the past this was not even on the radar," Tsuchiyama says. "To get a BAS at the Culinary Institute of America [on the mainland] is prohibitively expensive. In their third year, culinary students still pay community college tuition, and only in the final year do they pay UH prices. Financially, these students are getting a great deal."
Tifannie Masutani is currently working on her Bachelor of Applied Science in Culinary Management. She earned her APC at KCC in the spring of 2015 while raising her one-year old daughter. "I had been waiting for the advanced certificate," Masutani says. "When I was working on my associate's in 2004, KCC announced that they were going to build the Culinary Institute of the Pacific. Before that, I had planned on going to go into travel industry management because there was no advanced program in culinary." However, with the advanced studies ushered in by the Culinary Institute of the Pacific, Masutani says, "this has fulfilled my dreams."