The ʻŌlelo Hawaiʻi Version of Wordle is Blowing Up
Hulihua, a Wordle clone which uses the Hawaiian language, has already seen thousands of users attempt to guess its daily word challenges.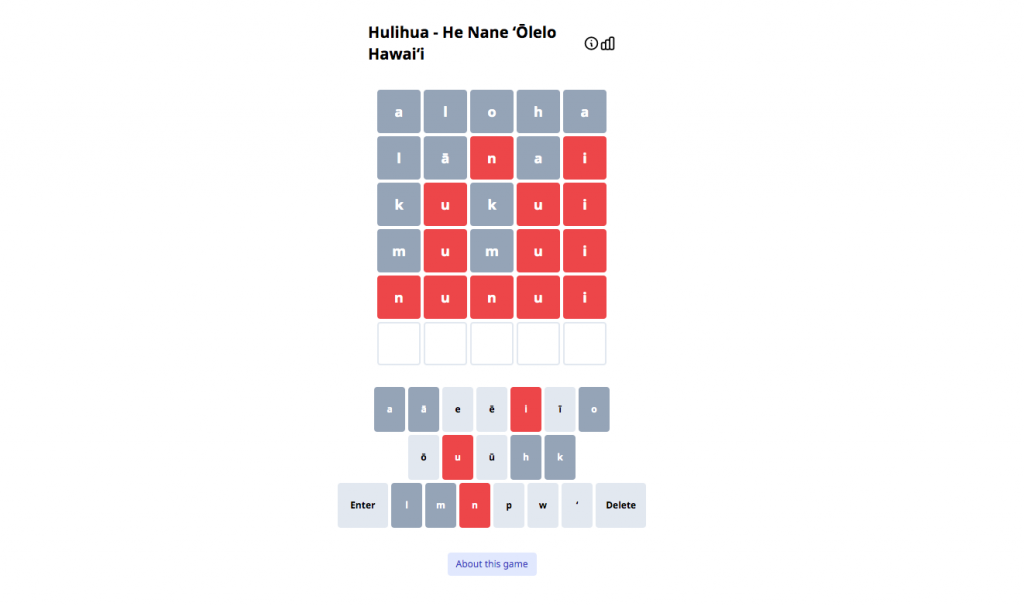 There's no escaping Wordle, it has effectively taken over the hearts and minds of millions and is a hot topic on social media platforms.
The game is beautiful in its simplicity. Users are given six chances to guess a five-letter word, which is changed out daily. If you find the right letters in the wrong spot, they'll be highlighted in yellow, and if they're in the right spot, green. It's addictive, fast and fun. And now, it's in Hawaiian.
Already cloned in over 1000 languages, Wordle—which was recently sold to the New York Times—has become a hit internationally, with different cultures and regions combining the simple gameplay system with their own languages. And a University of Hawaiʻi college professor on Maui, Keola Donaghy, adapted the game for ʻōlelo Hawaiʻi (Hawaiian language).
Donaghy has a history of integrating the Hawaiian language into various forms of technology and multimedia, from creating Hawaiian keyboards to email platforms. Donaghy believes that having ʻōlelo Hawaiʻi into various forms, and not just books, is a great way for helping new learners understand the language, and having it as a Wordle platform will only encourage folks to brush up on their Hawaiian vocabulary.
While Hulihua is a great place to learn Hawaiian words and to better understand and memorize the Hawaiian alphabet, it is very hard for those still coming to grips with the language. While the Hawaiian alphabet is smaller than our western collection of consonants and vowels, Hulihua also includes diacriticals, such as the kahakō and ʻokina. This adds a layer of complexity and difficulty to an already challenging process of elimination.
However, even if you don't win in six tries, you'll still be given the answer and a link to the word's definition in the online Hawaiian dictionary, Nā Puke Wehewehe ʻŌlelo Hawaiʻi. So take it as a tool for learning because even if you don't think you can win, you'll at least learn a new word each day. If you'd like to give it your best shot, you can play Hulihua online for free right in your browser. That's right, no downloading or signing up for an account, and the site will keep track of your wins and losses. Just jump on and start guessing.