The Popular KCC Farmers Markets on Saturdays and Tuesdays Canceled Indefinitely
This is just one of a slew of events and festivals in Hawaiʻi that are canceled or postponed due to concerns over the new coronavirus.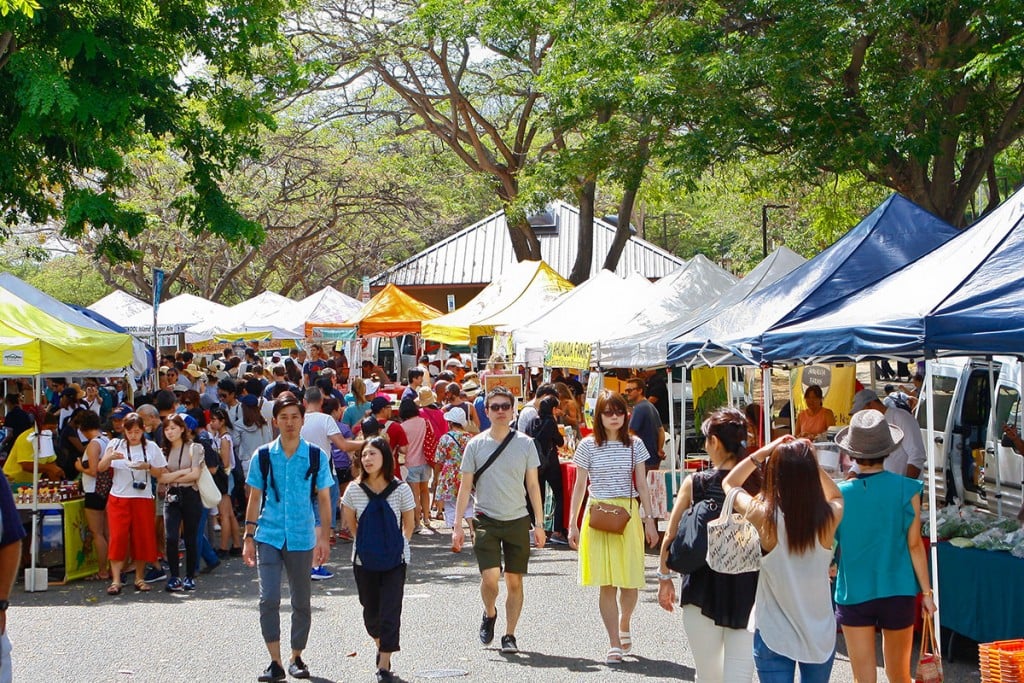 The popular KCC Farmers Market, which runs every Saturday morning and Tuesday afternoon at Kapiʻolani Community College near Diamond Head on Oʻahu, canceled both markets due to growing concerns over the fast-spreading COVID-19.
The Saturday market is the largest on Oʻahu with more than 70 vendors from across the state and up to 10,000 attendees every week. The Tuesday market is much smaller and held from 4 to 7 p.m. in the same location at KCC. Both are organized by the Hawaiʻi Farm Bureau Federation.
The University of Hawaiʻi system, which oversees 10 campuses including KCC, decided today it would be moving all of its classes online starting March 23, the first day of instruction after spring break. All large public events with more than 100 attendees in a confined space—this includes the two farmers markets at KCC—will be postponed or canceled as of this weekend.
Neither the university nor the farm bureau could say when the farmers market would resume.
This cancelation is the latest in a slew of events and festivals that have been postponed or canceled in recent days due to the threat of the new coronavirus. (As of today, Hawaiʻi has two confirmed cases.) Canceled events include Murphy's Bar & Grill's 32nd annual St. Patrick's Day block party on March 17 in Honolulu, the 2020 Hakipuʻu Canoe Festival on March 14 at Kualoa Ranch, and the Maui Matsuri in May.
SEE ALSO: What's Canceled, What's Not in Hawaiʻi Right Now
There's good news, though: The farm bureau runs three other markets on Oʻahu, two on Kauaʻi and one on Hawaiʻi Island. (See the list of markets here.) It plans to continue to operate its other markets until further notice.
In addition, FarmLovers Farmers Markets will run all of its four Oʻahu markets: Haleʻiwa, Pearlridge, Kakaʻko and Kailua. (See the list of markets here.)