The Review: Fairmont Orchid, Hawaiʻi
This luxe resort on the Kohala Coast has something for every traveler, including kamaʻāina.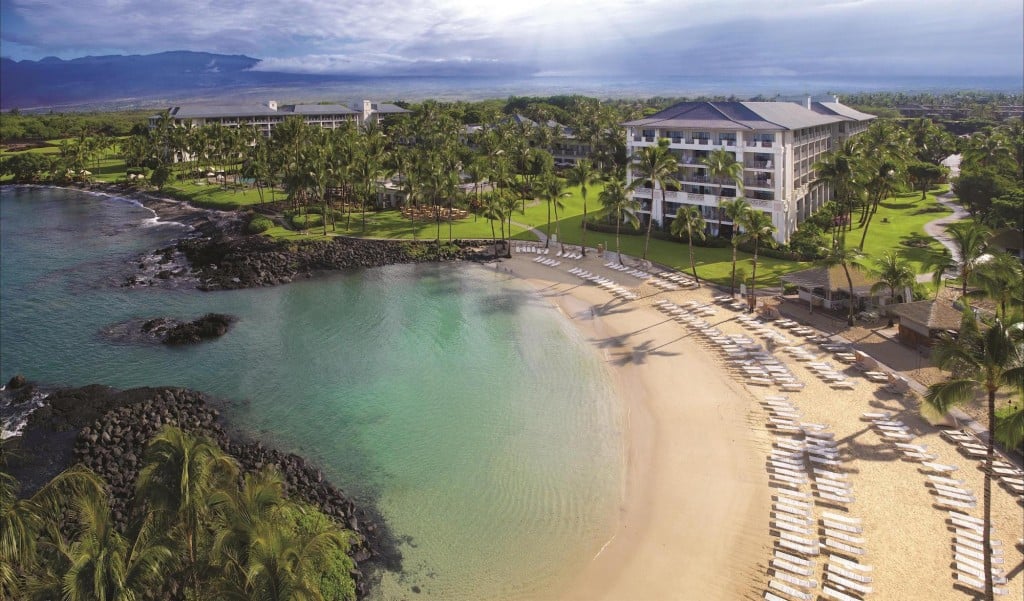 These days, when I'm thinking about the perfect vacation in Hawaiʻi, it involves somewhere I can put my toes in the sand, a place where I can feel pampered, where I can enjoy an oceanside massage complete with salty breezes, cocktails that fizz and foods that showcase the bounty of the island.
My recent kamaʻāina (Hawai'i resident) overnighter at the Fairmont Orchid resort on the Kohala Coast of Hawai'i Island checked all the boxes for an idyllic stay. With rooms starting at just $199 and reduced resort fees for kamaʻāina, the price is right and the experience is worth much more: safe outdoor dining options, a sunset worthy of a hundred photos, 24-hour pool and Jacuzzi access, and plenty of on-site cultural activities and ocean sports to entertain the kids. (Click here for a special kamaʻāina offer. Out-of-state guests can click here for Fairmont Orchid's "third night free" special rate.)
Fairmont Orchid is a AAA Four Diamond resort with all the amenities and breathtaking views you'd expect from a place with a stellar reputation—and with a surprisingly intimate feel.
How would you describe the hotel?
Fairmont Orchid, Hawai'i is on 32 oceanfront acres along the Kohala Coast of Hawai'i Island, a scenic stretch that's perpetually sunny. There is room here to stretch out and find private space, if that's what you desire, but you are still in easy reach of resort comfort and amenities.
It's unusual to find a property that can be all things at once: spacious yet intimate, luxurious yet laid-back. I appreciated the quick three-minute stroll from my room to the pool, the dining options, and the staff, too, who knew us by name and provided service with aloha.
What are some of the standout amenities?
How about a free-form 10,000-square-foot pool and Jacuzzi, open 24 hours a day; a private lagoon for easy swimming and stand-up paddleboarding; and a bay perfect for snorkeling and kayaking? Purchase a Fun & Sun pass for access to all water sport activities. It's totally worth it. (As is a reservation for a private cabana.)
Guests, whether they're from Hawai'i or across the sea, can learn about tide pools, the Hawaiian language and crafts, and ancient Hawaiian games through the resort's complimentary cultural classes. (Tip: Ask to hear how Honey Beach got its name and what left crane operators stunned as they worked to place an ancient petroglyph-carved rock on the property).
What are the rooms like?
Be it garden view or oceanfront guest room, each of the five categories of rooms at the hotel has its own private lānai (terrace), large marble bathroom with a tub/shower combo and separate standing shower, large high-definition flat-screen TV, a small indoor seating area and free Wi-Fi. The rooms are spacious, well lit and contemporary in design. Each room includes air conditioning with climate control, hair dryer, toiletries, iron and ironing board, in-room safe and chiller.
The hotel also features 54 suites, which are spectacular: Each features a large living area, parlor, one or two private verandas and a large bedroom with French doors, as well as two TVs, a seating area and a desk. Suite bathrooms have spacious walk-in showers, soaker tub/shower combos, double vanities and separate water closets. And if you're really looking to make this a vacation to remember, opt for one of two two-bedroom presidential suites with living and dining areas.
What's worth checking out at the spa?
It's almost as if Fairmont Orchid's "Spa Without Walls" was built for times like these, where fresh air and wide-open spaces bring an added layer of safety. Here, you can enjoy a signature lomilomi Hawaiian massage in one of eight private outdoor thatched hale (huts) situated between waterfalls and hidden by lush palms and hanging orchids. Or indulge in a papaya-enzyme body mask and Hawaiian māmaki volcanic mud wrap in one of six private oceanfront cabanas. There are three indoor treatment rooms for manicures, pedicures and facials, too.
Who is this property ideal for?
Fairmont Orchid, Hawai'i is really an ideal locale for any traveler. If you prefer to stay on property, there is plenty to keep you busy. The dining options are excellent, and a grocery store is just a quick drive down the road. The hotel is also an excellent home base for the vacationer who wants to explore the many cultural, historical and scenic areas of the island. It can be a romantic getaway destination for couples who want to connect or a relaxing spot to enjoy quality time with the family.
What's the best thing about the hotel's restaurants?
You have several options for dining at Fairmont Orchid, including the poolside bar and restaurant Hale Kai for lunch, and alfresco breakfast or sunset dinner at Brown's Beach House. Brown's Deli offers some quick grab-and-go options, including pastries, sandwiches, pizzas, salads and coffee.
Brown's Beach House recently launched a spectacular Sunday brunch menu as well, with $3 Mimosas and $6 Bloody Marys. I'd order one of everything, but if you have to choose, try the Kona Brewing Co. beer-battered fried chicken and buttermilk waffles with sambal maple syrup, and the acai bowl with house granola and honey from the Fairmont's apiary. Both are beyond excellent.
Is this hotel family-friendly?
Fairmont Orchid, with all of its complimentary cultural activities, is one of the best places to stay if you're looking for a property that both adults and kids can enjoy. Go on a guided walk to learn the special cultural treasures of this property or visit the chef's garden and apiary where the hotel restaurants' kiawe honey is produced on-site. Perhaps you'd like to discover more about honu, or Hawaiian green sea turtles; explore tide pools with the hotel's Hui Holokai team; learn the basics of Hawaiian language; or join a storyteller to hear the legends and lore of Hawai'i Island. Maybe you've always wanted to learn traditional Hawaiian art forms: 'ohe kapala (bamboo stamping), lau niu (coconut frond weaving), hula, or haku lei-making. You never know what will spark a child's interest, and hands-on activities like these, taught by cultural experts, can leave deep and lasting impressions.
Are pets allowed?
Yes, pets are welcome here. The state of Hawai'i has certain quarantine laws for pets arriving from out of state; pet owners should check with their hometown veterinarians before book a trip. However, well-behaved pups that pass quarantine or already live in-state can stay at the hotel for an extra $25 a night. Your furry family member will get his own dog bowl, puppy pad and waste bags during his stay.
What is there to do around the hotel and in the neighborhood?
Fairmont Orchid now offers digital guides, audio-guided running routes and nearby hiking routes through the RunGo app for iPhone, Android and Apple Watch. Each route includes a voice-guided tour, allowing you to move along at your own pace. Make sure to do the Puakō Petroglyph Archaeological Preserve walk, narrated by the resort's own director of Hawaiian culture Ka'iulani Blankenfeld.
You could also try the 4-mile scenic run, which takes you past ancient fishponds and the shoreline; it starts and ends at the Fairmont.
Within the Mauna Lani resort area is a small shopping complex, the Shops at Mauna Lani, which features a grocery store, a few restaurants and some shopping options, and a handful of nearby beaches within walking and driving distance. Golfers will enjoy the area's courses: Mauna Lani North, South and WikiWiki.
How has the hotel dealt with COVID-19? What safety protocols are in place?
During this time of COVID-19, guest safety has remained paramount at Fairmont Orchid, Hawai'i. New procedures comply with the stringent global Allsafe cleanliness label for hotels and resorts. This includes contactless temperature screening upon arrival and mask requirements for staff and guests in all public areas when physical distance cannot be maintained. Surfaces are cleaned and disinfected frequently, with EPA-registered chemicals, and hand sanitizer stations have been placed in key areas, including at all elevators.
Wellness Kits are given to all guests and include masks, gloves, hand sanitizers and disinfectant.
Spa employees wear gloves and masks, appointments are staggered to reduce contact among guests, and occupancy limits have been instituted. At the pool, guests are required to wear masks while walking on the pool deck and beach walk but may remove them once settled in lounge chairs, which are positioned 6 feet apart.
There's outdoor seating at Brown's Beach House and the Hale Kai, and all tables are set at least 6 feet apart. QR codes are provided at each dining outlet if you prefer contactless menus.
Fairmont Orchid, Hawai'i, 1 N. Kaniku Drive, Kohala Coast, (808) 885-2000, (866) 540-4474, fairmontorchid.com