The Ritz-Carlton Residences, Waikiki Beach Raises the Bar on Luxury
It could be the best hotel in Waikiki, really.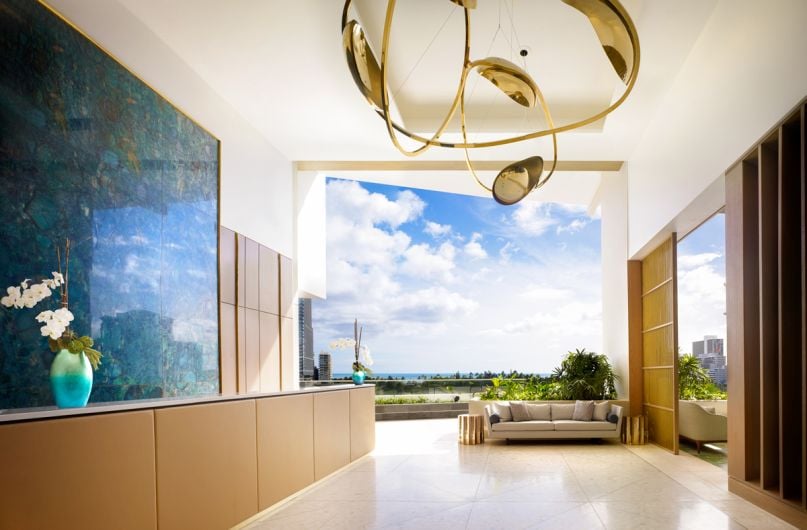 The Ritz-Carlton's sophisticated and luxurious brand doesn't need an introduction, however its Waikiki residences, which opened at the gateway to Kalakaua Avenue in 2016, deserves your attention. From the moment I pulled into the port cochere, and no less than four bellmen and valet attendants assisted me on my arrival, I had a hunch there would be an extra level of service here that is unparalleled to anything I've experienced in Waikiki before.
After all, it is where President Trump stayed on his first and (thus far) only visit to Hawaii, though Trump International Hotel is only a few blocks away. My room may not be the two story, multi-room apartment that he stayed in, but the quality in the products and details used throughout the spacious 870-square-foot one-bedroom suite—all of which I'm immediately enamored by—has me racking my brain wondering what other hotel in Waikiki could possibly be compared to this.
Walking to the eighth floor infinity pool after a nearly two-hour Huki Huki spa treatment—a mud and ti leaf wrap, followed by a massage—the pool attendant, with a cheerful demeanor like every other staff member at this hotel, is asking how he can help me before I even walk the length of the pool. The not too hot afternoon sun is poised perfectly ahead next to a beautiful blue sky as I jump in the pool for a lap before it gets dark, because I don't want to waste one second of my time here—a tranquil oasis that has considerably raised the bar on what a luxurious hotel in Waikiki should be.