The Salvation Army: Bringing Hope, One Person at a Time
The Salvation Army of Hawaii is quietly doing the most good for those least served.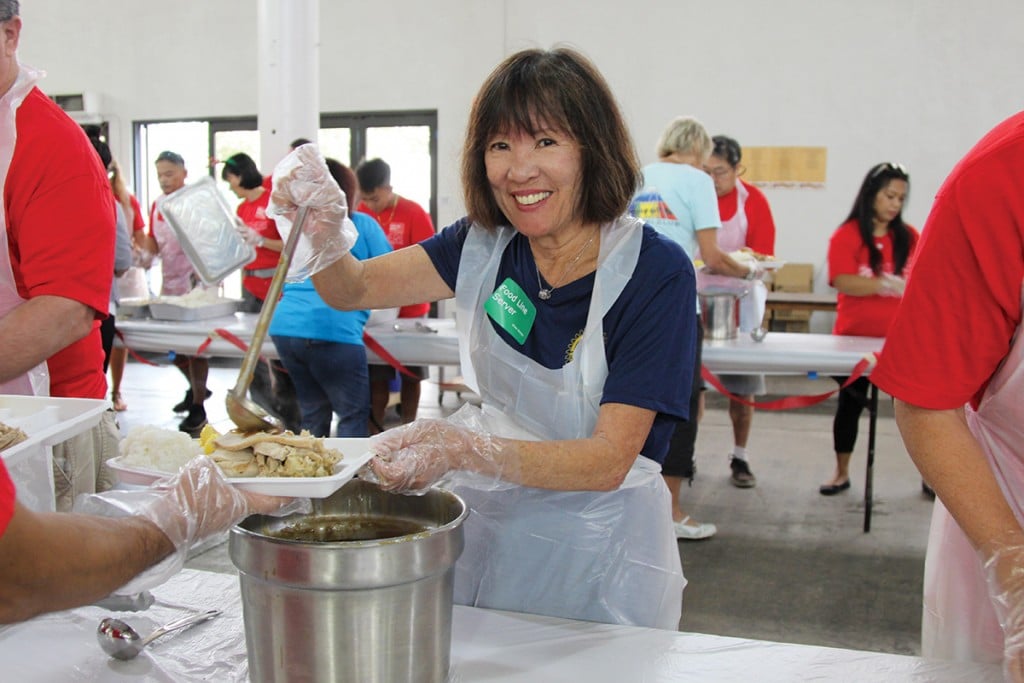 No one knows the scope of their services," says Nancy Pace, longtime advisory board member of the Salvation Army. "They do the most good for those least served," she says, "and people don't know about it."
Pace is a legend in Hawai'i's nonprofit world. Besides doing groundbreaking medical work around the globe, she's served on countless nonprofit boards. She's known for her steady hand, her leadership and her capacity to move organizations — and of course, her infectious enthusiasm about the causes she gives her time to.
Perhaps that explains her husband's skepticism. She likes to tell the story of his extensive nonprofit work, and how he'd simply nod when she raved about the Salvation Army. Then they recruited him to manage a project.
He came home with a revelation. "The Salvation Army is the best organization doing the most for those with the least," Pace says he told her. "And then he kept telling everyone he knew!"
That's the thing about the Salvation Army. You think you know what they do so you drop some money in the kettle and grab an angel off the angel tree. But chances are you have no idea.
"The needs of our Hawai'i neighbors are great, but they are not insurmountable," says Jeff Martin, the Salvation Army's Hawai'i and Pacific islands divisional leader. While its work runs the gamut from disaster relief to addiction treatment, homelessness to youth intervention, family services to transitional housing, a single thread runs through it all. "I believe the need greater than all of these is hopelessness," Martin says. "Some of our neighbors have lost hope, and it's up to all of us to show them a path toward something better."
That sense of hope anchors everything they do. When the Puna lava flows devastated the community, the Salvation Army was one of the first on the scene, offering food and emergency relief. "But they didn't just feed people," Pace says. "They bought the food from a local restaurant, keeping that business going. They could've gone to Costco, but instead, they gave hope to that small business owner and his employees, many of whom were evacuees too."
From the Chinatown fires at the turn of the 20th century to the lava flows of the 21st, the Salvation Army's disaster response work not only provides immediate relief, but the organization sticks around afterward, sometimes for years, helping families rebuild and get back on their feet. "Disasters affect our communities in so many ways," Martin says. "And many times those who've never needed help find themselves in need." He admits that the recent wave of disasters in Hawai'i has impacted the group's resources. "Thankfully, the people of Hawai'i are very generous, especially during disasters. But sometimes, we just have to step out in faith."
Addiction treatment remains one of the Salvation Army's most urgent services. It's difficult work, relapses are common, and the stakes are incredibly high. Recognizing the complexity of the problem, the Pathway to Hope addiction treatment program is built on four pillars: addiction treatment, meaningful employment, new friends so the cycle can be broken, and an element of spirituality in their daily lives. "By changing the lives of one person at a time," Pace says, "generations can be saved." She points to the success of Pathway to Hope and how its graduates are often hired to work in the program, where they can help others walking the same path they wandered along for so long.
Recognizing that the greatest barrier keeping women from treatment is fear of losing their children, the Salvation Army developed its transitional housing program, creating a safe place where women can receive addiction treatment services while their children are nearby getting the treatment and help they need too. "Teaching women to be good moms while also helping them recover from addiction—no one else in the state does anything like that!" Pace says.
On Hawai'i Island, the Salvation Army's Family Intervention Services teen shelter provides not just much-needed services, but also a home for teens escaping abusive and dangerous family situations. Here, young people live in a shared home with counselors who guide them back into school and through the trauma they've endured. When the kids are ready, those same counselors are ready, too—helping them to find places of their own and teaching them how to budget and to navigate college applications, and then helping to find scholarships to pay for it. Thessica, a graduate of the program, credits those counselors with saving her life. "I came from dirt," she says. "But look at me now! Now I can help other people, tell them it's going to be OK."
Says Pace: "It's the human side of The Salvation Army. That's why I like them so much." She admits being awed by the organization's work, even after years on the board. "These incredibly dedicated people give their lives to this. They go do the work, bring people out of despair and give them hope. And they do it one person at a time."
Come Thanksgiving, Pace and her fellow board members will be at the Blaisdell Center with the Salvation Army's staff, where Thanksgiving dinners will be served to all who want one. She won't be scooping mashed potatoes, though. The board's job is much more personal. "We greet and hug every person who comes through the door," she says. "Imagine that—the power of a hug for someone who's probably not had one recently."
That's hope. And that's why they do it.