The top submissions to HAWAII Magazine's 2018 Photo Contest
Explore a few of our favorites from across the Islands.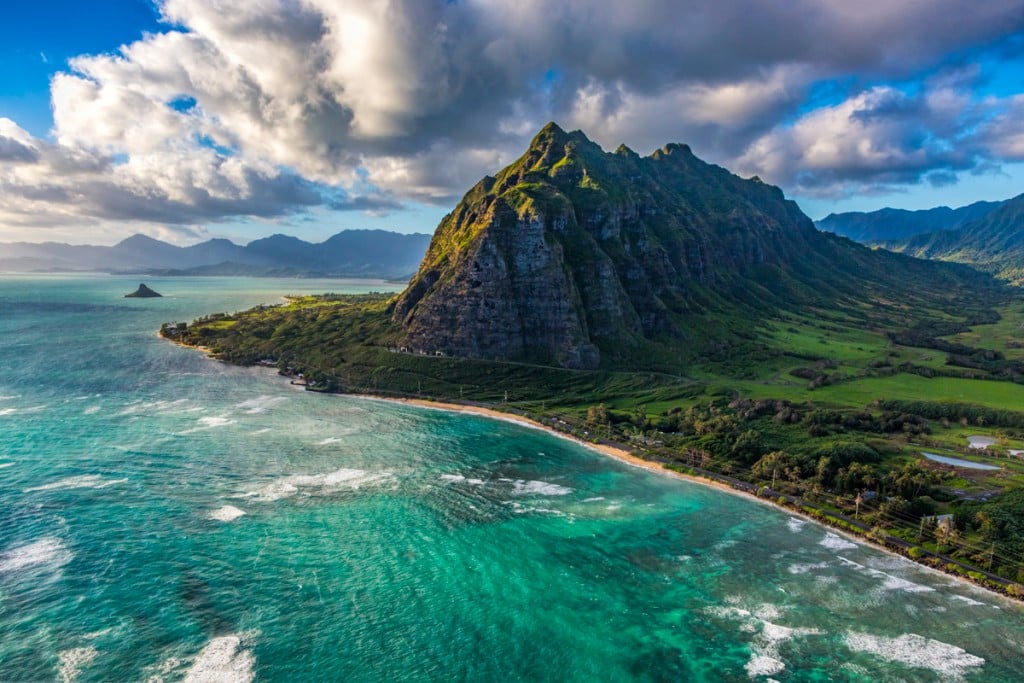 It's a difficult job determining the winners of our 19th annual HAWAII Magazine Photo Contest, found in our January/February 2018 issue, on newsstands now. In searching for our winners, we inevitably must decide between entries that are so close in quality, artistry and beauty.
Here, we present the top submissions that made it to the final rounds of judging, and ignited our sense of wonder and aloha for the Islands.
North Shore Milky Way
Photo and caption by Tyler Shortt
"My friends and I were enjoying the beach at night when it became clear enough to see the Milky Way arching all across the middle of the sky."
Category: Outdoors / Location: North Shore, Oahu
Emerald North Maui 
Photo and caption by Aaron Najera
"While my parents were visiting me from the mainland, my father surprised me with a short helicopter ride over the northern part of Maui. It was cloudy, rainy and I was full of anxiety. What kept me calm and at peace was my camera. Although I was in the back, up against the window, I sat breathless, snapping away at what I could as we flew out to Molokai. Getting the opportunity to fly over the humble village of Kahakuloa on the way back was breathtaking. This is a side of Maui that most people still don't know about. It's wild, it's beautiful, it's no ka oi."
Category: Outdoors / Location: Kahakuloa, Maui
Airborn at Honolua Bay
Photo and caption by Aaron Najera
"While Oahu surf breaks are more well known to the rest of the world, Maui surf breaks can at times be far more alluring and raw. Underground bodyboarders, passionate watermen and old-time surfers make the trip out late in the evening to sleep in their vehicles in anticipation of what tomorrow holds. This photo was taken during one of the first winter swells to hit Maui. The wave at Honolua Bay is legendary; a mere photo cannot do it justice. At golden hour, the sunlight streaks through the wave and illuminates the spray. In this image you can almost feel the rush of wind as the wave roars past you. You can almost hear the shouts of people stoking hard for that guy launching off the lip. The sun sets, the horizon glows and hues of orange and pink are thrown across the sky. It's unforgettable."
Category: People / Location: Honolua Bay, Maui
Windward Oahu Pastoral
Photo and caption by Jennifer Crites
"We found these horses across the road from the beach, grazing below rugged mountains amid the ruins of an old sugar mill."
Category: Outdoors / Location: Kualoa Ranch, Oahu
Keiki Hula
Photo and caption by Jennifer Crites
"A little hula girl, surrounded by flower lei, waits her turn to go on stage during a Lei Day celebration at Kapiolani Park."
Category: People / Location: Kapiolani Park, Waikiki, Oahu
Haleakala Moonscape
Photo and caption by Robert Bridges
"Mt. Haleakala's cinder cones found in the crater."
Category: Outdoors / Location: Haleakala, Maui
Streaking Sky at Yokohama beach
Photo and caption by Jordan Garcia
"I took this photo on a full moon at Yokohama Beach located at the northwestern tip of Oahu. This stretch of beach is literally the only part of the island without light pollution. As the moon rose over the mountains and the wind picked up, I took this long exposure photograph. I think long exposures can capture an experience beyond the traditional dimensions of photography. I believe this technique has the ability to showcase the relationship between space and time."
Category: Outdoors / Location: Yokohama Beach, Oahu
Golden Kauai Sunset
Photo and caption by Wayne Stiles
"We stayed in Kekaha, Kauai for two weeks. This shot shows the connection of mauka (inland) and makai (ocean) and the people that live in Hawaii nei. We have the greatest respect for ohana and their traditions, especially to not intrude in those moments."
Category: People / Location: Kekaha, Kauai
The Colorful Rainbow Eucalyptus
Photo and caption by June Szasz
"Beautiful colors of the rainbow eucalyptus in the Botanical Garden in Waimea, Oahu lent themselves well to an abstract image of tropical hues."
Category: Abstract / Location: Waimea Botanical Garden, Oahu
Kalapana Angel
Photo and caption by June Szasz
"The perspective is, with great skill, painted inside the Star of the Sea Painted Church; the sunlight streaming in the window is quite real. Our visit to this treasured Kalapana church that has been saved from molten lava by Hawaiians moving it, on multiple occasions even offered up a brilliant green gecko on one of the pink windows. We appreciated the skill that went into the creation of the church and the dedication that it has taken to preserve it in the face of Pele's flows."
Category: Culture / Location: Star of the Sea Church, Kalapana, Hawaii Island
Volcanic Splendor
Photo and caption by June Szasz
"A slow walk along the Mauna Ulu trail in Volcanoes National Park will reveal to the keen observer small areas of oxidized lava in all its spectral splendor."
Category: Abstract / Location: Volcanoes National Park, Hawaii Island
Scenic Kualoa
Photo and caption by Leighton Lum
"For this shot I took a sunrise helicopter flight around the island. It was quite a rush when you're flying around in a helicopter with no doors! I thought this was a unique view and perspective of Kualoa Ranch, a view that I had never seen before. I really enjoy the thrill of aerial photography, and since this helicopter flight, I've been hooked."
Category: Outdoors / Location: Kualoa Ranch, Oahu
Glittering Sky over Kaena Point 
Photo and caption by Allen Murabayashi
"I was waiting for the moon to set to get a clearer shot of the Milky Way, but decided to take a self-portrait in the interim. I forgot to turn off my headlamp, but it turned out to be a happy accident."
Category: Outdoors / Location: Kaena Point, Oahu
Wild Waipio Valley
Photo and caption by Elizabeth Cunningham
"We hiked down to Waipio to spend a day at the beach. The weather turned overcast soon after we got there, but when we were getting ready to walk back up, the sky cleared. We walked a little ways back into the valley, and the mana (spiritual power) was powerful. There was a father and son getting into their kayak, and the sky above them was beautiful."
Category: Outdoors / Location: Waipio Valley, Hawaii Island
Honoring the Ancestors in Honolulu
Photo and caption by Anonymous
"Members of Young Okinawans of Hawaii danced at the Jikoen bon dance (Sherry Asato Miyashiro, Alex Abe and Janice Kimie Toma Shiira). Sharing a funny moment!"
Category: Culture / Location: Jikoen bon dance, Honolulu, Oahu