The ʻUkulele Festival Hawaiʻi Returns this Summer—Virtually
After cancelling last year due to COVID-19, the ʻUkulele Hawaiʻi Festival makes its comeback in a new digital format.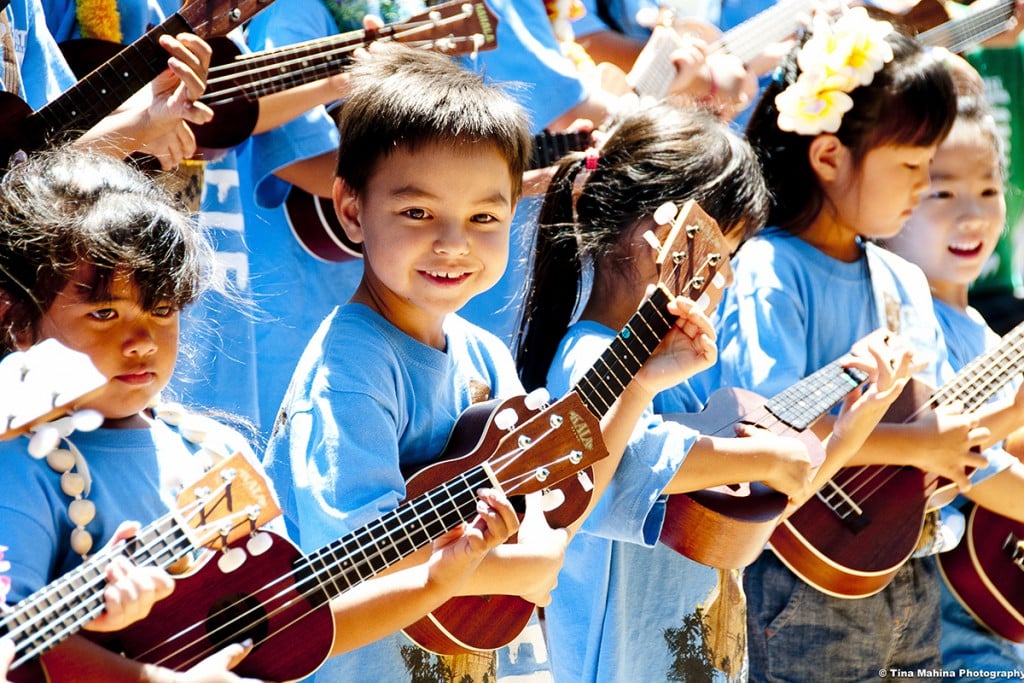 The sound of strumming ʻukulele was missed at Kapiʻolani Park last year, as the ʻUkulele Festival Hawaiʻi was forced to cancel for the first time in its long, storied history.
Put on annually by Roy and Kathy Sakuma—Roy was recently interviewed by HAWAIʻI Magazine on the "Have Aloha Will Travel" podcast, which you can see here—the ʻUkulele Festival Hawaiʻi normally occupies much of Kapiʻolani Park in Waikīkī with its wide array of events, performances and workshops all related to the little old ʻuke.
Of course, we don't currently live in "normal" times. To accommodate for social distancing and to prevent a large gathering, the ʻUkulele Festival Hawaiʻi will be doing things a little differently this year. Starting in April, there will be monthly virtual mini-events leading up to the festival. Events include a local luthier showcase (April 11) featuring some of Hawaiʻiʻs most renowned ʻukulele makers like KoAloha ʻUkulele and Kamaka ʻUkulele, as well as a workshop day (May 16) with instructors like Jake Shimabukuro and  Sakuma himself leading classes. Of course, no ʻUkulele Festival Hawaiʻi is complete without its performances, which will take place on the festival's International Day (June 13) and the day of the festival (July 18).
All of the events listed will be broadcasted live on the festival's YouTube channel, so save the link! Much of the festival's new online format can be attributed to husband-and-wife duo Craig Chee and Sarah Maisel, the festival's new co-organizers who specialize in virtual music events. "After celebrating our 50th golden anniversary last year we both felt it was time for us to take a step back and hand over the reins to someone who can usher the festival into a new era and continue our mission of celebrating the 'ukulele with the rest of the world," said the Sakumas. "We are so grateful to have Craig and Sarah on board as they bring lots of energy and new ideas to ensure the festival continues to live beyond 50 years."
While organizers hope this virtual event will be a smashing success, the Sakumas, as well as Chee and Maisel, are looking forward to—hopefully—seeing everybody back at Kapiʻolani Park in 2022.
For more information, visit ukulelefestivalhawaii.org.