The Untold Story of How One of Hawaiʻi's Biggest Cattle Ranches Cares for the Island's Beautiful Landscapes
Kapāpala Ranch, founded back in 1860, stays relevant through sustainable and innovative ranching practices.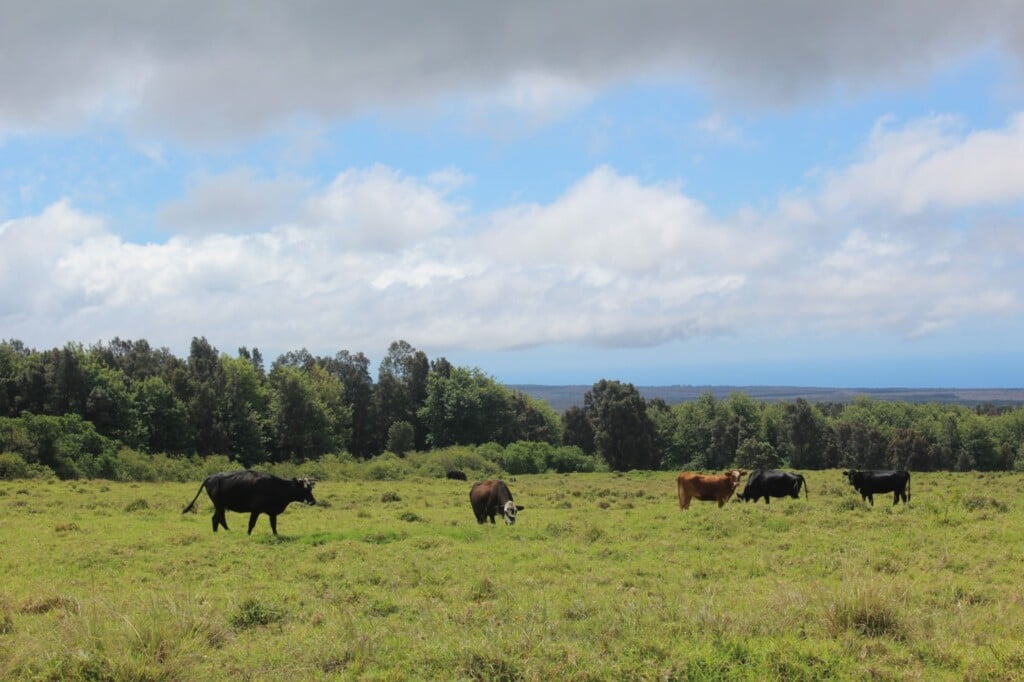 When visitors and residents think of Hawai'i, they likely picture lush forests, dramatic landscapes and sandy coastlines, but the untold story of cattle ranchers on the islands is one that cannot be forgotten. For Lani Cran Petrie, a cattle rancher on Hawaiʻi Island, this land is her livelihood. Petrie began to help with the management and care of Kapāpala Ranch as a teenager back in 1977, when her family took over the property. Situated between two of Hawaiʻi's largest volcanoes—Mauna Loa and Kīlauea—the area is a unique piece of pastureland that perfectly represents the Big Island's expansive array of farmland. And now, 46 years later, she and her husband, Bill Petrie, are helping to honor tradition while also building a sustainable, forward-looking business.
"When my dad worked here in the '50s, they had 12 men working," says Petrie. "Today there's three of us. And we run twice as many cattle." That's no small feat on a ranch that spans 34,000 acres. Kapāpala Ranch is in the business of raising calves and exporting them to the Mainland where they grow to their full weight and size. Technology has been vital in keeping the ranch running since it was founded in 1860. Today, that technology includes electric fences, cellular cameras and a small Piper J-3 Cub airplane, which Bill Petrie takes off in every morning to check on things.
Over the years, invasive weeds on the property have been a big challenge for the ranch—threatening not only to choke out forage for cattle, but also habitats for the insects and plants who also call the land home. To combat this, Lani Cran Petrie and her crew came up with a sustainable, long-term solution: grazing animals like cattle and goats. "We run about 2,000 goats," says Petrie, "and they're broken down into three bands of between 500 to 700 goats." With so many hungry goats, Kapāpala Ranch doesn't have to use chemicals or bulldozers to beat back weeds and brush, which in-turn is better for the health of the soil. Cattle grazing offers a similar function on the land, working with the goats to protect native plants, animals and insects.
The Kapāpala Ranch's long history of using cattle to protect natural habitats even has benefits for those looking to explore the beautiful landscapes of Hawaiʻi. The ranch has access roads to hiking trails in the area as well as to trailheads that will take visitors through the Kapāpala Forest Reserve—a paradise for hikers, hunters and birdwatchers. The Petries work with the Department of Land and Natural Resources, using fencing to ensure cattle stay in areas that benefit from their grazing while still protecting native vegetation that inhabits the Forest Reserve. Using cattle to protect against harmful plants and insects, the Petries, and those that have come before them, have preserved this lush land for future generations to enjoy.
With a ranch roughly the size of Kahoʻolawe, ensuring enough water gets to where it needs to be on the property had been a hurdle. It used to take four hours for ranchers to drive across Kapāpala Ranch in a pickup truck to check on water pumps. That chore had been made easier by Bill Petrie's post-coffee flights: He would just fly out to the pumps and check them. But pumping water across miles and miles of ranchland has its own drawbacks: Faulty pumps and pipes had to be replaced over and over again. So, the Petries and company came up with yet another ingenious solution. This one involved gravity, not goats or cattle.
"For the last seven years, we have not pumped water. We've turned our pumps off, and before that, for the last hundred years, this place has pumped water," says Petrie. How can they get by without pumping water? By building a reservoir "at the highest elevation we could," using high-density polyethylene sheets. From there, gravity gets the water where it needs to be. "As technology has changed, our business has changed with it," says Petrie. And it works, as the gravity-powered reservoir saves Kapāpala Ranch roughly 3,000 gallons of diesel fuel per year. Innovations like these, in Hawai'i and on the mainland, allow the beef industry to continually reduce land, water and natural resources use.
Caring for the rich Hawaiian ecosystem and for the animals is what drives Bill and Lani to continue to find new, creative ways of operating. The land has been passed down for generations and making sure it is sustainable for the future is a responsibility the Petries take very seriously. That's because to them, this is more than just business. For Lani, the cattle and the land are her ʻohana.