The YWCA Oahu: Empowering women and building community
For over a hundred years, its mission has been eliminating racism and empowering women to make choices for themselves.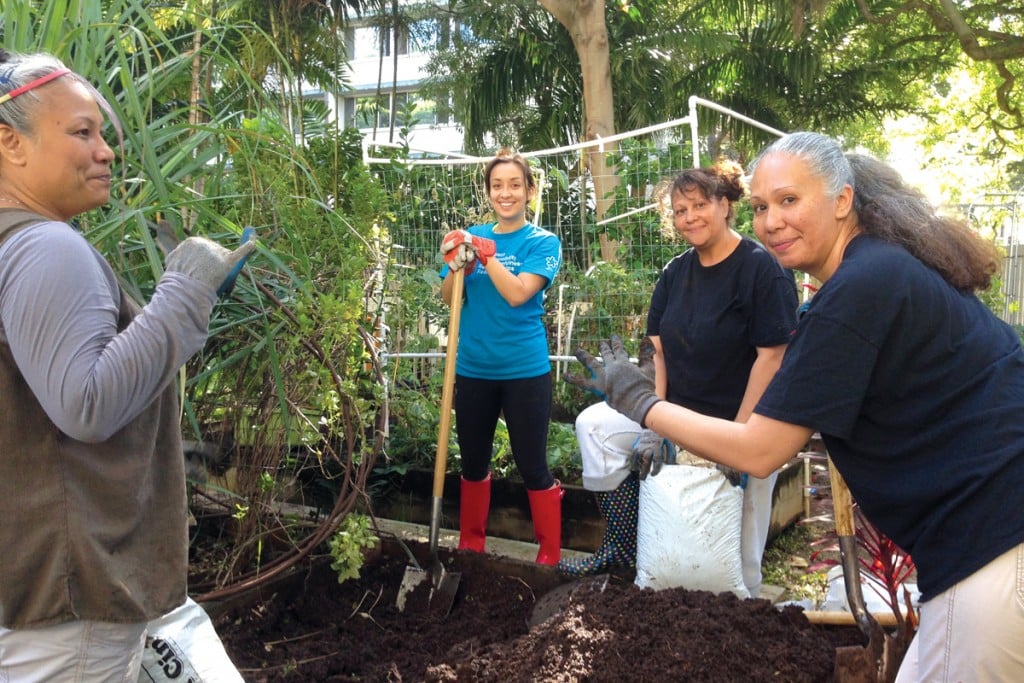 Women gathering to talk story on Mrs. Dillingham's cottage steps at the corner of Punahou and Arcadia probably seemed sweet, innocent enough. It's likely the men hardly noticed them. The year was 1900 and the Black Plague was wreaking havoc in the trader-rich Chinatown area, with military-enforced quarantines and eventually, a purposely set fire that got out of hand. No one noticed the women gathering, building friendships, taking language classes and learning to make lace. That's how subversive activities start, quietly, when no one is paying attention.
"The YWCA was founded in 1855 in London and first appeared in New York's Upper East Side a few years later," says Noriko Namiki, CEO of the YWCA Oahu. "The purpose was economic independence for women, so they could make choices for themselves." Had those husbands known that lace-making and language classes on Mrs. Dillingham's front steps were the founding of the Oahu YWCA, they might have paid more attention.
Or maybe not. It was an era of sisters, queens, princesses, missionary wives and plantation wives weaving the fabric that would become the thriving communities of Oahu. Lace and friendships fit right in.
One hundred and eighteen years later, the Oahu YWCA cuts a wide path across the island, with a laser focus on its mission: eliminating racism and empowering women. "We're not helping women," says Dana Tokioka, board member and vice chair of the organization. "We can help ourselves. We're empowering women so they can learn to figure out what to do."
That empowerment directly impacts women in all elements of Oahu communities, from women just released from prison and re-entering the community to midlevel managers with their eyes on C-suite opportunities and women looking to find jobs and financial independence. "We provide women the tools and knowledge to be independent," Namiki says, "through education, transitional housing and career training, job placement and support."
Much of the YWCA's rich history on Oahu emanates from its facilities, particularly the Laniakea building on Richards Street. Designed by Julia Morgan, the renowned architect known for her work on Hearst Castle in California, the grand lobby, outdoor swimming pool in the building's center courtyard and the open-air corridors were designed and built to give women a sense of place. "She especially wanted to give women an outdoor pool," Namiki says, noting that women were only allowed in wading pools at the time. "She knew that aquatics and health and fitness would build strong bodies, an important element of independence."
For women released from the Women's Detention Center in Windward Oahu, the YWCA offers a multifaceted program that includes transitional housing; life skills coaching; job readiness, training and placement; family reunification classes; and Dress for Success coaching and wardrobes. "These women are caregivers," Tokioka says, pointing to their family responsibilities that often include both children and aging parents. Readying them to return to the community as meaningful contributors to their families and with the independence to support themselves is the difference between a revolving door back to prison and a successful and meaningful life.
As part of their work, the YWCA looks to correct the problems they find. Such was the case with these women leaving prison, most without any identification to prove who they are. "You can't get a job without an ID," Namiki says, "and it takes months to get one." Their advocacy team took to the halls of the state Legislature, lobbying for a bill that allows prisoners on track for release to start that paperwork early so that their identification cards are ready when they are. When the bill passed, the governor's office called and asked that the women who testified — all of whom had gone through the arduous process of proving who they were so they could make it once released — join him at the signing. "They felt like no one would care what they thought when we started this process," Namiki says, "and they were so surprised and empowered to discover that their voices really matter."
One of their best kept secret jewels might be their Dress for Success program — not simply a clothing closet with a few business suits and blouses but a fully tricked out women's boutique in an undisclosed downtown location that outfits several hundred women annually so they can get a job and keep it. "Women don't know what they're getting into when they go
to the boutique," Namiki says, "and their eyes pop when they walk in."
A personal shopper takes them through the boutique, getting to know them, their pending job and what they like. A couple of hours later, they have a head-to-toe makeover, complete with accessories to match. "They often ask when they have to return the clothes," Namiki says, "and they cry when we tell them to keep them, and to come back for two more outfits after they get the job."
"The [YWCA] mission is part of who I am," Tokioka says, whether it's empowering women leaving prison or talking about racism in this melting pot community — "it's subtle and done in fun," she says, "but it's still racism" — where no race or ethnic group holds the majority. For her, it's about the next generations. "What does it tell the kids that it's OK to make fun of people for who they are?" As an insurance executive whose work takes her beyond our Islands, Tokioka also knows today's kids are growing up in a global society. "My dad grew up on an island. I grew up in the U.S. My daughter is growing up in the world," she says.
Namiki sees work at the YWCA as a calling, something that's been needed for generations and remains a critical and urgent matter. She's always inviting others to step up, get involved. "The money is important, of course," she says, "but so is volunteering and getting involved, whether donating gently used business attire or teaching a class."
"So many women live in silence," she says. "It's time to empower them so they can stand up and speak for themselves. Their success is our communities' success."
* * *
WOMEN WEAVE THE FABRIC OF PHILANTHROPY IN HAWAII
As missionaries arrived in Hawaii and the alii established trusts for Native Hawaiian people, women paved the way for communities rich in education, medical care and community services.
1819
Missionary families begin arriving and wives such as Sarah Lyman and Lucy Wilcox establish schools and curriculum.
1859
Queen Emma and her husband Kamehameha IV collect funds to build what would become Queen's Medical Center, the largest private hospital in the state.
1883
The Sisters of St. Francis come ashore to care for leprosy patients on Molokai while establishing hospitals on Maui, Oahu, and Hawaii Island.
1887
Princess Bernice Pauahi Bishop establishes Kamehameha Schools, now one of the largest private trusts in the nation.
1890
Queen Kapi'olani establishes the Kapi'olani Maternity Home to see to the welfare of expectant mothers, raising money through bazaars, lu'au and other charity events.
1900
The YWCA of Oahu is founded on the steps of Mrs. B.F. Dillingham's cottage so that working women would have a place to gather, find friends and promote community engagement.
1909
Queen Liliuokalani's estate names orphans and destitute children her primary beneficiaries.
1910
Emma Wilcox and her husband, Albert, challenge the community to match their gift to establish a children's hospital on Oahu, ultimately raising the money and building what would later merge with the maternity center to become the Kapiolani Medical Center for Women and Children.
1916
The Japanese Women's Society Foundation is established to promote and preserve Japanese culture in the community.
1917
The first Girl Scout troop in Hawaii is started by Florence Lowe, a Kamehameha School for Girls teacher.
1923
The Junior League of Honolulu is created and sets about collecting supplies for Japanese earthquake victims and establishing food programs for kindergarteners.
1924
Julia Morgan is retained to design the Richards Street YWCA building, which would later be widely acclaimed for its architectural design. Morgan goes on to be the first woman accepted to the Ecole des Beaux-Arts in Paris.
1927
The first major gift is received by what would later be known as the Hawaii Community Foundation from Rose Williams Makee Tenney, establishing programs for "education, scientific research and care of those in need."
Anna Rice Cooke founds the Honolulu Museum of Arts on her Beretania Street property, providing a permanent home for her growing arts collection.
1928
Irene Holloway designates a $10,000 gift for operations and scholarships at the Lunalilo Home, providing respectful and quality care for kupuna of Hawaiian ancestry.
1941
The Hawaii Chapter of the American Red Cross opens its doors so that volunteers — mostly women — could provide aid and support after the bombing at Pearl Harbor.