There's a New Viewing Area to see the Hōlei Sea Arch in Hawaiʻi Volcanoes National Park
The spot is located further back from the dangerous sea cliffs at the end of Chain of Crater Road.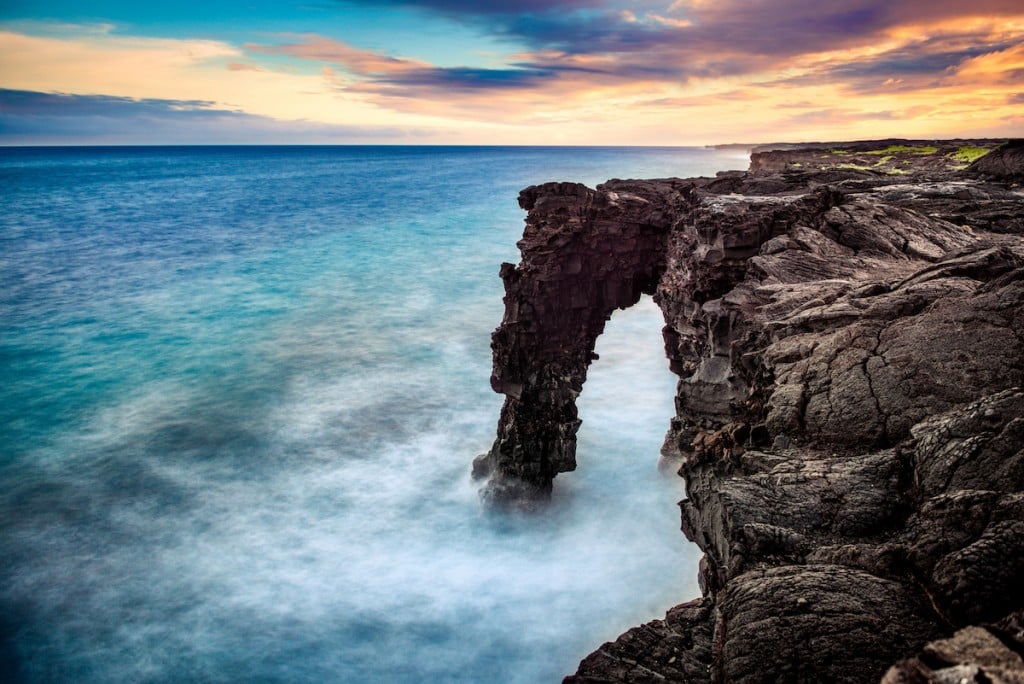 Most of Hawaiʻi Volcanoes National Park on Hawaiʻi Island is open, after an unprecedented and destructive Kīlauea eruption in 2018 that forced the longest shutdown in the park's history (134 days).
Last month the popular Nāhuku, more commonly known as Thurston Lava Tube, reopened.
SEE ALSO: Hawaiʻi's Famous Lava Tube Reopens Today
And today, the national park opened a new viewing area for the Hōlei Sea Arch, a 90-foot-tall arch cut into the cliff of an ancient lava flow about 550 years ago. The new viewing area is located about 1,000 feet past the gate at the end of Chain of Craters Road, set on hardened pāhoehoe (smooth, unbroken type of lava). The spot is set back away from the cliff edge and is marked with orange stanchions and rope.
The original sea arch viewing aera has been closed since Jan. 16 due to concerns over cracks and instability in the coastal cliffs. Visitors are urged to stay away from the dangerous cliff edges.
This natural sea arch is temporary and will eventually crumble over time. It's been a popular stop for visitors to the national park.
Hōlei is a small endemic plant in the milkweek family.