There's More Than a New Pool Complex at the Hale Koa Hotel on Oʻahu
The eligibility requirements to stay at this Armed Forces Recreation Center hotel expanded in January, allowing for 3 million more people to enjoy this Waikīkī gem.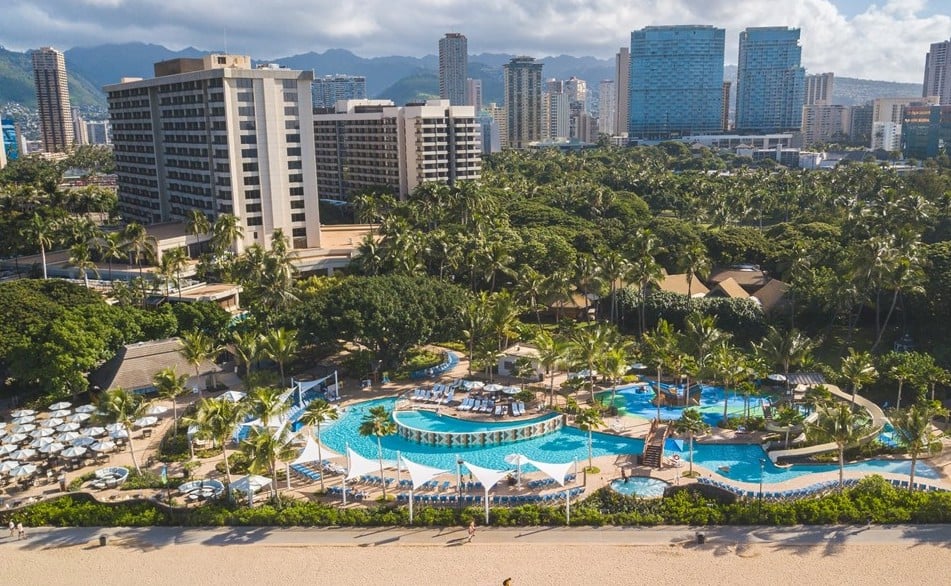 Built in 1975, the Hale Koa Hotel in Waikīkī, one of only four U.S. Armed Forces Recreation Centers in the world, has catered to millions of guests who are eligible through their military service—active or retired—or Department of Defense or Coast Guard status. (See the hotel's eligibility requirements here.)
Starting in January, though, the hotel, which receives no government funding, has been welcoming even more guests eligible through the Purple Heart and Disabled Veterans Equal Access Act of 2018, which extends certain welfare and recreation privileges to certain veterans and their caregivers. That means about 3 million more people in the U.S. can shop at military commissaries and exchanges—and stay at the Hale Koa Hotel.
And if you're eligible, you'll definitely want to.
The military hotel recently underwent a massive $100 million-plus renovation—its biggest construction job at the beachfront hotel in more than a decade. Its 12-story Maile Tower and its nearly 400 guest rooms were upgraded and refreshed with new furnishings, light fixtures, carpeting and beds. The renovated bathrooms feature walk-in, all-glass showers, over-sized mirrors and porcelain tile flooring.
But the most impressive change is to its pool.
The new $14 million facility sprawls over 8,000 square feet—double its previous size—with a curvilinear shape and multiple swimming areas. There's a raised-pool section with an infinity edge and panoramic ocean views, a 20-person hot tub located right next to the beach, four poolside cabanas and casual seating areas with fire pits. There are also multiple zero-entry access points into the pools to aid guests with mobility difficulties.
"There was definitely a need for [the renovation]," says Lucy Lau, marketing manager who's been working at the hotel for more than 30 years. "Pools have really become a big thing."
But it's the addition of areas for kids that really impressed. (At least me, a mom of a very active toddler.)
There are two waterslides that look super fun for both kids and adults. And there are two interactive splash parks—one for toddlers and babies with a wading pool, another for older kids, the centerpiece of which is a huge wrecked ship with slides and water features. Kids could spend hours here—and burn enough energy for a very long nap afterward. (Parent goals!)
The hotel, on 72 acres in Waikīkī, is financially self-sufficient and doesn't receive any taxpayer funding.
For more information or to book a room, visit halekoa.com.