These Farmers Market Finds Are Worth the Search on O'ahu
These markets have the freshest local ingredients and some of the most exclusive products on the island.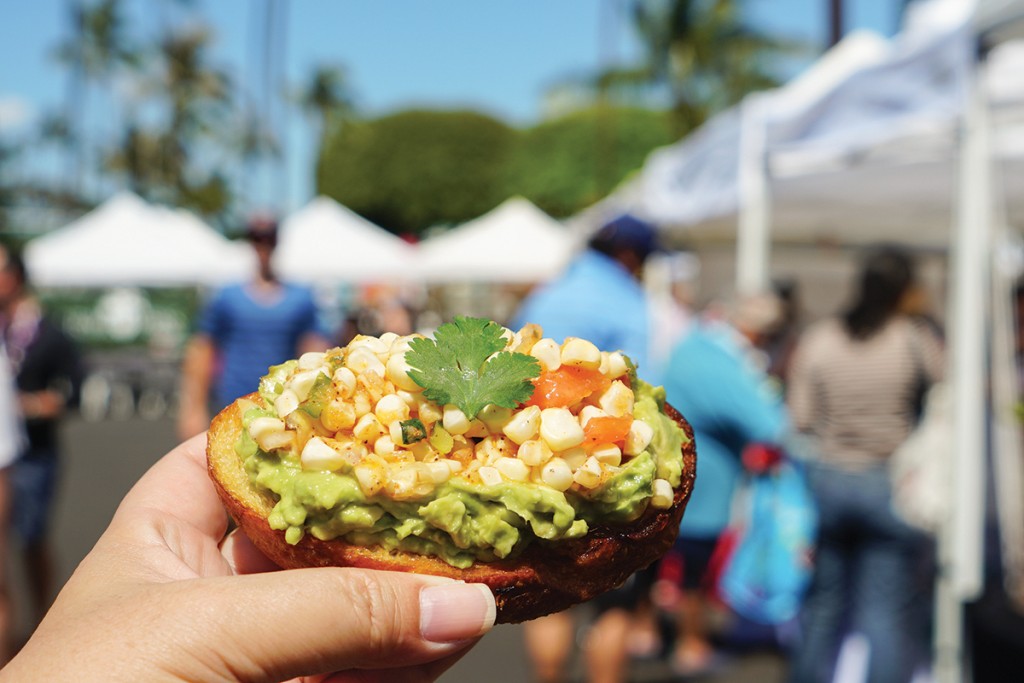 If you really want to get a feel for the best, freshest local ingredients and locally created dishes, look no farther than Hawai'i's local farmers markets. And on O'ahu, on almost any day of the week you can find a few markets to fit your needs.
The very best ones, of course, are on the weekends. That's when you'll see the biggest selection of produce, local vendors, artisans and more. Here are three O'ahu markets that boast some of the best offerings around.
Kapi'olani Community College Farmers Market
7:30 to 11 a.m. Saturdays
The Hawai'i Farm Bureau hosts one of the oldest and largest markets in the state at Kapi'olani Community College near Diamond Head. It's open every Saturday morning with about 80 vendors.
One of the first booths you'll see belongs to the Local General Store, run by a butcher and a baker specializing in meats, meat products and pastries. And oh, the pastries! The Danishes and filled croissants are divine, but just the simple croissant made by Harley Tunac is buttery, flaky and chewy in a way that will transport you directly to Paris. You might as well buy two, since you'll want another one before you leave the market.
Waimānalo-based mushroom grower Small Kine Farms is one of the market's longtime vendors. Its bags of fresh mushrooms are great to take home to cook for yourself, but you can also enjoy the company's products on the spot. Try the mushroom risotto cakes, cooked to order. They're hot, crunchy and cheesy, with diced mushrooms mixed in for an earthy flavor.
One of the market staff favorites is Bunto, located in the middle of the market. It offers a few different kinds of sliders—which are great for eating as you browse other stalls—with the pork belly one of the more popular ones. We like to mix it up with a crab salad slider and, of course, round it out with barbecue-dusted fries.
Plenty of Aloha at Windward Mall
10 a.m. to 2 p.m. Sundays
On Sundays the Plenty of Aloha Market at Windward Mall in Kāne'ohe hosts about 30 vendors. And since the mall is located outside of Honolulu, many of these vendors are hyperlocal—meaning they live and work within 10 miles of the venue.
You'll find some vendors that frequent other markets like Journey, Pomai Kūlovlo (which sells poi and haupia), and Lū'au Bombs. One of my favorite multi-market vendors is Kino Bees, named after owner Matt Kinoshita, who brings a large and educational setup in addition to his honey, gathered from different parts of O'ahu.
If you're interested, he'll let you taste samples of the different honeys and will explain how the terroir affects the flavor of each. You may find one has smoky notes, which makes it good for cocktails, while another has a richer flavor more conducive to baking. And if you stick around long enough, he may even give you a science lesson on how bees work.
Plenty of Aloha also features Humble Food Design, which specializes in spicy sauces and its popular chile pepper guava jelly. Many of its neighbors have been using the sweet and spicy jelly to elevate their own food offerings, like the hot dogs at Manny's Bake Shop, the smoked marlin dip at Hiro's Smokehouse and Aloha Edibles' 'ahi poke potato chips.
FarmLovers Kaka'ako Market
8 a.m. to noon Saturdays
By far the largest weekend market is the Saturday FarmLovers in Kaka'ako, with about 150 vendors spanning two lots. In addition to farmers and artisans, dozens of food vendors cater to every taste and dietary preference.
It's hard to pick a favorite. On the mauka, or mountain side, of the market, grab a breakfast sandwich or burger from Journey. Now that his crew all knows how to make his sandwiches, owner Tony Markham is usually in front taking orders and making recommendations. Markham, who's creative in the kitchen, also makes his own brioche slider buns, some of them colored black for dramatic effect. The burger is probably the bestseller, but I like to get the Sunrise Sammy, which is a deluxe scrambled egg with bacon and avocado (if you want), Markham's secret sauce and caramelized onions.
Other favorites include the spicy hand-pulled You Po Noodles and hand-tossed Fatto a Mano pizza. And if you want something healthy, look for the longest line; chances are it leads straight to 'Ōma'o Man Hawai'i's smoothie truck. Owner Troy Yasuda cranks out just one product, a green smoothie made of nine different vegetables and fruits with no added sugar. It has just the right amount of sweetness to make it worth the wait.
On the makai, or ocean side, try the Hā'awi Toast & Tea booth. It started out as a popular savory vendor, with kālua pig or eggplant artfully served on toast, but the sweeter, more dessertlike mango toast has been a huge hit.
While on that side of the market, visit Izu's Mochi (right across from Hā'awi Toast & Tea) before it sells out. The mochi—sweet, soft Japanese rice cakes—comes with a choice of several different fillings, including peanut butter, fresh strawberries and cookie butter.
This story was originally published in our 2022 Summer issue. Buy a copy here.