These Oʻahu Festivals are Making Their Return in 2022
The Waikīkī SPAM Jam, Duke's OceanFest and more O'ahu festivals are back this year.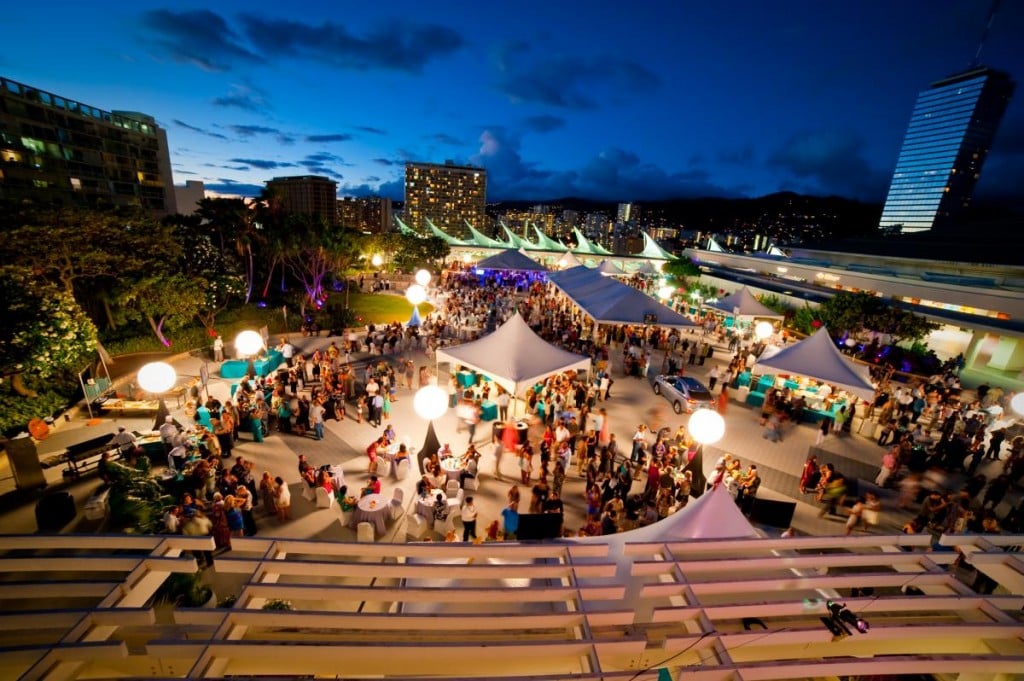 Oʻahu is home to many things—wonderful beaches, exhilarating hikes, mouthwatering eateries—and it has always been the epicenter of Hawaiʻi's festivals and events. Earning its nickname as the Gathering Isle, Oʻahu is known for hosting some of the grandest gatherings in the state. But that all changed with COVID-19. Numerous festivals had to cancel their annual celebrations—a first for some that hadn't missed a year since their inception.
As we begin to see COVID-19 cases lower here in the Islands, festival and event organizers are once again setting dates for 2022. For some, it'll be the first time they've run, in a non-digital format—since the pandemic began. And we are so happy they're back. Without them, Oʻahu just isn't the same. Below is a list of some of the annual festivals and events making their comeback in 2022.
Hawaiʻi Triennial 2022
February 18—May 8
This 11-week exhibition of the arts will be hosted at seven distinct venues, the Bishop Museum, Foster Botanical Garden, Hawaiʻi Theatre Center, Hawai'i State Art Museum, 'Iolani Palace, Honolulu Museum of Art and the Royal Hawaiian Center. The event will be framed around the concept of Pacific Century—E Ho'omau no Moananuiākea, interweaving themes of history, place, social activism, environmental change and identity within the context of Hawaiʻi's unique location at the confluence of the Asia-Pacific and Oceania regions.
To find out more, visit hawaiicontemporary.org.
Hawaiʻi International Film Festival
Spring and Fall 2022
One of the largest film festivals in Hawaiʻi—and the Pacific—the Hawaiʻi International Film Festival, or HIFF, showcases both short film and longer cinematic pieces which highlight filmmakers from Hawai'i, Asia and the Pacific. Several world-premiere screenings are also held at both seasons' fests.
To find out more, visit HIFF.org.
Kawaii Kon
April 22—24
The three-day anime and manga convention returns to the Hawaiʻi Convention Center this April with a busy schedule of panels, guest speakers and activities. If you're a fan of anime, the event is a great way to see Hawaiʻi locals dressed up as some of your favorite characters, oftentimes with elaborate handmade costumes.
To find out more, visit kawaiikon.com.
Waikīkī SPAM Jam
April 23
Who doesn't love SPAM? One of Waikīkī's largest festivals, the Waikīkī SPAM Jam, makes its comeback in 2022 celebrating the canned meat that has taken over the hearts and stomachs of many locals and visitors. The family-friendly event happens in the heart of Waikīkī on Kalākaua Avenue and features local restaurants offering creative SPAM dishes alongside entertainment stages and products from Hawaiʻi crafters.
To find out more, visit spamjamhawaii.com.
Lei Day Celebration
May 1
Since 1927, Lei Day has been celebrated on May 1 and is and always will be a wonderful display of aloha, Hawaiian culture and lei. The City and County of Honolulu's official Lei Day event will be held at the Kapi'olani Park in Waikīkī, honoring lei, lei-making and the traditions surrounding both with festivities such as pageants and competitions for lei queen. It's a wonderful way to spend the day in Waikīkī, and if you're visiting, you'll always remember your Lei Day in the Islands.
To find out more, visit honoluluparks.com.
Pan-Pacific Festival
June 10—June 12
Initially started as a cultural exchange between Japan and Hawaiʻi in 1980, where Hawaiʻi residents could learn more about Japanese sensibilities and cultural heritage, the festival has expanded in recent years. Today, the festival features events held throughout Waikīkī showcasing Japan's pageantry and includes a ho'olaule'a (celebration) block party, art fair and hula performances, all culminating with a grand parade on Kalākaua Avenue.
To find out more, visit pan-pacific-festival.com.
150th Annual King Kamehameha Celebration Floral Parade
June 11
Celebrating its 150th anniversary this year, the colorful King Kamehameha Celebration Floral Parade honors the reign of the Kingdom of Hawai'i's first monarch, Kamehameha I, who united the Hawaiian Islands under his rule. The parade features brightly decorated floats, energetic marching bands and traditional horseback pā'ū riders representing the Hawaiian royal court.
To find out more, visit sfca.hawaii.gov.
Duke's OceanFest
August 20-28
After having to cancel its slate of ocean-based events and competitions in both 2020 and 2021, Waikīkī welcomes back Duke's OceanFest with open arms. The weeklong festival will feature a diversity of exciting water sports competitions including longboard surfing, surf polo, swimming, standup paddling and other skills. Named after the olympian himself, Duke Kahanamoku, Duke's OceanFest will wrap up with a lei-draping ceremony at the Duke Kahanamoku statue.
To find out more, visit DukesOceanfest.com.
Aloha Festivals
September 2022
Throughout the month of September, Aloha Festivals—the largest annual celebration of Hawaiian culture in the U.S.—will feature several major events on the island of Oʻahu, including a floral parade and city block-spanning ho'olaule'a in Waikīkī.
To find out more, visit alohafestivals.com.
40th Annual Okinawan Festival
September 3—4
Put on annually by the Hawaiʻi United Okinawa Association, the Annual Okinawan Festival is one of Hawaiʻi's largest celebrations of Okinawan culture. The festival is particularly popular for its food booths, offering Okinawan cuisine and local favorites.
To find out more, visit huoa.org.
Honolulu Pride Parade and Festival
October 15
Each October, members of Hawaii's LGBTQ+ community, joined by their friends and family, come together to celebrate inclusion, representation and community efforts in Hawaii's capital city at the Honolulu Pride Parade and Festival. Events occur throughout the month with most festivities centered around the Pride Parade along Kalākaua Avenue in Waikīkī.
To find out more, visit hawaiilgbtlegacyfoundation.com.
Hawaii Food and Wine Festival
November 3-6
Hosted on multiple islands, the Hawaiʻi Food and Wine Festival is readying an all-star lineup of local, continental U.S. and international chefs from around the world for its 2022 dining and grazing events. The annual festival is co-chaired by noted Hawaiʻi chefs Roy Yamaguchi and Alan Wong with a mission of showcasing the state's bounty of produce, meats and seafood, and highlighting Hawaiʻi's sustainable farming, ranching and other agricultural practices.
To find out more, visit hawaiifoodandwinefestival.com.
Pearl Harbor Memorial Parade
December 7
A multitude of performing groups join in with marching bands and colorful floats for the Pearl Harbor Memorial Parade's route through Waikīkī, all honoring and paying respect to survivors of the December 7, 1941, attack on Pearl Harbor, veterans, active-duty military and their families. The parade takes place annually on the anniversary date of the Pearl Harbor attack, beginning at 7 p.m. at Fort DeRussy Military Reservation in Waikīkī.
To find out more, visit pearlharborparade.org