This Food Truck is a Must on Your Next Trip to Hawai'i Island
Island Style Grindz can be hard to find, but it's worth the search.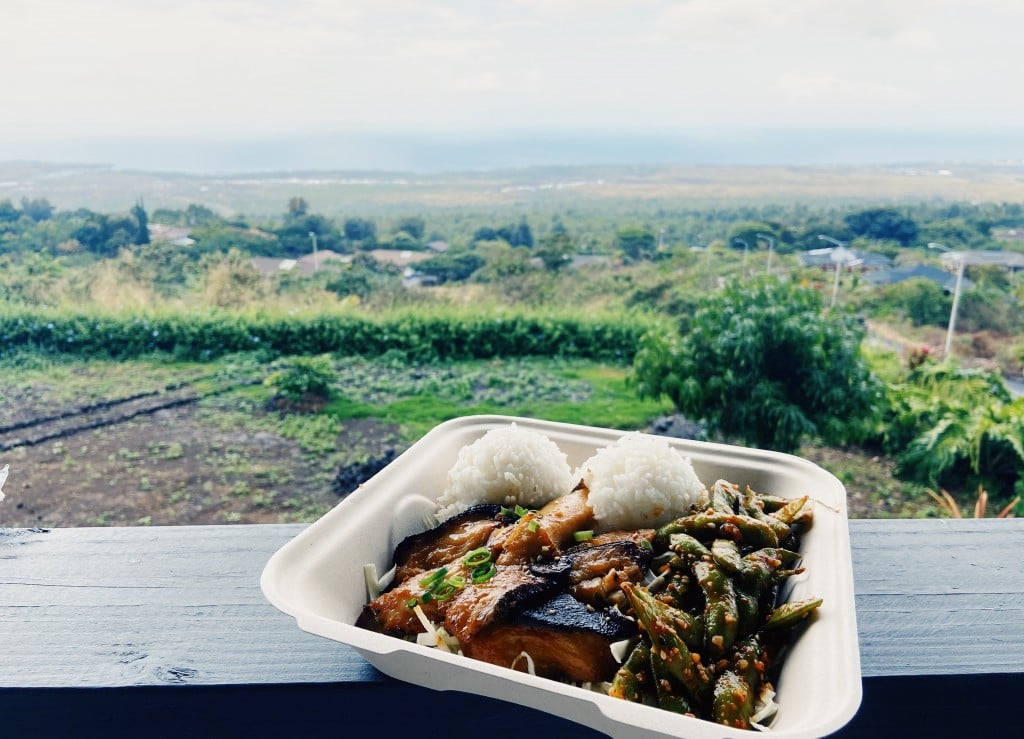 It should be a rule that if a restaurant (or, in this case, a food truck) gets recommended to you more than five times, the question isn't if it's good—it's how good.
When I was first introduced to Island Style Grindz on Hawai'i Island, I immediately tried to Google when and where I could get one of its plate lunches. It wasn't long before I discovered that the truck didn't have any set locations, nor set hours. And the only way to figure out its weekly schedule is to head to its Instagram page. It was just my luck that they were going to be in Kona recently, parked near Kealakehe High School.
The owner, Shannon (Shaq) Javillonar, not only cooks up some of the best fish on the island, but he often catches them himself. As a self-proclaimed foodie (with a penchant for Hawai'i-style lunch plates, especially if they're covered in flavorful sauces), I just had to see what the hype was about.
This family-run food truck originated in North Hawai'i Island in the small town of Hawi in 2015, where it operated under a different name, Kawaihae Kandyz. Javillonar ran the brick-and-mortar restaurant for two years before making the switch to a more mobile business model. "We made a lot of poke, because we only had a permit for a cold kitchen," Javillonar explained, "after two years, I wanted to do something else. We had an uncle that invested in us, so we bought a truck and shipped it here from Portland, Oregon. With the food truck, I can do everything now." With a permit for a full kitchen in tow, Island Style Grindz can now serve hot food, whether it's steamed, fried, roasted, boiled—the possibilities are endless.
Javillonar's culinary experience extends well before 2015, however. After graduating from high school, he moved to O'ahu to enroll in the culinary program at Kapiʻolani Community College and lived there for a few years before returning home to Hawai'i Island. Javillonar got a job at the Hilton Waikoloa Village, working as a chef for 13 years until he decided to open his own restaurant. "I learned everything I know about cooking in that kitchen, and after 13 years I was ready to start my own business," said Javillonar, "During that time, I also did a lot of fishing, yard work—anything to make an extra buck."
And thus, Island Style Grindz was born.
When the business took off, so did the truck, literally—around the island! You can find Island Style Grindz in Waimea, Hawi, Kona, Hilo and other Hawai'i Island towns Wednesdays through Fridays (most weeks). Just be sure to check the schedule on Instagram. The best part of this unique eatery is that Javillonar catches most of the fish he serves weekly. "The demand is too high for me to keep up with, so I like to support the local fisherman, too," explained Javillonar. If that's not fresh (not to mention, sustainable), I don't know what is.
Island Style Grindz offers a variety of different entrées, including surf 'n' turf, baked ono (wahoo), poke nachos, Korean chicken wings and an ʻahi patty burger—which seem to be regulars on the core menu each week. I went for their daily special, the island-style miso butterfish ($19), the marlin poke nachos ($13.50) and the Shaq Attaq ($16.50), which included kalbi short ribs, garlic ono and Korean chicken wings, generously doused in a wasabi-mayo drizzle. (Don't worry, I got this to share!) "The Shaq Attaq is my favorite dish—it's actually named after my nickname, Shaq. It can feed at least two people. It's a big boy plate," said Javillonar.
Calling in your order in advance is a must, especially if you're hoping to beat the busy Friday afternoon rush. I called in at around 10 a.m. and paid in advance for a 12:30 p.m. pick-up. When I arrived at the Kona location, there was plenty of parking to accommodate the flock of people that had arrived just in time for lunch. The line to order extended all the way to the road, but because I ordered ahead of time, I was able to walk around to the back of the truck and stand underneath the tent to wait for my order to be called. It's simple: All you have to do when you arrive is notify an employee that you're there to pick up your order, and someone will start making your food so it's hot and fresh.
Finally, the moment of truth—I had fasted all morning for this. I grabbed my to-go boxes, snapped a few photos and headed back to my house to enjoy lunch on my lānai (porch). There wasn't any seating offered at the Kona location, so plan ahead. The miso butterfish was incredibly fresh, light, flakey and flavorful—a melt-in-your-mouth kind of sensation. For my side, I picked the garlic and kim chee edamame and two scoops of rice. The bold and spicy flavors of the edamame complimented the savoriness of the butterfish, and the portions were fairly large. The marlin poke was certainly a first for me, and I'm not sure I'll go back to the more common ʻahi version, to say the least. The cubes of fresh fish were drizzled with spicy mayo and furikake atop a bed of crunchy wonton chips. It's no wonder these nachos are the most popular item on the menu. The Shaq Attaq certainly lived up to its name, too; it really is the perfect meal to share (or not).
With their usual Kona location being only 10 minutes from my house, Iʻll definitely be adding Island Style Grindz to my personal roundup of take-out joints.
(808) 896-2767, islandstylegrindz.com