This Little-Known Oʻahu Beach Has an Important History
Kāneʻohe Beach Park was renamed to Nāonealaʻa a Kāneʻohe to honor its historical significance.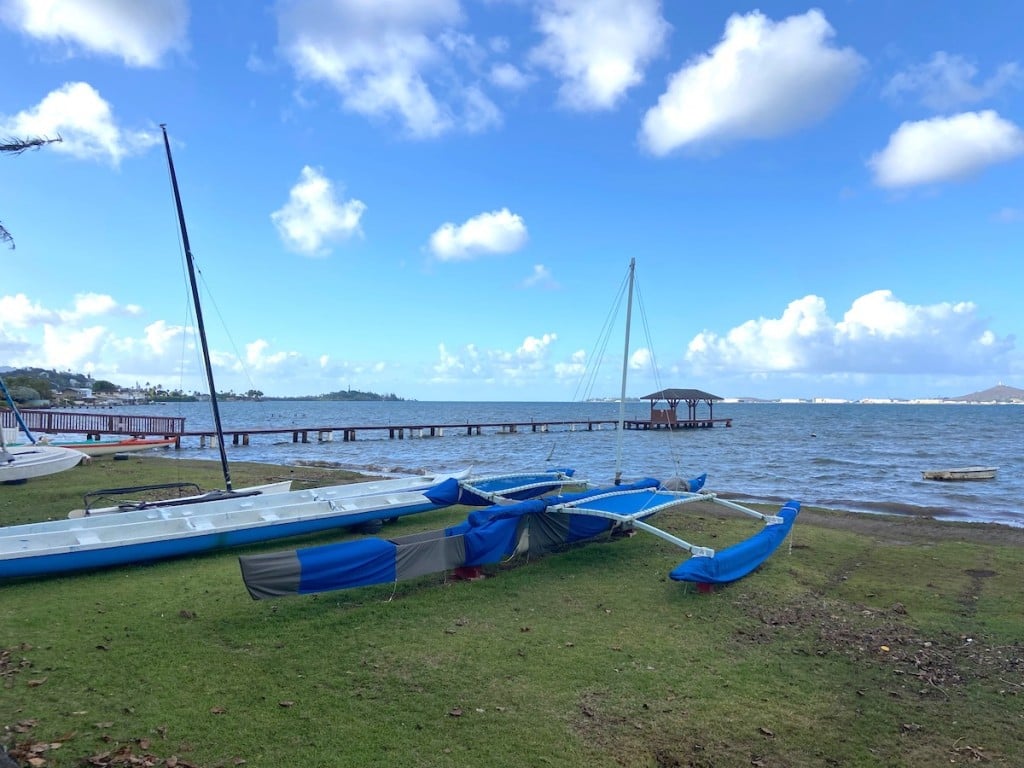 When you think of Windward Oʻahu beaches, you think of the postcard darlings: Lanikai, Kailua and Waimānalo beaches.
But did you know there's a beach in Kāneʻohe?
Probably not.
Even a lot of locals aren't familiar with this tiny—just over an area—city beach park at the end of Waikalua Road.
To be clear: Kāneʻohe Beach Park is not really a swimming beach. There's no long stretch of white sand or concession stands. You'll find picnic tables, grassy areas and a short sandy shoreline with a view of Mōkapu peninsula (the site of Marine Corps Base Hawaiʻi).
And now it has a different name, one that tells the story about the historical significance of this special place.
This summer the city renamed it Nāonealaʻa a Kāneʻohe, which means "the sands of Laʻamaikahiki," after the chief Laʻa who inherited Oʻahu following the death of ʻOlopana. In 1737 a peace accord was struck here by the chiefs of Oʻahu and Kauaʻi, all wearing traditional attire and accompanied by waʻa (canoes) that lined the ocean from Mōkapu to this park.
Today, there's a sign at the park that tells the story of this area. The renaming of the park was spearheaded and gifted by the Koʻolaupoko Hawaiian Civic Club as part of its cultural awareness program. The National Geographic Society, the Awesome Foundation and the Koʻolau Foundation also provided additional funding.
"It's a blessing to be part of this because it's an awesome example of reclaiming ʻāina and giving this place back its dignity and history by sharing the story of Nāonealaʻa," said city Department of Parks and Recreation's deputy director Kehaulani Puu. "It's an example of the values we want to instill in our communities so they can come to love and mālama (respect) these places, our parks."
If you can't visit the park, you can read the narrative, which is on the city's signage, here:
In ancient times, this area was named Nāoneala'a, for the famous chief who once lived here a long time ago. In 1867, noted Hawaiian historian Samuel Kamakau tells the story:
"There was a man at Hanauma named Ha'ikamalama. When he heard sounds from the sea, he wondered what it was. It was the sound of the big and little drum, therefore he thumped the rhythm on his chest with the tips of his fingers. The sound seemed to come from the sea on the Ko'olau side, so he sailed to Makapu'u. He saw them going by on the ocean, so he went by land until he saw the canoe heading toward Kawahaokamanō. He guessed that they were going to Kāne'ohe in Ko'olaupoko. When the canoe reached Wai hau palua (Waikalua), he ran to the shore, with his fingers beating the rhythm and he chanting the chant to Kupa…When La'a and the men on the canoe noticed this, they were astonished. He knew their names through their playing of the kā'eke. La'a threw out some sand as a resting place for the canoes. This place is now called Nā-one-a-La'a (La'a's sands). It is in Kāne'ohe.
La'a, that is, La'a-mai-Kahiki, was so named for his coming from Kahiki. After the death of 'Olopana, the kingdom was inherited by La'a, and he heard from Kila and others that Hawaii was a fertile land, and that the people were great farmers and keepers of fish in fish ponds. O'ahu was the richest of all, so La'a became determined to come here to Hawai'i…
At Nāoneala'a, the chief built three heiau, one of which was named Kalaoa. Perhaps the area is best known, however, as the site where the chiefs of all the islands gathered to make peace. Kamakau describes this important place in the history of the Hawaiian people: "It was in January, 1737, that the two hosts (Alapai and Peleioholani) met, splendidly dressed in cloaks of bird feathers and in helmet-shaped head coverings beautifully decorated with feathers of birds. Red feather cloaks were to be seen on all sides, both chiefs were attired in a way to inspire admiration and awe, and the day was one of rejoicing as that of the ending of a dreadful conflict. So it was that Peleioholani and Alapai met at Nāoneala'a in Kāne'ohe. The canoes were lined up from Ki'i at Mōkapu to Nāoneala'a, and there on the shore line they remained, Alapai alone going on shore. The chiefs of O'ahu and Kaua'i and the fighting men and the country people remained inland, the chief Peleioholani alone advancing. Between the two chiefs stood the counselor. Naili first addressed Peleioholani and said, 'When you and Alapai meet, if he embraces and kisses you, let Alapai put his arms below yours, lest he gain the victory over you.' This is therefore to this day the practice of the bone-breaking wrestlers at Kapua and at Nāoneala'a. Alapai declared an end of war with all things as they were before, the chiefs of Maui and Moloka'i to be at peace with those of O'ahu and Kaua'i; so also those of Hawai'i. Thus ended the meeting of Peleioholani with Alapai."
The area eventually fell under the jurisdiction of the City & County of Honolulu and a maintenance yard and later park was developed and named "Kāne'ohe Beach Park". In 2019, it was renamed "Nāoneala'a a Kāne'ohe."