This Maui Beach House Exudes Midcentury Modern Appeal
A Kapalua beach house boasts '60s charm and an open concept.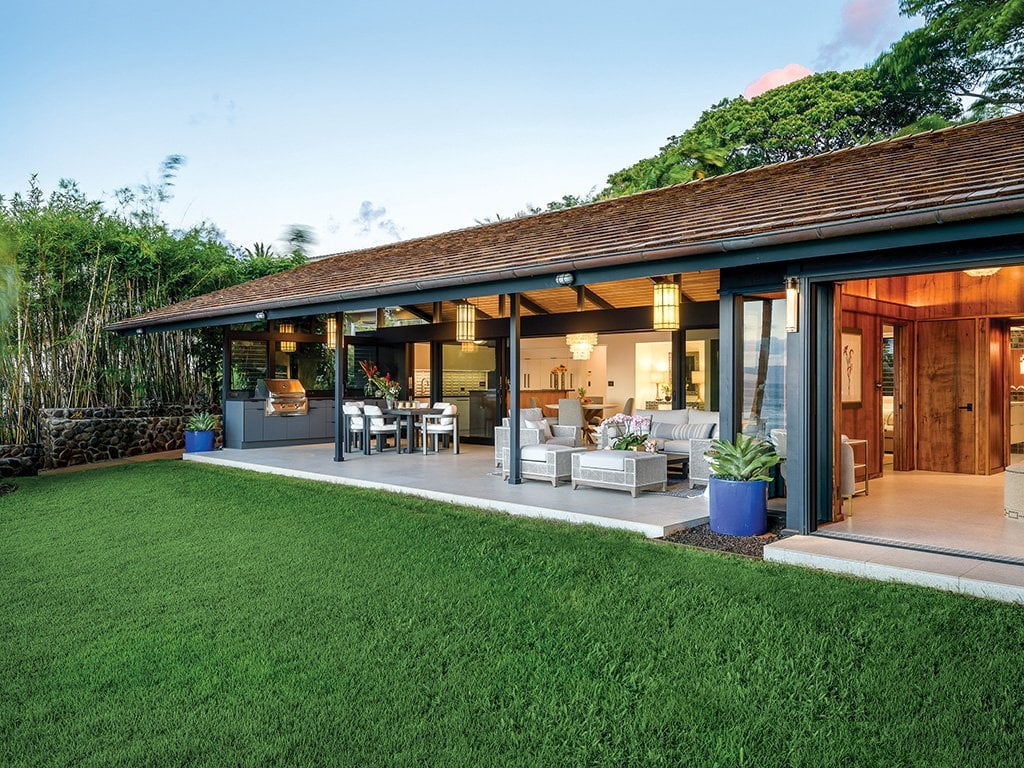 When Boyd Construction's design/build husband-and-wife team of Todd Boyd and Sarah Schmidt purchased a midcentury abode overlooking Kahana Bay, they wanted to update the home while maintaining as much of its original charm as possible.
"There's some interesting history to the house," Schmidt says. "It was built in the mid-'60s and then it was purchased by the father of windsurfing. His family were the owners from around 1970. They raised their children there, and a lot of people know the house." She adds that the home continued to be occupied by the same family until she and Boyd acquired the property in 2019.
Boasting two bedrooms and two baths plus a one-bedroom ohana unit, the house is only 1,400 square feet. Yet its open and breezy concept makes it feel much roomier. Schmidt says it's one of just a few midcentury modern homes left in the area; because they're typically smaller than other homes, people tend to tear them down and build bigger houses in their place. "This one is preserved," she says. "I think that's one of the things that makes it so interesting."
The house features new Fleetwood doors and windows, sourced from Pacific Source, as well as a new cedar roof, but much of the original koa wood paneling remains. The original copper gutters are also intact, as are the original wood ceilings. "We painted the beams and the rafters dark — almost black. It makes the cedar stand out on the ceilings," Schmidt says.
Boyd and Schmidt also kept jalousies throughout, though the home now has new ones from Breezway. "One of the things about these older Hawaiian homes is the use of jalousies, which allow so much air through them," Schmidt says. "And they're kind of making a comeback. They really function so well in the Hawaiian environment."
Jalousies are featured in the outdoor barbecue area, which connects to the indoor kitchen via a pocket door. The interior space boasts absolute black granite countertops, an Ann Sacks tile backsplash and Aristocratic laminate cabinets, as well some of the home's original koa on the island. In the barbecue area, Nature Cast cabinets offer a sleek and modern look.