You Need to See This Award-Winning Plantation-Style Home
Sunnland Architects designs a new Big Island home with details that have stood the test of time.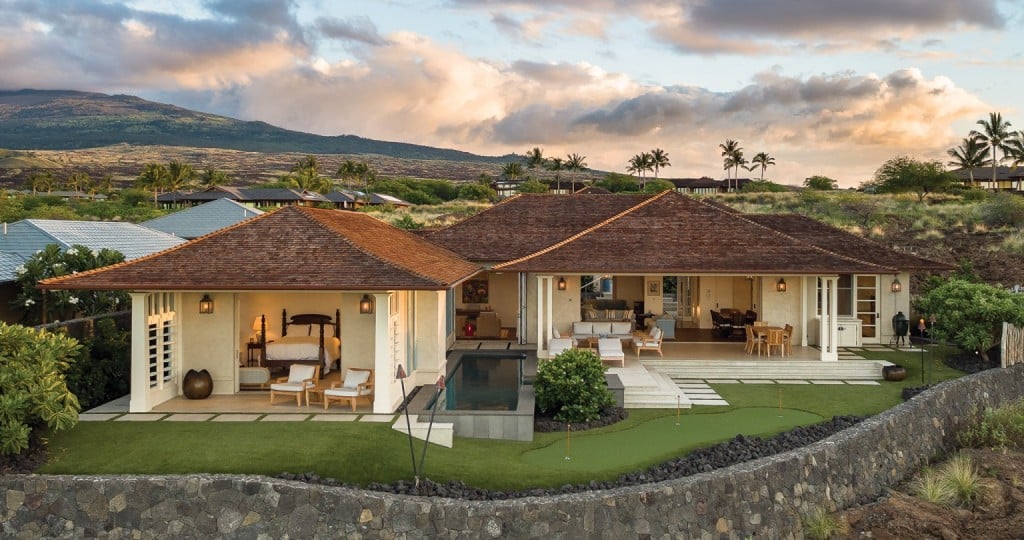 Along the Big Island's Kona-Kohala coastline, a lava field formed more than 200 years ago separates a unique jagged property from the glistening waters of Maniniowali Beach at Kua Bay.
While many homes within the Kukio Golf and Beach Club are built upon rectangular lots, this particular property presented a unique challenge, with jaws from the lava field striking the property line. Beth and Stephen McParland saw the site as an ideal location to build their new home. They just needed a creative architect.
The McParlands were fond of homes designed by Warren Sunnland, an architect with decades of experience in Kona. They reached out to him at Sunnland Architects, a new firm Warren formed with his son, Tai Sunnland.
This would be Tai's first project as lead architect, but with careful guidance from his business-partner father.
The McParlands wanted a traditional plantation-style home with architectural elements representative of homes designed by C.W. Dickey, a renowned architect known for a distinct style that takes advantage of Hawaii's climate. "Dickey favored larger open spaces and fewer walls, to allow the trade winds to circulate, and roofs with projecting eaves in order to keep rain out without having to close the windows," Stephen McParland explains. "The Sunnlands captured these elements perfectly."
The unique property lines narrowed the options for the layout of the McParland residence. Tai explains: Most Kukio Golf and Beach Club properties have straight lines and the homes are designed in U or H shapes; this one would require an L shape. The developer pre-leveled the property into three pads, with about a 3-foot elevation difference between each. "These variables provided challenges and opportunities," Tai says. "With the building pads already leveled, it was clear that the residence would be terraced and built as three separate structures."
The design works well with the McParlands' desire to have separation and privacy between their space and that of their guests. The four-bed, 4.5-bath residence built by Aina Ola is designed in three pavilions: a main house, a guesthouse and a garage in between the two, providing a simple procession to either after parking.
Turning mauka toward the main house, a blue rock wall with recessed limestone plumeria carvings acts as a privacy screen. The McParlands did not want air conditioning and, while the architects convinced them to add it for resale value as well as their guests' comfort, the house doesn't need it on most days. Its passive design allows the ocean breeze to pass through the home, bringing cooling through natural ventilation.
"The house is designed to be fully opened," Tai explains. Glass doors slide into coral stone pocket walls, framing the ocean view from the master bedroom, great room and family room.