This New Cookbook by Maui Chef Sheldon Simeon is All About Real Local Food
The "Top Chef" alum and Hilo-born chef debuts his first cookbook—a thoughtful homage to growing up in Hawaiʻi.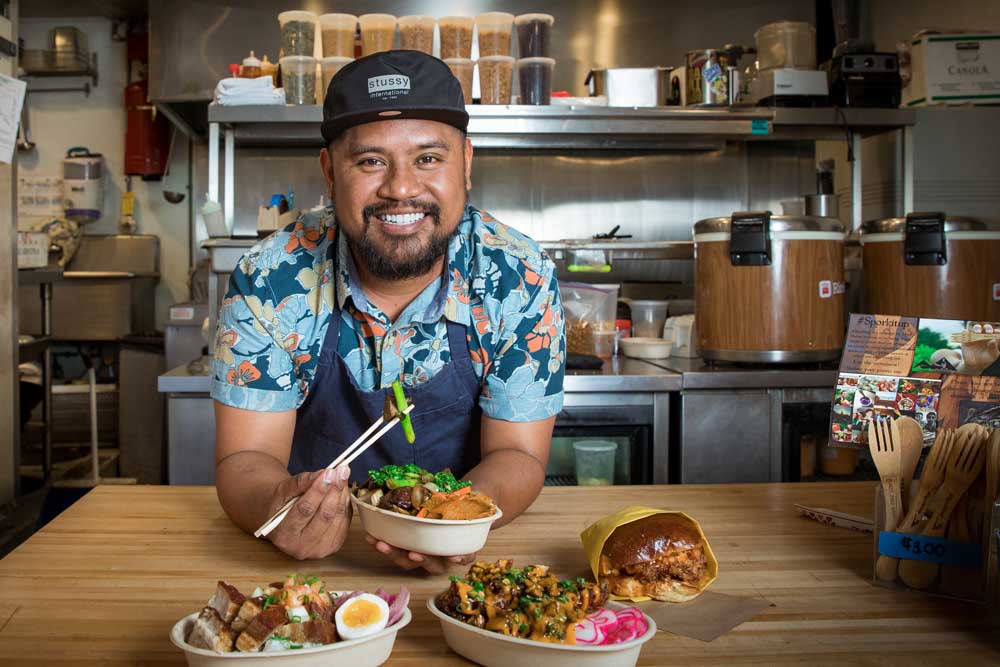 Last week Sheldon Simeon walked into Costco in Kahului on Maui and saw his cookbook, "Cook Real Hawaiʻi" ($35, Clarkson Potter/Penguin Random House) on the shelves. It was a surreal moment for the Hilo-born chef.
"I not going lie," he says. "I got kinda emotional. I saw it sitting next to Éric Ripert's [cookbook] and it was just crazy."
Simeon, best known as a two-time finalist on Bravo's hit show, "Top Chef," released his first cookbook (written with the help of Garrett Snyder) in late March, and it's filled with recipes for dishes many of us who grew up in Hawaiʻi folks know well. This is what we eat at baby lūʻau, office potlucks, beach barbecues, tailgates and Sunday family dinners: kamaboko (fish cake) dip, nori (seaweed) chicken, Portuguese bean soup, chicken hekka, local-style kalbi.
It's obvious Simeon, who grew up in Hilo but lives in Wailuku, has been influenced by Hawaiʻi's diverse and multicultural landscape. In this cookbook, you'll find 100 recipes for dishes rooted in every culture in the Islands, from Filipino pork belly adobo to Hawaiian pipi kaula (jerked beef) to Okinawan pig's feet.
It's an homage to all the people, places and food he's experienced in Hawaiʻi—with heartfelt stories behind many of the dishes featured.
One of my favorites—and it's very telling of the kind of person Simeon is—is about him making Spam musubi on the set of "Top Chef" and handing them out to famished crew members.
"I really wanted the stories and recipes to be through my lens, through my eyes," he says. "These are all the things that influenced me … The people in the book are real. The stories I'm telling are not made up. I lived this."
He even shares recipes for some of the most popular dishes he's made during his career as a chef, including the famous pork belly and mochiko fried chicken from Tin Roof Maui (which he opened in 2016 in Wailuku), fried garlic noodles from Star Noodle in Lahaina, coconut candy served at Lineage (which he left in 2020) and a kale salad with sweet onion dressing that he concocted on "Top Chef" and then served at Old Lahaina Lūʻau.
And, of course, he shares beloved family recipes, the stuff he cooks at home for his wife and four kids.
One dish he makes all the time is beef lauya, a simple Filipino soup with beef shank, fish sauce and cooked cabbage. (It's called "Beef Shank à la Oxtail Soup" in the cookbook.) "I make vats of it," he says, laughing. "That's our favorite. We can eat that constantly, especially on the weekends. I want to eat that on Sunday morning, then take a nap for the rest of the day."
What I love about this cookbook is that I'm seeing the food I grew up with—saimin, sweet-sour spare ribs, pork and peas, crispy gau gee, malasadas—in a hardcover cookbook with stunning photography on bookshelves and online—and in Costco. It feels like this food—maybe simple and uncomplicated in ways—can stand up against anything else out there.
And it makes sense Simeon was the chef to do it.
"I still consider myself one local boy before one chef," he says. "I still consider myself the guy who grew up in Hawaiʻi instead of the chef from Hawaiʻi. I rather be Bruddah Sheldon than Chef Sheldon."
Buy the cookbook here.
Where Does Sheldon Simeon Eat
Here are some of Simeon's favorite local grinds right now:
Sale Pepe, Lahaina: He loves the chicken liver crostini at this celebrated Italian eatery.
M Sushi, Wailuku: This small hole-in-the-wall serves super-fresh fish and it's BYOB.
Leung's Chop Suey House and Sum Leung Chinese Kitchen, Hilo: "When I got back to Hilo, I eat Chinese food all day. Soft gau gee mein, egg foo young, beef broccoli, cold ginger chicken. I love it."