This New Korean Buffet in Waikīkī is a Must-Try
Visitors and locals will love these all-you-can-eat Korean buffet offerings at the Hyatt Regency Waikīkī Beach Resort & Spa.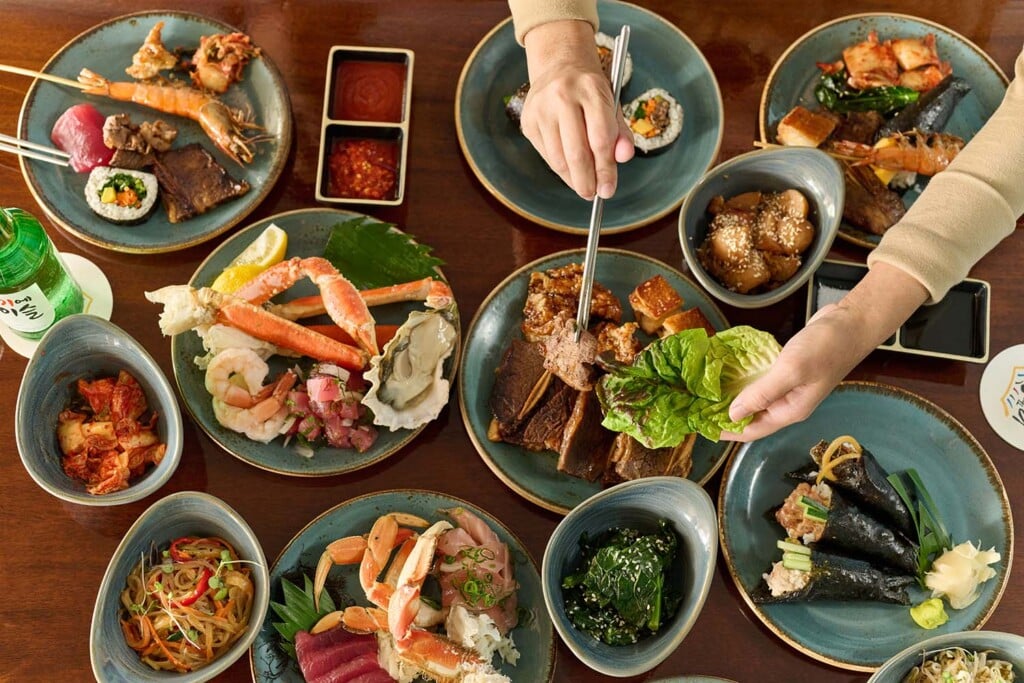 Buffets are, inherently, a thing a beauty.
It's a space where you can pay once and proceed to eat as much as you possibly can, filling yourself to the absolute brim before calling it quits. But, while many buffets offer similar entree and appetizer options, the new offering at the Hyatt Regency Waikīkī Beach Resort & Spa gives diners a uniquely Korean twist to their never-ending meal.
Debuting last month to raving reviews, this all new buffet menu compliments the return of the resort's buffet service. ""It's official: The Buffet at Hyatt is back and better with a Korean BBQ twist," says Jeff Szombaty, Director of Culinary and Food & Beverage Operations at the hotel. "My team and I are excited to bring people back together to celebrate and bond over food. We hope to bring back memories everyone has had here again, this time perhaps with a round of soju."
The first thing I noticed walking in to the buffet was that there was a sizable local crowd in the establishment, something you don't always see in Waikīkī. But, locals know good food—especially good Korean food—and my mouth began watering immediately once I saw the smattering of options on the menu. Everything looked and smelled great, from traditional Korean plates like beef bulgogi, thin, marinated slices of beef, grilled on a barbecue or on a stove-top griddle, to fusion-style recipes, such as the kimchi carbonara.
Once I sat down to dig in, I knew I'd be going back for more. Chef de cuisine Joe Almoguera, pulled no punches here, providing both quantity and quality with the plates and pūpū (appetizers) on offer. My go-to benchmark for how good Korean food is—a heaping helping of kimchi—passed with flying colors, and I found myself returning to the buffet line for a second plate sooner than I was expecting. This time, I visited the sushi-making station, where a trained chef was hand rolling a variety of maki sushi (sushi rolls). I watched as chefs made and grilled kalbi in real-time, and grabbed a fresh piece before heading back to my table for a second round.
The dessert station also did not fail to impress. With a chocolate fountain as a centerpiece—yes, you can dip fruit into it for a sweet treat—a myriad of brownies, cakes and even an ice cream machine, it's truly the perfect way to end your meal. Mai tai, cocktails and mixed drinks are also available to order, however those are not included in your buffet entry—but are worth every penny.
Even though I'd gotten to the buffet near its closing time—the buffet is open from 5 to 9:30 p.m., with last seating at 9 p.m.—the food tasted fresh the entire time. I didn't want to stop eating, but at some point, I knew I had to throw in the towel. Korean food hits close to home for me, growing up with a Korean mom, and I was not disappointed in the slightest by the buffet at the Hyatt Regency Waikīkī Beach Resort & Spa. With traditional Korean plates, new Korean-fusion dishes and a smattering of ʻono Hawaiʻi bites (fresh Hawaiian Kampachi anyone?), visitors and locals will find themselves hobbling out of the establishment—full and fulfilled.
The buffet is $79 per person, $39 per child (6-12). Make your reservation here.