This New Waikīkī Bakery is Serving Unique Twists on Mochi Doughnuts
Mochi Do Hawaiʻi opened in January—and demand is only growing.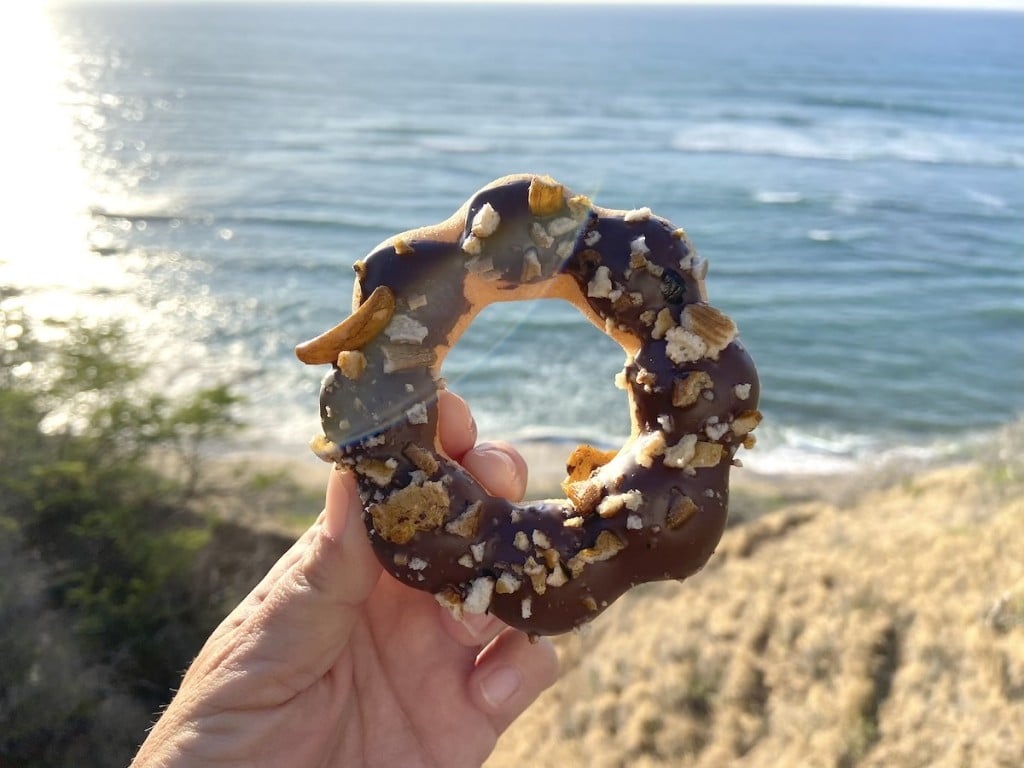 (Editor's Note: Mochi Do Hawaiʻi closed in 2021.)
If you haven't heard of mochi doughnuts, maybe you haven't been to a bakery or farmers market lately.
These chewy versions of the fried dough confection, made with sweet rice flour (mochiko), is popping up everywhere, from Seattle to Houston to Canada.
In Hawaiʻi, several bakeries have been churning out mochi-based doughnuts, from Liliha Bakery to Brug Bakery, both on Oʻahu. In fact, MoDo Hawaiʻi opened a second location in Palo Alto, California in December 2020. (Side note: In 2018, Mitsukawa Marketplace in San Jose started selling MoDo's mochi doughnuts and people waited in long lines for them.)
It's clearly a thing.
The latest Oʻahu bakery to open that specializes in these chewy doughnuts is run by an unlikely company.
Mochi Do Hawaiʻi, run out of the Waikīkī Monarch Hotel, is run by Roberts Hawaiʻi. Yes, the Honolulu-based tour operator, the state's largest transportation provider.
The statewide shutdown in March 2019 due to COVID-19 caused tourism to come to a halt—and that impacted companies like Roberts Hawaiʻi, which relied almost exclusively on Hawaiʻi's visitor industry.
"We had to figure out ways to stay in business, to keep our employees working and maintain our presence here," says Jason Young, vice president of operations.
And that way was to open a bakery that specializes in mochi-based desserts.
After months of research—mostly on social media—and securing a Belshaw doughnut fryer with a crinkle cut mold (that's apparently hard to find, so don't ask!), Mochi Do opened in early January. The dough is imported from Taiwan and the glaze is made from a high-quality (read expensive) white chocolate. It launched with six flavors: Thai milk tea Oreo, ube cheesecake, haupia pie, Matcha-cha, mocha mac and Melona. And bonus: There's a rotating flavor of the week. Lucky for me, it was the Kaki Mochi Do (pictured below), a chocolate-covered mochi doughnut studded with crushed kakimochi (Japanese crackers made from glutinous rice and flavored with shoyu).
Young, a 54-year-old father of two, banked on Instagram to market the products—and it worked. Within a week, Mochi Do's Instagram garnered more than 1,300 followers.
"I knew to succeed in today's culture of Millennials and new generation [of foodies], we would have to rely on social media to get us to where we are," Young says. "It's a nice feeling to realize that there's a community out there that accepts these kinds of ideas and new businesses. It just amazes me."
Order online and pick up curbside at the hotel. You can drive up and order curbside, too. Waikīkī Monarch Hotel, 444 Niu St., Waikīkī, 8 a.m. to noon Monday through Saturday, closed Sunday, mochidohawaii.com.