This Oʻahu Speakeasy Pays Homage to Honolulu's Historic Chinatown
Located in Chinatown, The Lei Stand has made a name for itself as one of Downtown Honolulu's coolest lounges.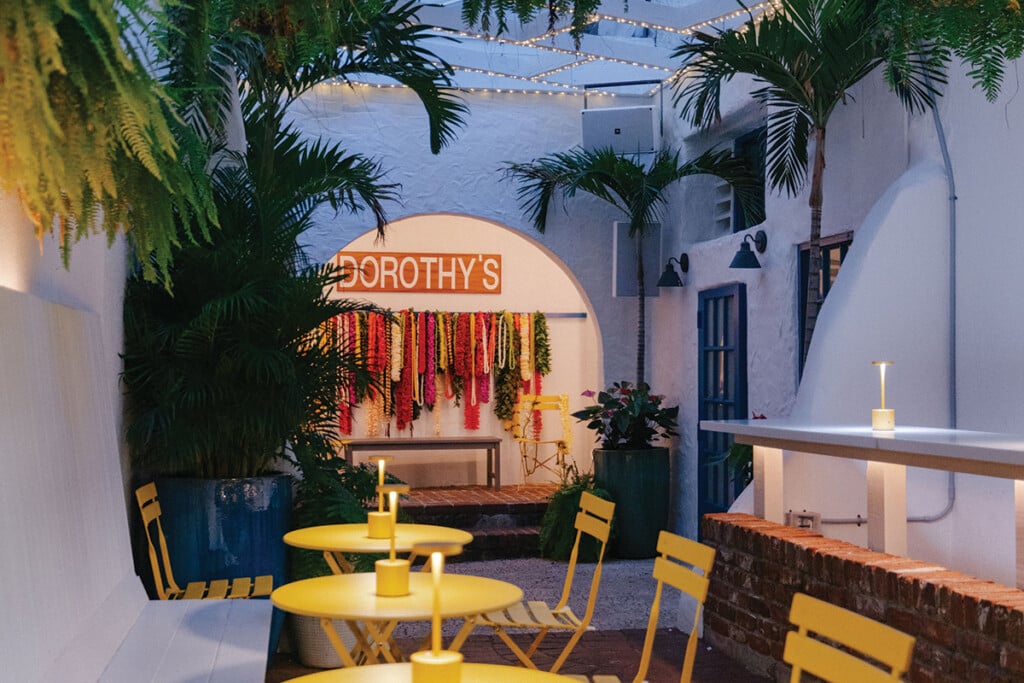 Don't judge a book by its cover, and don't judge The Lei Stand by its front door.
This Honolulu speakeasy pays homage to its Chinatown roots with its authentic-looking storefront and sign on Bethel Street. But once you shimmy through the plastic drapes separating the storefront from the bar, you're in for a pleasant surprise. Neon lights illuminate a hyper-chic bar that balances on the edge of vintage and modern. The space is a love letter to retro-Honolulu while also paying homage to the Chinatown of the past few decades. A magnificent wooden bar counter separates guests from hip bartenders and their displays of spirits, which are complemented by boisterous palms and other flora. The dimly lit outdoor seating area features an actual lei stand, Dorothy's, and looks just as stylish as the interior. It is quite the scene.
"We wanted to pay homage to Chinatown and this area, to be a part of this community and the vibe they had down here, and to pay homage to what Chinatown was back in the day," says Ryan Kalei Tsuji, co-owner of The Lei Stand. Tsuji knows exactly what Chinatown was like in years past, even frequenting Bethel Union, which was the bar and restaurant that existed here before The Lei Stand. "Chinatown has that perfect balance of old-school and new-school, and you can be fun and take risks with your design because Chinatown is so urban and gritty," adds Tara Shimooka, fellow co-owner of The Lei Stand.
The planning process for The Lei Stand was started by the two Honolulu locals over two years ago, during the COVID-19 pandemic. From the get-go, Shimooka and Tsuji said they wanted to create a space that would fill a void in O'ahu's current nightlife scene. Their mission: to put together a place where people could go for drinks and music, but not have to deal with rowdy drunken crowds or overly packed bars. They wanted to lounge, in a lounge.
"There are bars and clubs everywhere in Chinatown, but there was no real lounge vibe here," says Tsuji. "When you go to Los Angeles and New York, they're everywhere, but I feel like that was missing the most here." To accomplish their mission, The Lei Stand operates a little differently compared to most bars and clubs in Hawai'i. First, you can't get in without a reservation—unless you get really lucky. "It's reservation only but we do accept walk-ins if we have space, but you know you're getting a couch area or high-top if you reserve," says Shimooka, a former bartender. And free space is hard to come by—even reservations must be made days in advance to ensure a spot.
"I don't want to say we're high-end; we want everyone to come here and enjoy. But we have set a certain standard on what it means to be at a cool place to hang out and sit down, to have a cocktail and listen to good music," says Shimooka. "We just want there to be something for everybody in Chinatown. You can get the club and the restaurants, but we didn't feel, for us, that there was an upscale lounge that we'd want to hang out at, where you can get a really cool vibe and understand what Chinatown has to offer."
With an upscale lounge also comes an upscale menu and elevated bites. And with Kenny Lum, ex-bar manager of Nobu Waikīkī, as general manager and mixologist Art Deakins managing the drinks, the culinary side of The Lei Stand is in good hands. Cocktails are equipped with cheeky names to appeal to visitors and locals alike—like the Coconut Wireless ($19), an intriguing mixture of Bulleit Bourbon, house vermouth, bitters and washed coconut fat. The food items are just as charming. The Lei Stand's small plates are perfect for sharing: Pūpū (appetizers) range from classic Chinese dim sum fare like shrimp shumai ($13) to chorizo hash browns ($9) and a lū'au stew with chile pepper water ($11). There are a few larger plates as well, like the uni waffle ($19), which comes with a yuzu maple glaze and umami butter. You'll want to keep that plate for yourself.
It's not just the names that are local. James Beard Award-nominated chef Ricky Goings sources as much as he can locally, even doing a walk of Chinatown's vibrant markets every morning to get the best ingredients he can and to put actual produce from Chinatown itself into his dishes. "We can't pay homage to Chinatown just in decor and design," says Shimooka. "We have to do it with the people we work with and what we're putting into our menu."
A sum of its parts, The Lei Stand is clear with its aesthetic and culinary choices. It takes inspiration from Tsuji and Shimooka's world travels—the idea for the floral bar came from a watering hole in Miami and the inspiration for the palm-adorned back wall of The Lei Stand came from a space in London. The intentionality of The Lei Stand's overall design is a refreshing pairing of old Chinatown and new. "The tie-in with the lei stand just seemed like a really easy fit," says Tsuji, "to bring in a vintage historical sense of Chinatown while also incorporating a newer look to the renaissance that is
happening today."
The Lei Stand, 1115 Bethel St., Honolulu, (808) 773-7022, getleid.co.
This story was originally published in our 2023 Spring issue. Buy a copy here.