This Pittsburgh Native Crafted the World's Best Mai Tai, and Here's the Recipe
Christina Maffei, now a Honolulu-based consultant, was crowned the champion of the 11th annual Don the Beachcomber Mai Tai Festival in Kona.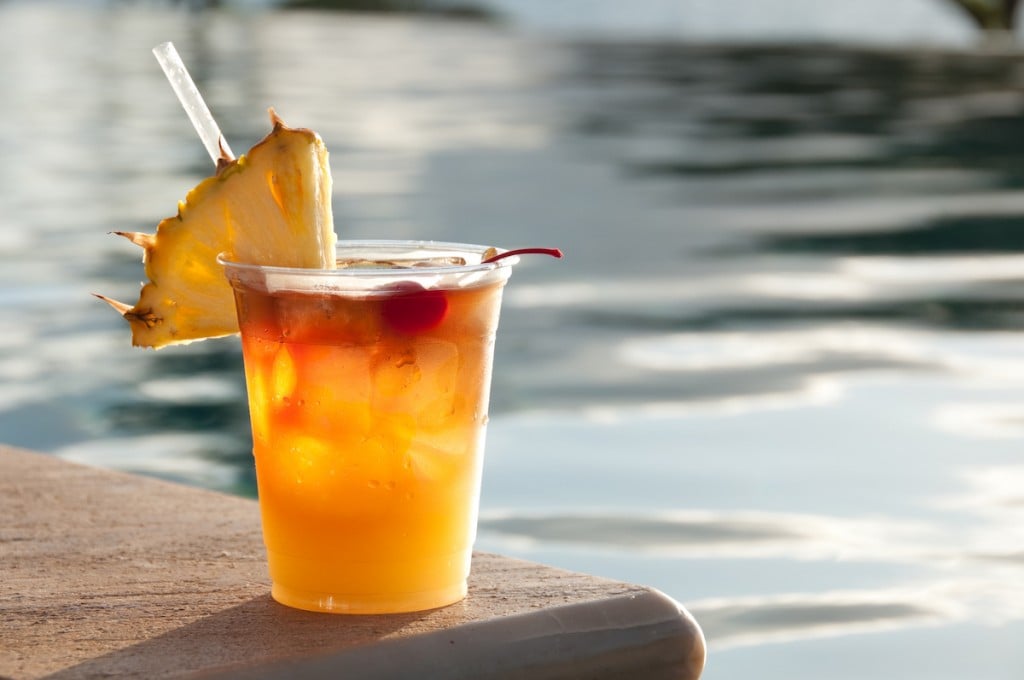 For the second time, Christina Maffei, a Pittsburgh native who now runs a Honolulu-based hospitality consulting company called Liquid Artistry, took home the title of world's best mai tai at the 11th annual Don the Beachcomber Mai Tai Festival on Aug. 17 in Kona.
Maffei, who won this contest in 2011, beat out 21 other competitors and took home the $10,000 grand prize at the event, which was held at the oceanfront Royal Kona Resort on Hawaii Island. Her drink was called the Menehune's Magical Mai Tai. (See recipe below.)
Cory Starr of Tiki Tatsu-Ya, a new tiki bar in Austin, Texas, placed second and Dane Dostert of The Mill House on Maui took third. Each cocktail, which paid tribue to the classic rum drink, was judged on taste, creativity and name.
SEE ALSO: The 5 Best Mai Tais in Hawaii
For the past 11 years, the Royal Kona Resort has been celebrating the popular mai tai, luring hundreds of visitors to cheer on their favorite mixologist. This year's event featured celebrity appearances by Aaron Sanchez of Fox's "MasterChef" series, Shawn Forn from the popular "Bar Rescue" on the Paramount Network, cocktail personality Jeff "Beachbum" Berry and Hawaii's own chef Sam Choy.
The classic mai tai is a combination of rums, orgeat (almond syrup), lime juice, simple syrup and orange curaçao. Its history is often disputed: Some claim the drink was concocted by Victor J. Bergeron—better known as Trader Vic—in 1944, created to showcase the 17-year-old J. Wray and Nephew Jamaican rum; others say the true inventor was Donn "Don the Beachcomber" Beach, who created the similar Q.B. Cooler in 1933. The cocktail didn't make its way to Hawaii until 1953, when shipping company Matson Steamship Lines, which brought visitors to the Islands, hired Bergeron to oversee the cocktail menus for the bars at the Royal Hawaiian and Moana Surfrider hotels in Waikiki. Of course, mai tais were on the menus.
Want to know what made Maffei's cocktail stand out? Here's her recipe below.
The Menehune's Magical Mai Tai by Christina Maffei, Liquid Artistry
Ingredients:
1 oz. Bacardi Gran Reserva Diez
1/2 oz. almond oil-washed Bacardi Superior
1/2 oz. Perfect Purée caramelized pineapple concentrate
3/4 oz. fresh lime
3/4 oz. Indian-spiced olena (turmeric) syrup (see recipe below)
1/2 oz. Hawaiian vanilla bean-infused Bacardi Black
Glass: 11 oz. brandy snifter
Garnish: Thinly sliced pineapple 1/2 round, 3 gold-dusted pineapple feaves, 3 pieces turmeric-dusted candied ginger on a pick
On the side: Olena-copaiba gummies (see recipe below)
Directions:
Shake, strain, add fresh ice. Add float. Garnish.
Indian-Spiced Syrup:
1 c. water
1 c. sugar
1 large piece fresh ginger root (about 5 inches long)
1 T. whole allspice berries
1 tsp. whole black peppercorns
1/2 tsp. whole coriander
1 tsp. Hawaiian olena powder
1/4 t Garam Masala
Peel ginger. Slice into 1/4-inch pieces. Add water, sugar, ginger, allspice, black peppercorns and coriander to a medium-size saucepan. Bring to a boil over medium high heat. Once it comes to a boil, turn down heat and simmer for 13 minutes. Strain. Add turmeric powder and stir until thoroughly incorporated. Strain through a coffee filter. Strain once more. After double straining, add in the garam masala and stir. Store in refrigerator.
Olena-Copaiba Gummies:
1 c. water
2 T. ohia-lehua blossom honey
3/4 tsp. Hawaiian olena powder
2 T. unflavored gelatin powder
2 drops Doterra copaiba oil
Combine water, honey and turmeric in medium saucepan over medium-high heat. Cook for about 5 minutes, stirring constantly. Remove from heat. Slowly sprinkle in gelatin powder as you are whisking constantly. Whisk for 1 minute. Let sit for about 30 seconds or so for the bubbles to settle. Add in the two drops of Copaiba oil. Whisk gently. Only add in two drops—the oil is very potent.  Use a silicon mold in whatever shape you prefer or pour into a glass pyrex dish. Used here was in the shape of tiki masks. Place in refrigerator for at least 3 hours before unmolding or cutting.  After unmolding or cutting, place in airtight containers. Will keep up to 7 days in fridge.
For more information about the event, visit donsmaitaifest.com.