This Waikīkī Poolside Bar is the Perfect Place to Escape the Heat
Earl's at Halekūlani's House Without A Key is Waikīkī's newest poolside bar and an ode to the golden age of Hawai'i travel.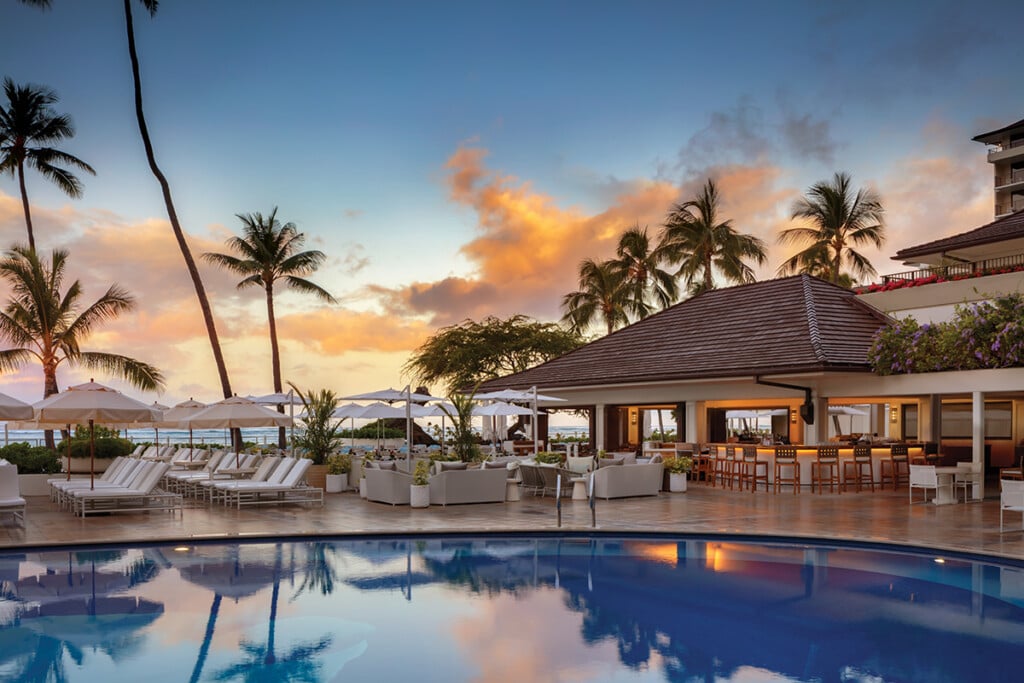 Out of the sun but just a few steps from the pool, Earl's is an oasis of shade, boozy beverages and scrumptious pūpū (appetizers). Its drinks sport tropical colors, from sunset gold to electric blue, and its vibe—from the low-key but classic-looking bar to the inviting lounge furniture and art deco-esque custom kiawe branch sculpture by Washington state-based interior design firm Charles Loomis Lighting—feels perfectly suited for Waikīkī's golden shores.
Named in honor of acclaimed 20th-century novelist Earl Derr Biggers, author of "House Without A Key," the poolside bar was a big part of the House Without A Key's recent renovation and makeover, which included a complete revitalization of the restaurant itself. Now, Halekūlani's on-property restaurant has an expanded seating area, an art exhibition-style glass kitchen, a custom Marra Forni brick oven made in Italy as well as a completely reimagined menu from the minds of Halekūlani executive chef Christian Testa and House Without A Key head chef Jarrin Otake.
From the restaurant to the bar, the ambiance emulates the golden age of Hawai'i travel, when Elvis ruled the radio and smartphones—and brick phones too, for that matter—were decades away. It shows in the decor and interior design, but also in the drinks themselves. Lead mixologist Tuda Grehan, who got her start bartending in New York before returning to her roots here on O'ahu, pairs classic cocktails, like the timeless mai tai, with new and interesting drink concepts. The Yellow Umbrella, for example, combines fresh liliko'i (passion fruit) juice, coconut matcha syrup, tequila and Mezcal for one dangerously delicious beverage.
The pūpū are no slouches either, and will easily make up for any calories burned at the pool. From the finest Margherita pizza slices you can imagine—made in the oven shipped over from Italy—to downright delectable char siu coconut baby back ribs with a hoisin and Chinese five-spice honey glaze, you'll definitely want to wait 30 minutes before reentering the pool.
The perks of a poolside bar, like Earl's, are simple and pure. After spending time out in the sun, nothing beats a nice place to get some shade, lounge around and have a drink or three. It's all so intoxicating.
For more information, visit halekulani.com.
This story was originally published in our HAWAI'I Magazine Winter 2023 Issue. Buy a copy here.