Top 5 Favorite Hawaii Scenic Lookouts: HAWAII Magazine reader poll results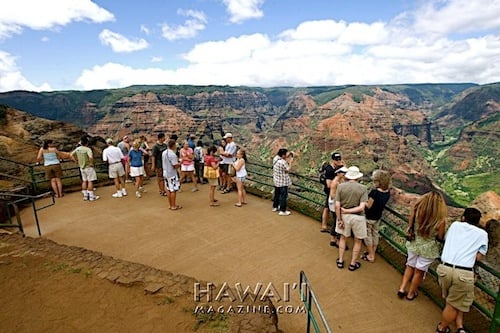 The view of Hanalei Valley on Kauai's North Shore. The grandeur of Oahu's windward side from Makapuu Point. The Big Island's lush and lovely Pololu Valley from the end of highway lookout past the North Kohala towns of Hawi and Kapaau.
We've counted the hundreds of answers HAWAII Magazine's Facebook reader ohana shared with us when we asked them the poll question: "What's your favorite Hawaii scenic lookout?"
The faves you sent our way spanned every one of our Hawaiian Islands, save for Niihau and Kahoolawe. Everything from lookouts with stunning views easily accessible just by pulling off the road—Waimea Canyon's multiple overlooks, Maui's north shore from Hookipa Beach—to overlooks requiring a bit of hiking for your scenic reward—Oahu's Koko Head summit, the Green Sand Beach overlook on the Big Island.
If you'd like to join in on our next poll and vote along with our growing Facebook fan page ohana, go to HAWAII Magazine Facebook page and "like" us. In return you'll be ready to share your answers in all of our "Hawaii favorite" poll questions as soon as we post them, know the results of the poll when all of the votes are counted and get all of our daily HawaiiMagazine.com stories and features.
We'll be posting our next Ohana Poll question on HAWAII Magazine's Facebook page in the days ahead, so join soon if you haven't yet.
Here's the Top 5 countdown of our Facebook ohana's favorite Hawaii scenic lookouts:
#5
Waipio Valley overlook
(Hamakua Coast, Big Island)
Our Facebook ohana voted Waipio their favorite Hawaii valley in our last HAWAII Magazine Facebook poll, likely enamored with the breathtaking view from this overlook. Every day, dozens of Waipio visitors hike, ride on horseback or take a four-wheel drive vehicle down the uber-steep cliff-hugging road to explore the huge, lush and sparsely populated valley. But the Waipio Valley overlook—almost 2,000 feet above the valley floor—is how most visitors experience the Big Island's largest and most scenic valley. To get to the lookout, just follow Waipio Road from Honokaa town to its end. Trust us, you won't miss the lookout.
#4
Puu Ualakaa State Park/Mt. Tantalus lookout
(Honolulu, Oahu)
The summit of Puu Ualakaa, better known to even longtime Oahu residents as Mt. Tantalus, offers one of the best views of urban Honolulu and the island's south shore—from Diamond Head Crater all the way to the Waianae mountain range. The summit Puu Ualakaa State Park is reached via Round Top Drive, which loops around Tantalus and the ridges above Honolulu, snaking past dozens of million-dollar hideaways-with-a-view. The drive has several lookouts—the best after Puu Ualakaa being a sweeping view of residential Manoa Valley.
#3
Kalalau Valley lookout
(Kokee State Park, Kauai)
Kalalau was our HAWAII Magazine Facebook ohana's 3rd favorite Hawaii valley, we think, partially because of the phenomenal view from this easily accessible lookout in the highest elevations of Kokee State Park. Kalalau is one of the only valleys on Kauai's remote Napali Coast visible without taking a helicopter tour or arriving by boat or hiking trail. The Kalalau lookout offers a breathtaking view of the valley from its lush, often mist-covered back end. To get to the lookout, simply take Kokee Road beyond Waimea Canyon State Park—naturally, after stopping at one or more of the canyon's own awe-inspiring lookouts.

#2
Diamond Head Crater Summit
(Honolulu, Oahu)
Hawaii's most popular hike—more than 1.3 million people annually take it—finishes with a sublime 360-degree view of Oahu's scenic, but very urban south shore. Look east: Views of Koko Head, Koko Crater and the suburban residential communities of Kahala, Hawaii Kai and points in between. Look north: It's the interior of Diamond Head Crater, and valleys and ridges morphing from home-lined streets to lush forests as they move deeper into the Koolau mountains. Look south: Waves crash off reefs at the foot of Diamond Head, with the vast blue Pacific stretching out to the horizon. Look west: There's the entirety of urban Honolulu, stretching from Waikiki's beaches to the Ewa plain and Waianae mountains beyond. Is the view from the lookout worth a hike to the summit of an extinct volcanic tuff cone with, on any given day, thousands of other visitors? Our readers say, "Definitely!"
#1
Nuuanu Pali lookout
(Nuuanu Valley, Oahu)
Historic, windswept, obscene with greenery and blessed with magnificent views of Oahu's windward coast and majestic Koolau mountain range, the Nuuanu Pali lookout was all but predestined for the no. 1 spot on our Top 5.
Some might argue that there sure is a lot of Oahu urbanity visible from the lookout—the towns of Kaneohe and Kailua, the H-3 Freeway, Marine Corps Base Hawaii and the Pali tunnels, among these. Not us. We're fans of all of it, especially the lookout's unparalleled views of the Koolau and valleys stretching north for miles up the windward Oahu coast.
Bonus? At the top of the 1,200-foot-high pali (Hawaiian for "cliff"), nature still pretty much rules. Sure, the lookout attracts more than 900,000 visitors annually. But strong and steady gusts of wind tend to whip away much of their noise, leaving behind the creak and rustle of foliage clinging to the Koolaus. There's also no other spot on the island with a more easily accessible close-up view of the sheer cliffs of the mist-shrouded Koolau.
The lookout has some important history, too. The perilous 1,200-foot drop from the top of Nuuanu Pali was a key component of King Kamehameha the Great's battle plans for uniting the Hawaiian Islands under his rule. In the May 1795 Battle of Nuuanu, Kamehameha's army forced more than 400 of rival chief Kalanikupule's soldiers to retreat from Oahu's south shore, up the forests of Nuuanu Valley and, with no other escape, off of Nuuanu Pali.
Arrive in the early morning or late afternoon, and avoid much of the crowds.