Tour the Tropical Fruit Farm at Rainbow Falls
O.K. Farms in Hilo offers excursions through its tropical fruit farm with stops at two private waterfall lookouts.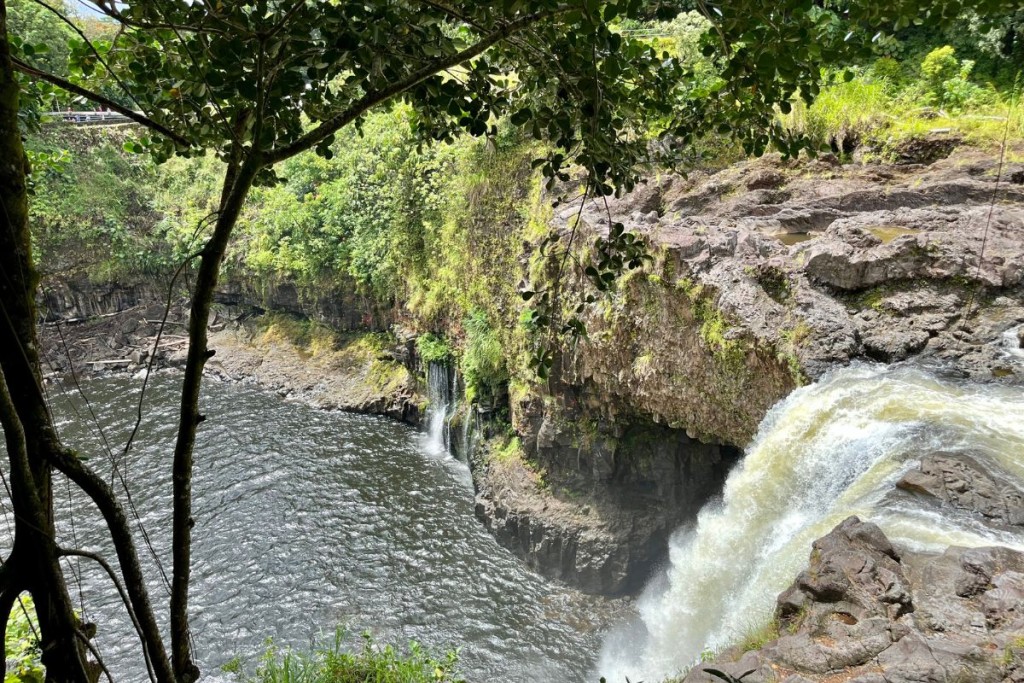 Standing among a row of tall, verdant trees, Kea Keolanui hands me a small leaf and says, "Chew on this." The bitter taste is slightly mouth-numbing and I have zero guesses of what this spice is.
Keolanui tells me it's clove. The aromatic flower buds are from Syzgium aromaticum tree, which are native to Indonesia but grow well in wet, tropical regions like Hilo on Hawaiʻi Island. We move onto the next tree. Again, we pluck a leaf, I nibble on it and all I can offer are a few incorrect answers. This time it's a leaf from the cinnamon tree, a tropical evergreen species.
We're walking along Spice Road at O.K. Farms, one of many paths on the 650-acre farm. The family-operated estate is just a 5-minute drive from the heart of Hilo town. Keaolanui is the executive director at Hawaiʻi Eco Experiences and her father, Troy, started the farm with Ed Olson 20 years ago. The two men envisioned a diverse fruit farm on the Big Island. Together, they grew O.K. Farms into one of the largest tropical fruit producers in the U.S.
Hawaiʻi Eco Experiences leads out-of-state travelers and local visitors through the grounds. The intention behind the tours is to educate guests about the importance of local food production and sustainable agriculture practices, which are intrinsically connected.
"We want to reshape the idea of what it means to take care of Hawaiʻi," Troy Keaolanui tells me. O.K. Farms transformed hundreds of acres once filled with sugarcane into land now abundant with fruit trees, including lychee and cacao as well as designated plots for pumpkin, pineapple and kalo (taro). Instead of deteriorating the earth by monocropping, the farm grows a diversity of crops, that, when possible, are also rotated to preserve soil health.
"We're really just the caretakers," Kea Keaolanui adds. "And we're inviting people to take ownership of the land, too." Through the driving tours, guests not only explore the beautiful, tropical farm and waterfalls, but also witness agroforestry techniques and see crop diversification. In return, O.K. Farms hopes to inspire visitors to be stewards of the land, too, both in Hawaiʻi and in their homes. As I ride in the farm truck with Kea Keolanui, it becomes apparent the strong dedication O.K. Farms has to this land and community.
Although it's raining—typical of Hilo weather—I see the lush green fields filled with an abundance of thriving trees and varying crops. Keaolanui points out rows of trees, noting the farm has about 1,500 lychee trees and typically harvests about 125,000 pounds of lychee per year. But the farm planted another 1,500 this year. Once those trees mature and start fruiting in about five years, O.K. Farms will be one of the largest lychee producers in the state.
Soon, we pass a 5-acre ʻulu (breadfruit) plot. The football-size fruit grows on trees with large leaves that provide immense shade coverage. This makes ʻulu trees great in traditional Hawaiian agroforestry systems. In Hawaiʻi, ʻulu trees are often grown alongside banana trees and crops like kalo. And not far from ʻulu plot is in fact a kalo patch where macadamia nut husks are incorporated into compost for the soil.
The husks are taken from the macadamia trees grown on the farm. While the husks come from the shells of the fruit, the harvested nuts go to Hamakua Macadamia Nut Company. The nuts are then prepared with coats of spicy flavorings like chili pepper or incorporated into sweet confections like chocolate brittle. The farm also grows red catuai, a species of coffee shrub that grows well in wet environments. These beans go into coffee bags through a partnership with Kaʻū Coffee Mill, where O.K. Farms has its own medium roast edition.
"Farming in Hawaiʻi is different than the mainland because of the different elevations," Keaolanui says. "It allows for diversity." If a plant species isn't thriving, it can be rotated to a different environment. And the varying terrain also creates opportunities for collaboration. In addition to partnerships with Hamakua Macadamia Nut Company and Kaʻū Coffee Mill, O.K. Farms also grows white pineapple and lemon grass for Ola Brew, a local beer company based on the Big Island. Together, the farm and Ola Brew offer farm to glass tours with a tasting in Ola Brew's new taproom in Hilo Town.
The astounding variety of crops also helps diversify the farm's CSA (community-supported agriculture) boxes. Residents in the area can purchase weekly or bi-weekly subscriptions to receive boxes containing produce grown right on the farm. From lettuce and carrots to melon and rambutan, the boxes are a true taste of the island's bounty. And the farm also works with local food hubs and food banks to ensure residents facing economic hardship still have access to healthy, nutritious food grown on the island.
This land that once was covered in a sea of sugarcane, now flourishes with a unique set of crops. Here, cinnamon is harvested and grounded into a fine spice, near a patch of white pineapple that will go into a local brew.
After we roam pass rows of tropical fruit trees and sample spice leaves, cacao pods and lychee fruit, we make it to a lookout above a series of waterfalls that flow into a looming pond. Keaolanui tells me this area of the Wailuku River is called Ka Imu Kanaka. An elder told her it translates to "pit of man," and holds much cultural and spiritual significance. The 28-mile Wailuku River is the longest river in Hawaiʻi, flowing mostly between the lava flows of Mauna Kea and Mauna Loa. And beneath the falls, a series of lava tubes extend at least 40-feet deep.
At the farm, guests see the intricate link between the island's mountains and seas. The Wailuku River flows through O.K. Farms right into the ocean. From the farm's private lookout above the famous Rainbow Falls, it becomes clear how tightly woven mauka (upland) and makai (toward the sea) are. What is done on land directly impacts the island's marine ecosystems below.
Standing above the immense falls, I can spot the popular lookout at Rainbow Falls State Park. But here, in this little bungalow, I have unique perspective, feeling almost immersed in the falls. And the tours at O.K. Farms are more than just tropical fruit, its an immersive experiences in sustainability and stewardship of the island.
For more information and to schedule tours at O.K. Farms, visit okfarmshawaii.com.