Two Kealakekua restaurants offer tasty stopovers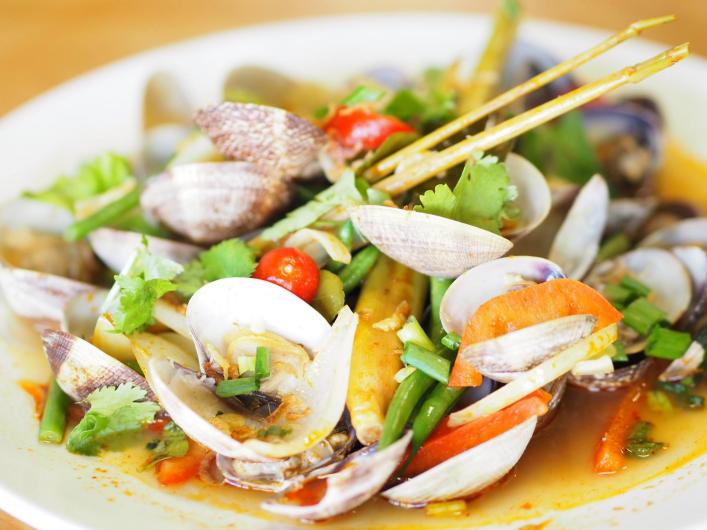 Hawaii Island vacationers enroute from the resorts at Waikoloa to the black and green sand beaches, taking the scenic way to Hawaii Volcanoes National Park or just enjoying Kona coffee country, now have two notable dining options.
The Mango Court complex, already home to Annie's Burgers, Gypsea Gelato and the Cliff John's Gallery collective of Hawaii artisans welcomed Rocco's Pizza Pub and TK Noodle House Kainaliu in late March. These openings represent a big boost in sit-down venues along this rural stretch of Mamalahoa Highway between the towns of Kainaliu and Kealakekua. Both also serve wine and local beer.
Chef Thepthikone Keosavang (TK), of the Asian-inspired TK Noodle House Kainaliu, is no stranger to the restaurant business. The Laotian refugee—via Thailand and the Philippines—worked as a sous chef on the Las Vegas strip before moving to Hawaii where he now owns and oversees four restaurants including TK Shabu Shabu House Kona and Lemongrass Express in Waikoloa as well as Asian Market.
The bright yellow and pink walls of TK Noodle House Kainaliu is a cheery venue from which to try equally cheery and colorful island-fusion dishes like pork katsu in a hoisin plum sauce or the tempura-battered chicken with a lilikoi (passion fruit) and honey glaze. And, the picture menu makes it easy to see what you're getting. The specialty here, of course, is noodles—wide, thin, flat, round, rice, spinach, you name it. They are stir-fried into dishes such as vegetable Yakisoba, pad Thai, Singapore udon and even fusion dishes like spinach or tomato fettuccines with curry cream sauces. If you're craving Vietnamese pho, TK Noodle House Kainaliu has that too. The lunch specials are a bargain at $12, but the dinner menu—with some salads topping $19 and mains from $13 to $21—can feel a bit pricey.
Next door, the much more subdued Rocco's Pizza Pub serves an Italian family's traditional take on the popular pie. Although décor is minimal—tan walls, chalkboards, empty growler bottles, hanging flower baskets—the surrounding scenery is the showstopper. Unlike TK Noodle House, which doesn't offer outdoor seating, a small screened-in porch in the back sports most of the restaurant's tables, all with prime sunset ocean views.
A rotating tap of craft beers compliments their 10 pizza options which include the Red Chili Kahlua Pork with pork shoulder in a chili and pineapple rub, the vegetarian So Cal, Spam and pineapple, or the popular Da Big Island Beef with beef crumbles from cattle raised at Kealia Ranch just 11 miles south of the restaurant. In fact, much of the produce served on Rocco's pizzas is sourced locally—tomatoes, basil and even Kona lobster (only on Fridays in season). If you can't find a named pizza you like, you can always build your own from their list of 17 toppings. Compared to other area pizzerias, prices are reasonable—its large pizza, a hearty 15 inch with a just-right crust, tons of gooey mozarella and portioned into 8 slices, can be had for around $20 and feeds four (or a ravenous two).
Thursday evenings, the pizza pub is hosting a jam session and open mic that runs from 4 to 7 p.m. In addition to the free entertainment, the restaurant also offers its (recommended) 12-inch Irie Grinds pizza with tomatoes, jalapeno and yellow bell peppers for $2 off.
After you've sampled Kealakekua's newest eats, you'd be remiss if you didn't make a stop at Gysea Gelato right next door (closed Tuesdays). Its handmade selections in innovative flavors such as balsamic vinaigrette and goat cheese; ginger and lemongrass; fresh mint; lilikoi or raspberry and white chocolate are the perfect treat.
---
TK Noodle House Kainaliu, 79-7460 Mamalahoa Hwy., Kealakekua, Hawaii Island, (808) 324-0070, cheftk.com. Open daily 11 a.m. to 9 p.m.
Rocco's Pizza Pub, 79-7460 Mamalahoa Hwy., Kealakekua, Hawaii Island, (808) 238-5679, roccospizzapub.com. Open Wednesday through Sunday, noon to 10 p.m.