Vegan Foodies Will Love This North Shore Eatery
Started by two local wahine, Raised by the Waves combines its 100% plant-based and vegan-friendly menu with a variety of healthy add-ons.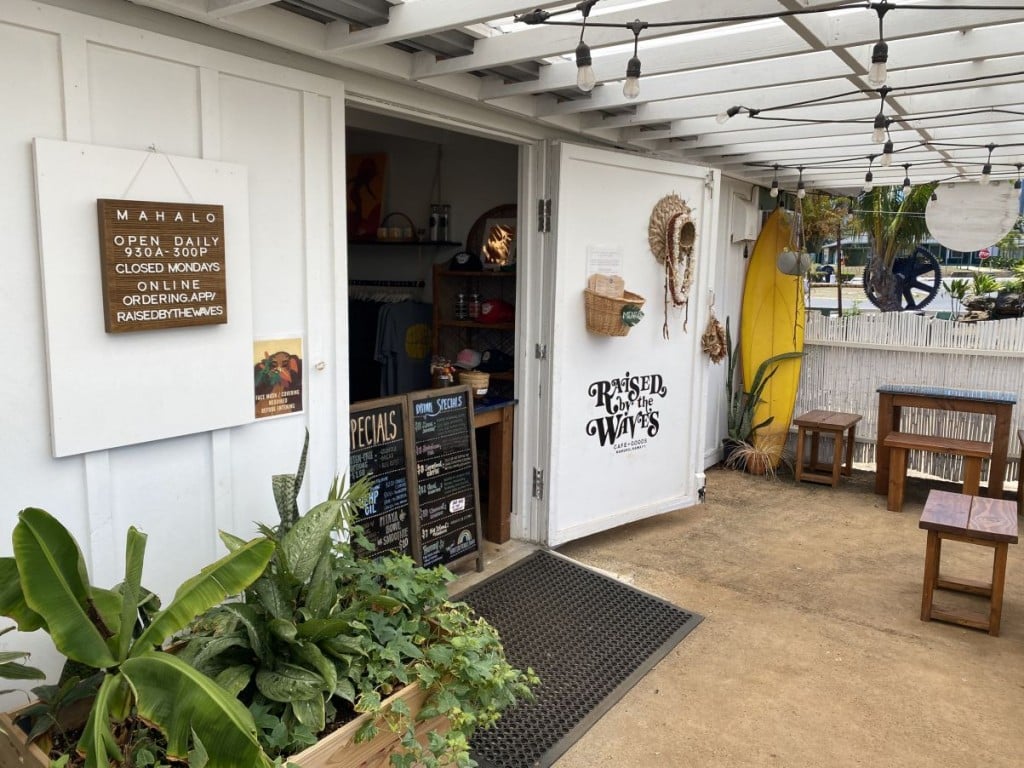 If you've never had a vegan poke bowl before, get one from Raised by the Waves.
Trust us, you won't miss the fish when you get your hands on this bowl of organic brown rice, cube beets, spicy vegan mayo, cucumber slices, green onion and seaweed flakes. Located in the Kahuku Sugar Mill, behind Seven Brothers "At the Mill," Raised by the Waves is a plant-based, vegan-friendly café and eatery that has it all: a highly Instagrammable storefront, 'ono (delicious) vegan offerings and a mission to raise awareness about living a health-conscious lifestyle.
Owners Brooke Berry and Malia Murphey were raised among the waves of the North Shore, which at times served as both babysitter and teacher. But it didn't stop there for Berry, a freelance photographer, and Murphey, a model. For them, being "raised by the waves" is a way of life passed down to them through generations, and a life-encompassing mantra that has shaped their focus and dreams. It ultimately led them to start Raised by the Waves in late 2018.
After meeting for the first time in the ocean—there it is again—10 years ago, Berry and Murphey went their own ways for a while, the former getting her BFA in graphic design from Chapman University in California and then making a career in photography and marketing, while the latter pursued modeling, working for the likes of Billabong, Spiritual Gangster and Slate Swim. Both traveled the world extensively for work, but they eventually reconnected—and while on a trip together, they came to an eye-opening realization. Throughout all of their international travels, they found numerous quaint, local cafés and coffee shops—businesses they realized were lacking in their own neighborhood. That realization was the impetus that inspired them to bring a wave of healthy, vegan cuisine to their own community under the tagline "waves (+food) will bring us together," at a café they could call their own.
And they've done just that. Since opening their doors in Kahuku, right across the street from the very same high school Murphey attended, the dynamic duo has defined what it means to be an entirely vegan eatery in their community. Everyone has their favorites, but most customers have come to love the gluten-free Sunrise Waffle ($13), which comes topped with locally sourced fruits, sprinkled with hemp hearts and cacao powder and finished off with a vegan coconut whip, almond butter and maple syrup, and the delectable Chuns Banh Mi Sandwich ($12), a vegan take on the banh mi that comes on a ciabatta bun and features Raised by the Wave's house-made "seed cheeze"—a probiotic vegan pate that's good for your gut—spicy vegan mayo, pickled daikon, pickled carrots, Aliʻi mushrooms, sprouts and cilantro.
The smoothies on tap are equally vegan and very, very healthy. The Matchaloha ($10), for example, is a blended concoction of matcha powder, dates, banana, fresh mint leaves, cacao nibs and almond milk. But wait, there's more. With an add-on list the size of most normal menus, you can include a wide array of hearty extras in your smoothie, from bee pollen to MCT oil and chia seeds to mushroom powder.
Raised by the Waves has largely succeeded in bringing its health-conscious menu to Kahuku, and community support has been key to keeping the new business afloat during COVID-19. Away from bustling Haleʻiwa, which sees significantly more foot traffic than quieter Kahuku, Raised by the Waves depends largely on its local, loyal customers. Fortunately, Murphey and Berry seem to have found their footing in Kahuku, and why wouldn't they? The food's good. And best of all, it's good for you.
Open Tuesday through Sunday from 9:30 a.m. to 3 p.m., online orders and pickup only due to COVID-19, 56-565 Kamehameha Highway, Kahuku, raisedbythewaves.com.