The Historic Hawaiʻi Theatre is a Honolulu Landmark Culture Buffs Need to Visit
For the last 100 years, Hawai'i Theatre has stood the test of time.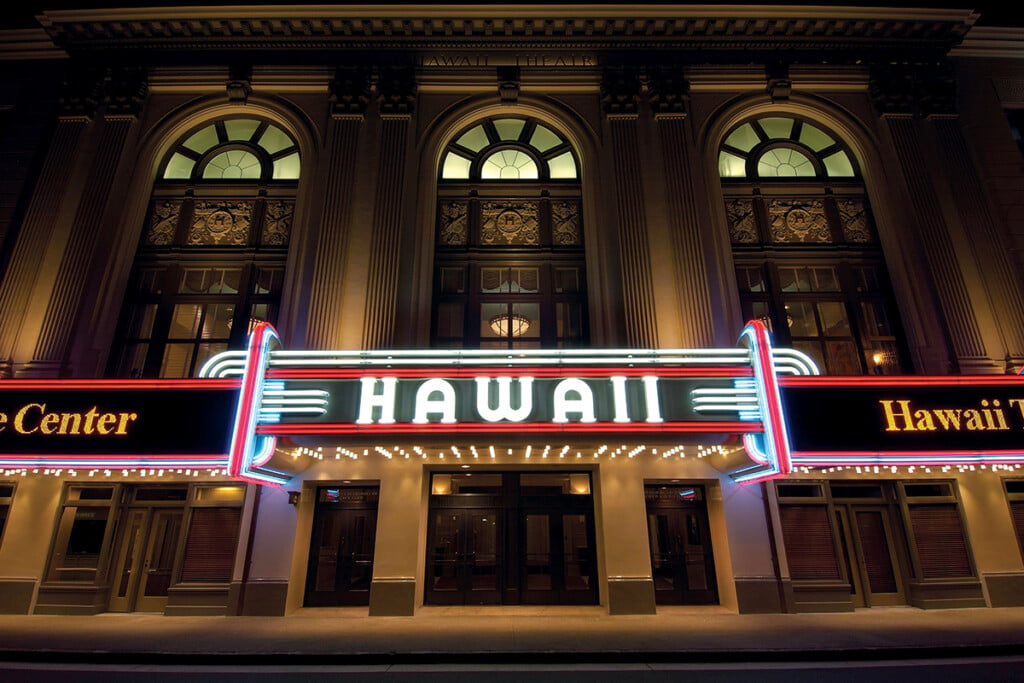 The credits roll as the lights come on. I'm seated in the foyer of the Hawai'i Theatre and I can't stop staring at the walls. Intricate gold detailing highlights the delicate ornaments and fixtures fixed around the theater screen, which had just finished showing "The Princess Bride." The viewing had been unlike any movie-watching experience I'd ever been a part of. Fellow watchers dressed in their finest aloha wear applauded at pivotal points in the flick and knew iconic lines by heart. These were not your average moviegoers, and this is not your average theater.
Later in the week, seated a few rows up from where I was previously, I'm talking with Gregory Dunn, CEO and president of the Hawai'i Theatre. Built in 1922 by Consolidated Amusements of Honolulu, the theater's opening was a big deal. "It was envisioned to be the grandest showplace in Hawai'i," says Dunn, a lover of the arts who has actually performed at the theater with his hālau hula (hula school). Now in its 100th year, Hawai'i Theatre has served more than 2.5 million patrons and generations of families. In the beginning, there weren't many places to even see silent films in Hawai'i, with most viewing places being Quonset huts—half-domed, tin roof structures that were low budget, to put it lightly.
Consolidated Amusements of Honolulu contracted the architectural firm Emory and Webb for the job of building the theater, and in 1915 the Honolulu-based company began researching popular Mainland theaters of the time. After deciding on a neoclassical, Greek revivalist design that was all the rage in New York, construction began and was completed in a few years—after a brief delay due to the Spanish flu—and the Hawai'i Theatre opened its doors to the public on Sept. 6, 1922. Designed in a deliberately domed roof, the theater was built to naturally amplify acoustic sound so that even those seated in the top row of seats could still easily hear words being spoken onstage.
With standing-room tickets available for only a penny and seats that cost a nickel apiece, locals and visitors would pack the building to see the latest silent films. And when those films were replaced with talkies, the theater continued to thrive. The grandest showplace in Hawai'i was even equipped with a primitive form of air conditioning, with vents under the chairs blowing cold air produced from a room below full of ice.
Fast forward to the mid-1980s and the Hawai'i Theatre is on the brink of destruction. "Much of the theater's downfall in the '70s and '80s can be attributed to TV and cable," says Dunn. "Also, more people began living outside of Honolulu, so there was a less centralized population attending shows."
The once glamorous theater had fallen into near-ruin, showing cracks and stains inside and out. Fortunately, a community of drama and art lovers came to the rescue, forming a coalition of volunteers who raised over $32 million to not only buy the building and the land but to help renovate and reform the theater. To help with that, volunteers even pulled the gold gilding out of the walls to sell for additional funds.
"Not everything in the theater is as it seems," Dunn says as he points to a large mural that I had been admiring, above the projection screen. Half of the artwork—which depicts a procession and the evolution of drama—had to be redone after years of neglect and damage. But like the theater, you could hardly tell it had fallen into such disrepair. After Dunn joined in 2017, business began to boom. After serving as Hawai'i's Better Business Bureau president and CEO, and with a background in business investment and strategic planning, Dunn knew how to turn a profit. Creating a much more solid and consistent lineup of events and shows, Hawai'i Theatre had begun to fill more seats than ever.
Over the years, the theater has been home to many notable acts and shows. The Beach Boys have crooned on stage, The Cazimero Brother's Christmas Show was a perennial favorite amongst locals and KHON2 news anchor Joe Moore has partnered with longtime "Wheel of Fortune" host Pat Sajak over the years to put on several plays at the theater, such as "The Odd Couple," "Dial M for Murder" and "The Sunshine Boys."
And even as we work our way through the COVID-19 pandemic, fans of theater and other live performances are bolstering ticket sales and selling out shows. In the beginning, films were the only art forms on display at Hawai'i Theatre; now, stand-up comedians, musicians and more can find their time in the spotlight. And with refurbished accommodations and seating, alcoholic and nonalcoholic beverages on tap and a stunning interior, the theater is a step up from the run-of-the-mill cinema at the mall.
Ultimately, it was a community of people that made the theater what it is today, a procession of drama lovers and performers who have instilled life into a 100-year-old building. And with a little luck and continued support, maybe we'll see the arts—and audiences—at Hawai'i Theatre for a hundred years to come.
For more information and to see its schedule of events, visit Hawai'i Theatre at hawaiitheatre.com.
This story was originally published in our 2022 Fall issue. Buy a copy here.