Visit the Northwest Hawaiian Islands from Hilo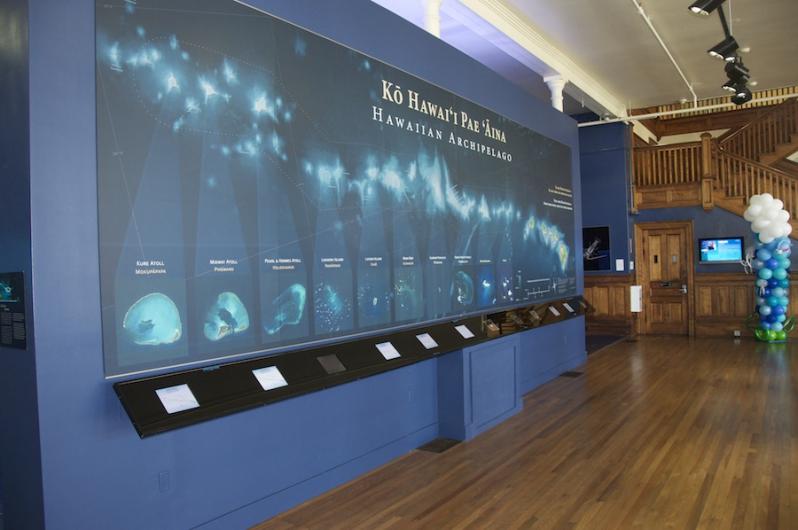 One of Hawaii Island's most visited cities houses the headquarters for one of the state's least visited and most remote places—the Northwestern Hawaiian Islands.
The Mokupapapa Discovery Center, an educational outpost and headquarters for the Papahanaumokuakea Marine National Monument (PMNM), moved into the old Koehnen furniture store right off Kamehameha Avenue in downtown Hilo a year and a half ago, and allows visitors to experience some of what makes the vast archipelago so magical.
Papahanaumokuakea encompasses the Northwestern Hawaiian Islands, surrounding 3.5 million acres of open-ocean and dozens of tiny islands, shoals and atolls. The area begins 166 miles northwest of Kauai and extends for more than a thousand miles. The PMNM has some of the world's healthiest and least disturbed coral reefs—70 percent of all of the coral reefs in the U.S.—that support more than 7,000 species of fish, turtles, marine mammals and invertebrates, including many endemic, rare and endangered species.
For the most part, only scientists and advanced boaters (with permission and permits) can visit the marine national monument, making the Mokupapapa Discovery Center one of the few ways visitors can experience the area.
On a recent visit to Hilo, I stopped into the Discovery Center and found it to be a clean, modern, blue-tiled and Hawaiian hardwood-floored tribute to the marine sanctuary.
Though the lofty center is filled with interesting and informative displays with signage in both English and Hawaiian, the highlight is undoubtedly a 3,500-gallon saltwater tank. Look for species found only in Hawaii such as the vibrant purple, orange and yellow Hawaiian longfin anthias, the Hawaiian flame wrasse, the silver aholehole, and the cartoonish umaumalei.
Small exhibits detail how coral reefs are formed, and display marine debris—including some of the 57 metric tons that were removed by National Oceanic and Atmospheric Administration (NOAA) scientists on a recent research mission. Also, learn about deep reef habitat in 600-900 feet of water, home to ehu and onaga, and experience Hawaii's underwater habitat from the point of view of a monk seal.
There's an underwater video on loop in an old vault—though seating is limited, woven lauhala mats provide a comfortable spot for the keiki. You can also learn about what it's like to work and live at sea and a scientist, scroll through NOAA researcher profiles, and watch live feed from the R/V Okeanos Explorer when it's deployed within the marine sanctuary.
When I visited, staff insisted that the already impressive exhibits in the small two-story space were only going to expand and grow. Be sure to stop by next time you're in Hilo—it's free!