Volcano Lovers Won't Want to Miss this Hawaiʻi Island Tour
KapohoKine Adventures' Elite Volcano Hike tour showcases the destruction—and creation—of Big Island's volcanoes.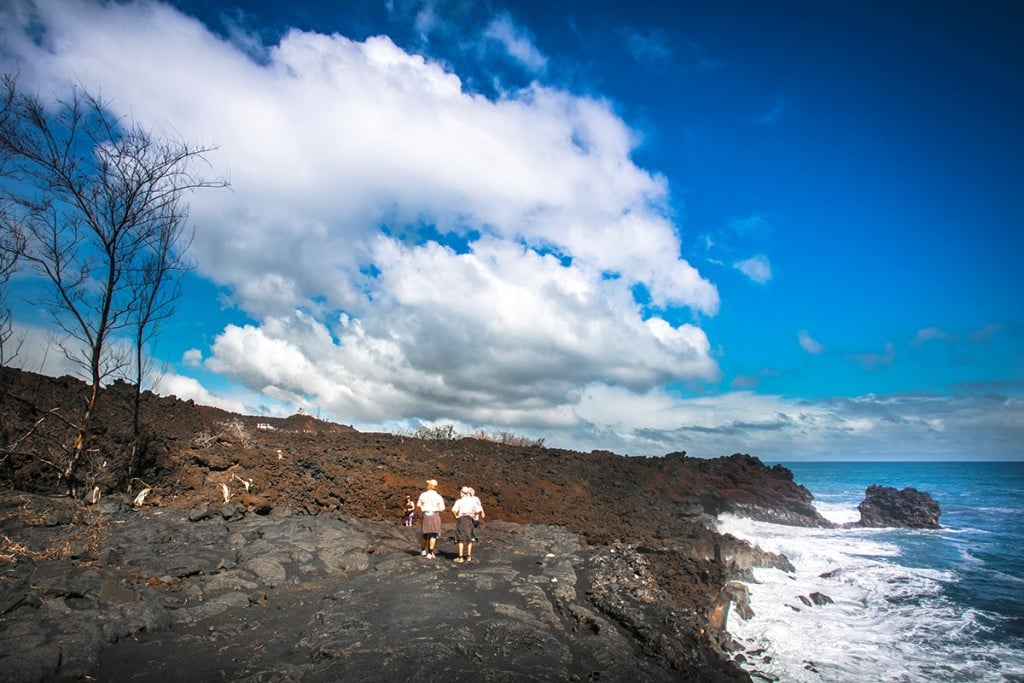 Among the many fascinating natural wonders in Hawaiʻi, volcanoes stand above the rest—literally. But there's more to them than spewing lava.
If you want to know more about Hawaiʻi's volcanoes KapohoKine Adventures' Elite Volcano Hike tour. This six-hour educational adventure starts in Hilo and will take you through areas on Hawaiʻi Island that have been impacted by eruptions, old and new on foot. That includes places in the path of Kīlauea's most recent eruption, which started in 2018 and lasted for months, destroying more than 700 homes and devastating residential areas in nearby Puna.
If you're staying at the Grand Naniloa Hotel Hilo, the tour operator will pick you up there in one of its shuttles. Your first stop on the tour, which will be led by a Hawaiʻi Volcanoes National Park Service and Wilderness First Aid certified guide, will be the Mackenzie State Recreation Area, where you will then proceed to hike along a now-closed highway which was devastated by the 2018 eruption of Kīlauea.
After trekking down part of the two-and-a-half-mile trail, passing 40-foot tall walls of crumbly aʻa (lava rock) and into a pine forest the lava flowed through, you'll arrive at Isaac Hale Beach Park, which miraculously survived the eruptions. Better yet, a newly formed black sand beach has emerged there, with its beautiful obsidian sands best appreciated in person, and KapohoKine Adventures will make that just a little easier by providing a picnic-style lunch.
Next stop is Hawaiʻi Volcanoes National Park, a 323,431-acre park that encompasses two active volcanoes, Kīlauea and Mauna Loa. The park was closed for an unprecedented 134 days last year; most of it reopened on Sept. 22, 2018, after months of eruptions, seismic activity and lava flows from Kīlauea. The cracks and sinkholes left behind from the historic 2018 eruptions are now part of the tour. Tour-goers will also have the opportunity to hike the paved road over to Keanakākoʻi, which provides an epic view of the Kīlauea Caldera. The tour continues for about two miles (roundtrip) past the famous sulphur banks to the floor of the caldera. On the way, you'll see Halemaʻumaʻu Crater, which, while no longer filled with lava, has grown dramatically after numerous collapses of its crater walls. Nature lovers will also enjoy the native birds, such as the yellow ʻaʻamakihi and the red ʻapapane, both of which can be found in the area. You'll also visit the historic Volcano House for some panoramic views of the expansive volcanic landscape.
The last stop is Volcano Winery, the southernmost winery in the U.S. The winery grows grapes in the brisk air high in the hills of Volcano Village on the slopes of Mauna Loa. It was started in 1983 by a retired Oʻahu veterinarian, Lynn "Doc" McKinney. Today, Volcano Winery offers a wide range of premium wines. Included in your tour is a sampling of up to eight wines, from sweet to dry, and a private peek at the farm's vineyard. The tour ends with a Hawaiian-style barbecue meal, which, along with a complimentary glass of Volcano Winery wine, can be enjoyed at the winery's outdoor seating area.
For more information, visit KapohoKine Adventures' website or call (808) 964-1000. Conveniently located in the lobby of the hotel, guests of the Grand Naniloa Hotel Hilo, a DoubleTree by Hilton, can book tours on site.