Mālama: Restore a Local Marine Ecosystem
Volunteer with Mālama Maunalua, a nonprofit organization, committed to restoring Hawaiʻi's marine ecosystems by removing invasive algae.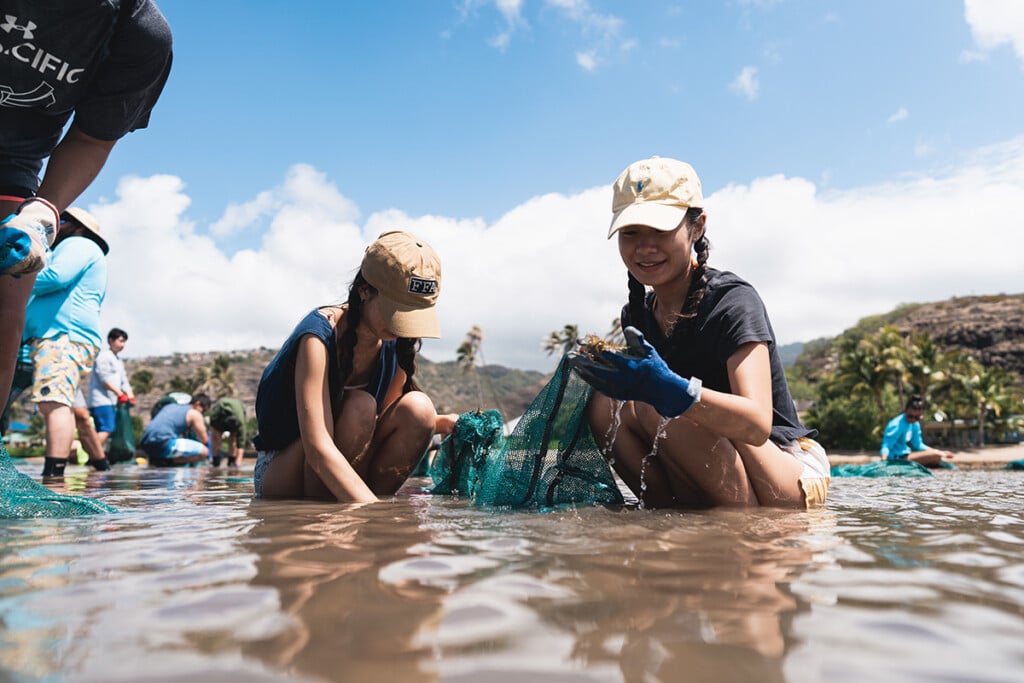 On a cool Saturday morning, 45 volunteers wearing water shoes and hats start a 10-minute trek from Kuli'ou'ou Beach Park to Paikō Beach on O'ahu, nets in hand. The group is on its way to the Paikō Restoration Area to pull out invasive algae with folks from Mālama Maunalua. The nonprofit stewardship organization is committed to restoring the once thriving marine ecosystem here. This huki (to pull) event occurs at least once a month during low tide.
Paikō Beach is just one section of Maunalua Bay, an area in East Honolulu that covers 6.5 square miles of ocean and nearshore reef, stretching from Kawaihoa (Koko Head Point) to Kūpikipiki'ō (Black Point). With rapid industrialization in Hawai'i during the 1950s, the bay's once crystal-clear blue waters had turned into a murky dark brown goop.
In ancient Hawai'i, Maunalua Bay was one of the largest fishponds in all of Polynesia and was also used for recreation. Alex Awo, director of Mālama Maunalua's habitat restoration program, grew up hearing stories from kūpuna (older adults) of a time when people could fish and harvest limu (seaweed) from the bay and take home a week's worth of food. Now, you'd be lucky to catch a few fish—and you definitely don't want to eat the algae, Awo tells the group as he holds up a sediment-covered pile of brown seaweed.
Today, three types of invasive algae are preventing the growth of native algae—gorilla ogo (seaweed), prickly seaweed and leather mudweed. Each distinct in color, shape and texture, these invasive species outcompete native seaweed for food, sunlight, water and space. In addition, the invasive species trap sediment and runoff from surrounding areas, polluting the water.
Since its founding in 2006, Mālama Maunalua has pulled 3.7 million pounds of invasive algae and restored 2.8 acres of the bay, significantly improving water quality. After each huki session, the approximately 800 pounds of algae pulled is taken to Otsuji Farm in Honolulu where it is used as soil fertilizer for locally grown crops.
But invasive algae grows back fast and committed volunteers are needed to continue the effort. Cue in regenerative tourism—a model that encourages visitors to engage with local causes. "Visitors who come and volunteer with agencies like Mālama Maunalua have a much better appreciation of the Islands," Awo says. "It's an opportunity to give back to communities, help our environment in a meaningful way, hopefully learn something new and have a lot of fun."
Regenerative tourism doesn't just benefit Hawai'i, though. "When you go back home, there's still native species wherever you're from that are trying to survive," says Doug Harper, Mālama Maunalua's executive director. "So you can take the lessons that you've learned here about malāma i ka 'āina (to take care of the land) and do the same for the environment where you're from."
Even if visitors don't participate in volunteer events while in Hawai'i, Awo stresses that when traveling around the Islands, visitors and residents should leave every place in the same, if not better, condition than before. "That includes things like cleaning up your trash so it doesn't end up in our waters, using reef-safe sunscreens that don't kill off our corals and being mindful of areas with thriving coral reef populations," Awo says. Stepping on coral or hitting the reef with a surfboard leaves a negative footprint, he adds.
The challenges that Maunalua Bay faces reflect Hawai'i's fragility while highlighting the positive impact of communal work. Volunteering with Mālama Maunalua is not just an opportunity to give back, it ensures a sustainable future for the Islands.
3 Tips to Mālama 'Āina
Mālama Maunalua is a non-profit organization committed to preserving O'ahu's marine ecosystem. Executive director Doug Harper shares his tips to mālama i ka 'āina (take care of the land) wherever you go.
Practice

pono

(goodness). Leave any area you go to in a better condition than when you found it.

2.

Storm runoff can be detrimental to marine life everywhere. Reduce runoff from your home by installing a rain barrel or turning downspouts onto the grass.

Take three for the sea. Pick up at least three pieces of rubbish around your neighborhood, in a park or on a hiking trail.
To learn more or find out how you can help, visit malamamaunalua.org.
This story was originally published in our 2022 Fall issue. Buy a copy here.