Waikīkī's First Hotel Celebrates its 120th Anniversary
The famed Moana Surfrider opened its doors today in 1901—and it's still as popular as ever.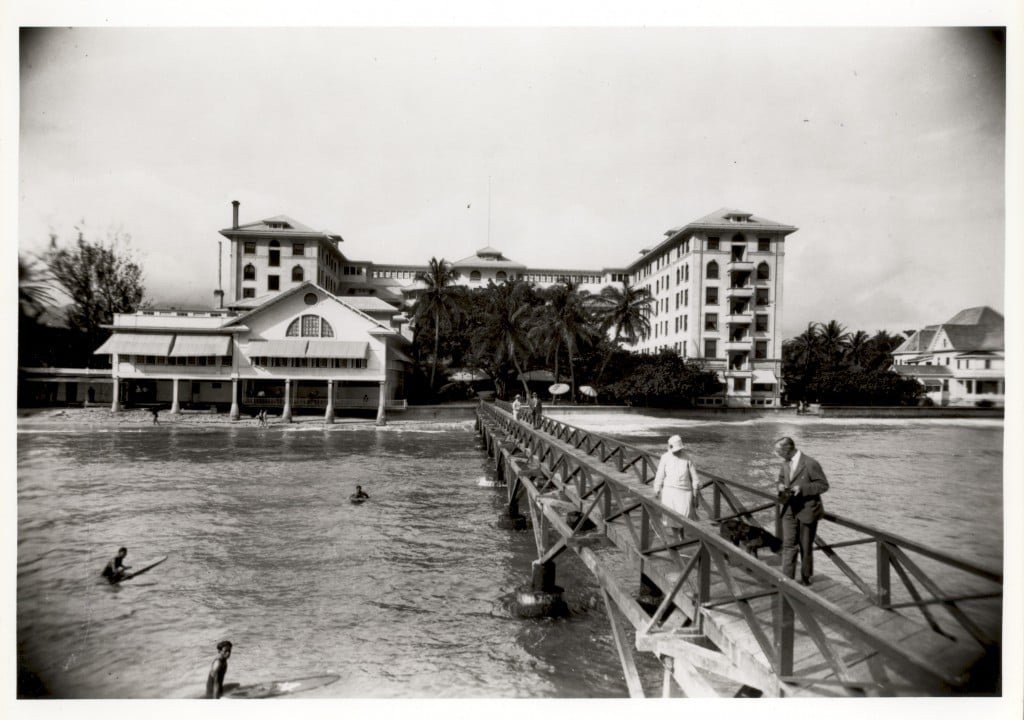 For years, on my birthday, I would book a room in the historic wing of the Moana Surfrider, A Westin Resort & Spa in Waikīkī.
It was my splurge—a quiet night in the original hotel built in 1901, decades before Hawaiʻi, then a U.S. territory, became a state. That year, then-President William McKinley was assassinated and replaced by Theodore Roosevelt; New York became the first state to require license plates on cars; and Booker T. Washington published his autobiography, "Up from Slavery." I felt like I was, for a night, part of history.
The historic hotel—originally the Moana Hotel—was built 120 years ago today, the first hotel in Waikīkī. Wealthy Honolulu landowner Walter Chamberlain Peacock started the Moana Hotel Co. in 1896 with the goal of creating a luxury hotel in a deserted—yes, deserted!—area of Waikīkī. Each of the hotel's 75 rooms had its own bathroom and telephone—luxuries at the time. It even boasted Hawaiʻi's first electric-powered elevator. The first guests at the hotel paid $1.50 a night.
It was (and still is) a true beachfront property, built on what was then called Waikīkī Road (now Kalākaua Avenue), with an electric trolley out front running parallel along the street. The opening of the hotel, designed by architect Oliver G. Traphagen, marked the start of tourism in Waikīkī.
In 1935 Webley Edwards launched a Hawaiian music radio show called "Hawaiʻi Calls," which would eventually be heard in 60 different countries. It was broadcast from the courtyard of the Moana and stayed on the air for 40 years.
Over the decades, ownership changed hands—it's now owned by Kyo-Ya Co. and run by Marriott—and the hotel expanded, adding two towers that feature spacious rooms, private balconies and sweeping ocean views. While more travelers today prefer these rooms, I stick to the cozy ones in the historic wing—still modern in its amenities and many with unobstructed views of my favorite surf spots on the island. There's something charming and romantic about this part of the hotel—now on the National Register of Historic Places—and I can imagine what the first well-heeled guests felt when they arrived here, walking through the grand porte cochere and up the curved staircase.
Today, the Moana is celebrating in grand style: the Royal Hawaiian Band's small ensemble will play in the courtyard from 11 a.m. to 1 p.m., with live entertainment continuing at the Beach Bar starting at 5 p.m. And, for the first time since the COVID-19 pandemic started last March, the popular Beachhouse at the Moana Restaurant will be open on Fridays and Saturdays, starting on March 12. It will be offering new three- and four-course menus ($95 and $115, respectively), with items like grilled shrimp cocktail with a mango sauce, Kona lobster chowder, and sweet pea risotto with tempura Hāmākua mushrooms.
For more information about the Moana Surfrider, visit here.