Watch the Otherworldly Video of a Woman Swimming with a Massive Great White Shark in Hawaii
Marine Biologist Ocean Ramsey's dive with the giant (and pregnant) shark is incredible.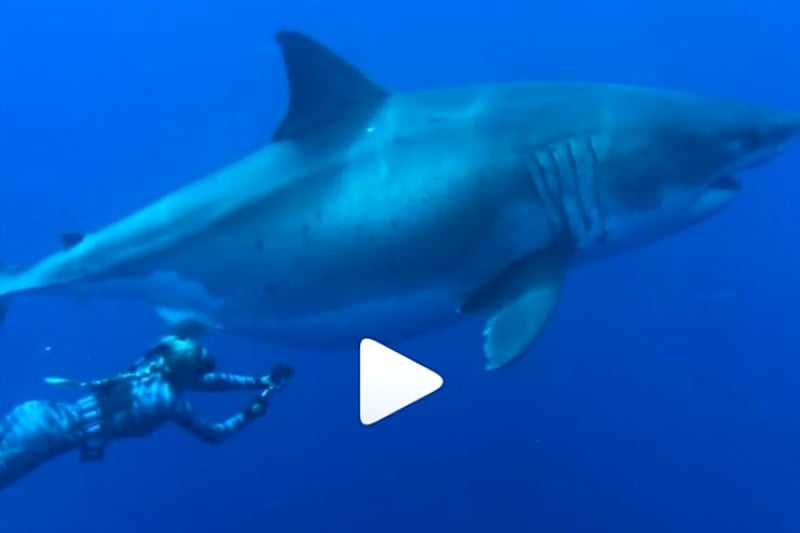 The video that went viral over the weekend for Hawaii wasn't beaches and palm trees, it was a swimmer's greatest fear—a huge great white shark. And beside it, close enough to touch, a slim woman clad in a full-body wetsuit who's dwarfed by the bulk of the shark, which is also clearly pregnant.
This particular video was filmed by fellow One Ocean Diving shark researcher Kayleigh Nicole Burns (mermaid_kayleigh), and there are a few more videos on marine biologist Ocean Ramsey's Instagram feed of her swimming with and even touching the behemoth female, who sails regally past and doesn't seem to mind.
On the video, Ramsey identifies the shark as "Deep Blue," an enormous female nearly 20 feet in length who is believed to be the largest of her species on record. She and many other sharks made big news last week when they arrived to feed off the carcass of a sperm whale floating in the water about a mile and a half off Oahu's shore.
As "mellow" as this matriarch of sharks may be, though, Ramsey warns people not to try this on their own.
"I highly discourage people from purposely jumping in the water with great white sharks or tiger sharks or any large shark like a bull shark or a Galapagos, even smaller sharks are capable predators who need and deserve respect, however they are not the mindless monsters they are portrayed as in the media, as you can see," she wrote on one of her Instagram videos. "In my experience this is the most mellow #whiteshark I have ever had the privilege and honor of meeting. I have been working with great whites for over 10 years and with sharks in general for over 15 years full-time. I work with sharks on a daily basis in a safety and research and conservation program."
[video:https://www.instagram.com/p/BsrXYawlieW/]