Watch This Trippy Hawaii Travelogue from 50 Years Ago
A visual blast from the past made by influential filmmakers of the era.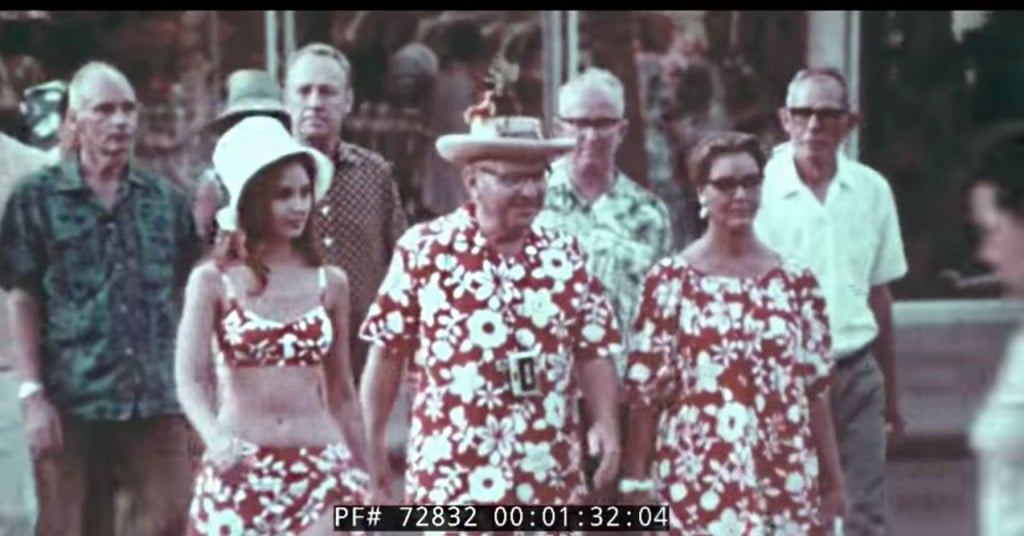 This absolutely feels like you're watching an episode of "Mad Men."
Or, rather, those "Mad Men" episodes where Don Draper and Sterling Cooper holoholo on over to Hawaii feel exactly like this travelogue.
In one of the most stylized travelogues you'll ever see, highlights include an appearance by Don Ho, a bike ride through pineapple fields, outrigger canoe surfing (check out those giant paddles), a flower power hand-holding finale, and, possibly, the trippiest little luau scene ever put to celluloid (it sort of reminded me of Harrison Ford's drug-induced hypnosis scene from "Indiana Jones and the Temple of Doom").
This piece of retro Honolulu is stated as having been "created in 1978 by United Airlines," though the era and exact year is disputed to have been filmed somewhere in the late'60s-early'70s. One commenter notes that the Douglas DC-8 aircraft featured still has the "Jet Mainliner" livery, a clue it predates designer Saul Bass's livery that was commissioned post-1973.
From a design perspective there is a lot to relish here: the fashion; the hair; mid-century typefaces and architecture; groovy soundtrack.
For film buffs, it has the geeky thrill of having been edited by the pre-fame powerhouse team Walter Murch and Hal Barwood, the former of which would go on to mix the sound for Francis Ford Coppola's "The Godfather II," the latter write the screenplay for Steven Spielberg's debut, "Sugarland Express. Iconic journalist Carl Bernstein produced it.
In other words, the video is basically what happens when you let burgeoning film school students at the cusp of the '70s film revolution make a travelogue.
The film is retained by Periscope Film, a licensing stock footage archive that specializes in WWI and WWII-era travel and the aviation industry, and shared it in its entirety via their Youtube below: