We Traveled to Kauaʻi with a Vaccine Passport and Here's What Happened
Right now Hawaiʻi's vaccine passport program is limited to those who got vaccinated in the Islands.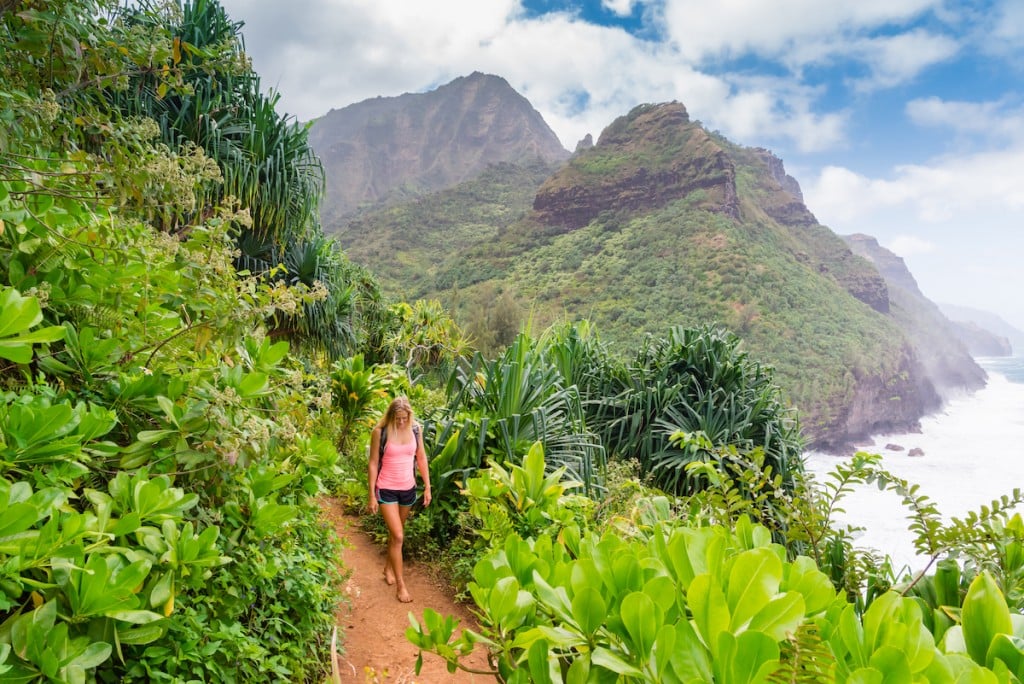 It was a strange feeling, to sit on a plane next to a stranger, so close our elbows almost touched.
I hadn't traveled anywhere outside Oʻahu in 14 months—my last trip Hawaiʻi Island right before COVID-19 forced the shutdown of the state—and here I was, wiping down the armrests with an alcohol wipe handed to me by a masked flight attendant and wondering how a trip to Kauaʻi was going to go.
I left on May 19, about a week after Hawaiʻi launched a new vaccine passport program, part of the current Safe Travels Hawaiʻi entry portal, which allows travelers that have been fully vaccinated in Hawaiʻi to travel interisland without the need to get tested or quarantine.
That means anyone with proof of vaccination in Hawaiʻi can travel between the Islands without the hassle of getting COVID-19 tested or spending 10 days in quarantine. Right now, this program is only available to those who have received their vaccines in Hawaiʻi. The state is planning to expand the program to trans-Pacific travelers—those who got vaccines outside the Islands—sometime this summer.
All counties in Hawai'i are participating in the vaccine pass program except Honolulu County (Oʻahu), which does not require interisland travelers take a COVID test or quarantine.
This is great news for the 47% of Hawaiʻi residents who are now fully vaccinated (as of May 21)—and the process isn't as complicated as it may seem.
I know. I just went through it.
Here's what you need to do:
Get vaccinated. (This program is only available to those who are vaccinated in Hawaiʻi right now, but there are plans to expand.) You can travel on the vaccine passport program 15 days after your final dose. For example, if you got your last dose on May 1, you are considered fully vaccinated on May 16 and can travel on this program from that date forward.
Scan your official CDC COVID-19 Vaccination Record Card—right now, issued on the State of Hawaiʻi—with all the proper information filled out. Save it as a JPEG or PDF.
Log onto the state's Safe Travels Hawaiʻi portal. (See below.) Click on "Trips" and fill out your flight information. You MUST have your flight and hotel/accommodation information ready, including flight number and address of where you will be staying.

Once you fill out the required information, upload the image of your vaccination card to the digital platform.
The day before your scheduled trip, you will need to log back into the portal to fill out the health questionnaire. After you do this, the portal will generate a QR code for you. (It will be delivered via email.) You need this.
On the day of your trip, have this QR code handy, as you will need this when you arrive at your destination (excluding Oʻahu). Some car rentals and hotels may require this, too. You also need to bring the original CDC Vaccination Record Card or VAMS printout with you when you travel. You will need to show this to airport and security personnel.
Hawaiʻi still has a mask mandate in place—likely until summer—so you will need to don proper face coverings in public and indoor spaces for now.
If you're traveling to Maui, you will also need to download the AlohaSafe Alert app in addition to other requirements. Visit here for details.
When I arrived at Līhuʻe Airport, I disembarked and got in line to show my ID, QR code and vaccination card to security staff. The process took just a few minutes—though it wasn't a full flight and the airport wasn't crowded.
Once I was cleared to go, I was given a small ticket with the letter "V" on it. I had to show this to security and airport staff as I exited the airport. That was it.
I did have to show the QR code from the Safe Travels Hawaiʻi site to the staff at the rental car company, but no one else asked for it. I put my vaccination card in a very safe place—I don't want to lose it!—and had a great stay on Kauaʻi.