West Hawaii Students Learn About Advocacy & Policy Change
The Hawaii Public Health Institute, or "HiPhi" aims to curb vaping and sugary drinks, and increase exercise, among high school students.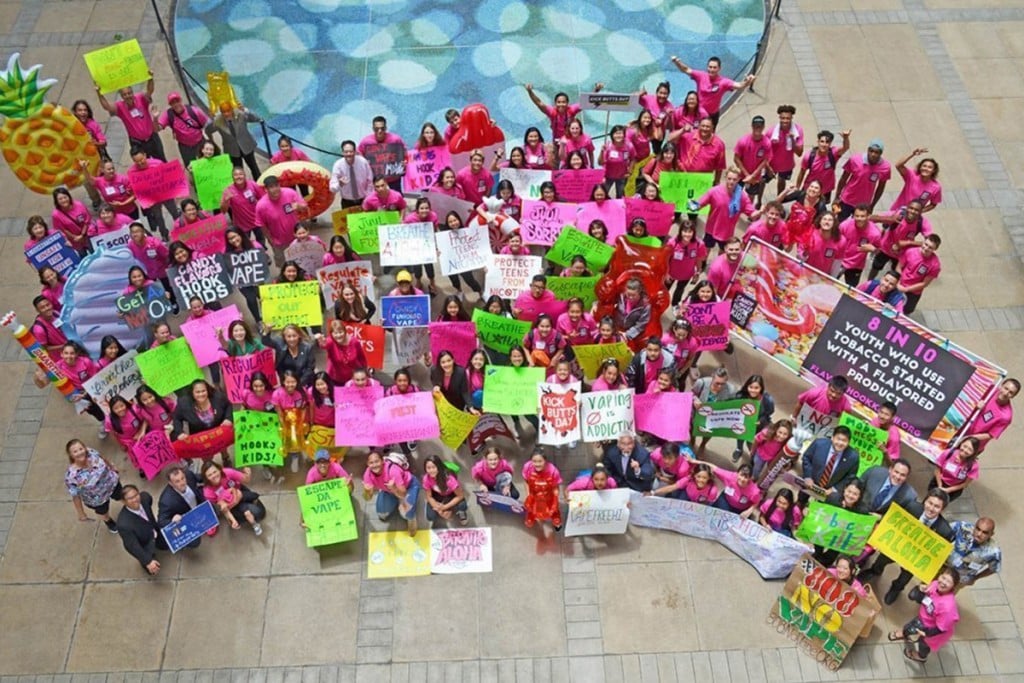 If the reward for work well done is the opportunity to do more, the Hawaii Public Health Institute is ready to do just that. The former Coalition for a Tobacco- Free Hawaii, which was remarkably successful in reducing tobacco use, is viewed across the nation as a model of smoking-cessation efforts. Now, the renamed "HiPhi" is aiming to curb vaping and sugary drinks, and increase exercise, among high school students in West Hawaii. And their secret weapon? The students themselves.
"We've created an effective counter-marketing campaign against those ads that promote vaping," says Jessica Yamauchi, HiPhi's Executive Director. "The basic strategy behind our '808 No Vape' campaign is students developing messaging to influence other students. All ads, videos etc. are created by young people in high schools across Hawaii. For example, the 'Breathe Aloha' murals encourage students to write personal affirmations – right on the mural!"
Yamauchi points out, although smoking rates have dropped among high school students, vaping rates in Hawaii are much higher than the national average and even higher on the Neighbor Islands – 34% in Hawaii County. Experimentation with vaping is nearly 50%. She worries about young people, with bright futures, who experiment with vaping and become addicted to nicotine. Will they switch to cigarettes? And what are the long-term health dangers of vaping?
To win the battle for students' health, HiPhi is committed to building partnerships, educating stakeholders, influencing policy and pursuing other time-honored tactics. Creating capacity in West Hawaii is a challenge, but a FLEX grant from the West Hawaii Fund of the Hawaii Community Foundation helps. "West Hawaii is enormous and diverse, with many communities, so the FLEX grant is extremely helpful for us to travel to these different places and provide equal access to all," says Yamauchi. "As a statewide nonprofit, we want to include everyone in events held on Oahu. These funds allow us to provide travel scholarships for projects and trainings that will bring out the leadership potential in Hawaii students."
Todays' students are tomorrow's leaders. Through its youth council, HiPhi is teaching younger members of the West Hawaii community how to advocate for policy change on health issues and how to get involved in the civic engagement process. "I know Hawaii is recognized for being healthy, but there are significant disparities," says Yamauchi. "Our goal is to eliminate disparities, so everybody has equal access, and we can make Hawaii the healthiest state in the nation."
DID YOU KNOW: Many of Hawaii's givers have found creative ways to focus their giving in their local communities. Over the past 3 years, more than $16M in grants have supported nonprofit organizations on Hawaii Island through funds at the Hawaii Community Foundation.