What to Expect from a Night Snorkel with Manta Rays in Kailua-Kona
Our tips to get the best experience possible.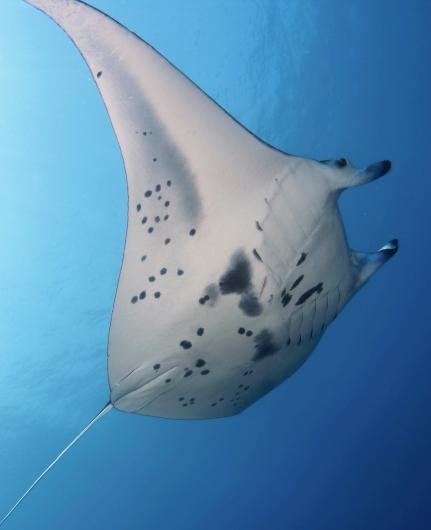 Last weekend, I checked something incredible off of my bucket list. I hovered mere inches above a 12-foot feeding manta ray in an otherwise pitch-black ocean at night.
It sounds crazy—and maybe it is—but these encounters, offered nightly by dozens of operators in the Kailua-Kona are very safe and very popular. An estimated 80,000 people suit up and slip into the sea after dark to spot the filter-feeding shark relatives doing their majestic underwater flips.
Should you be lucky enough to find yourself in Kailua-Kona, you won't want to miss the spectacle below the waves. Diving—for a from-below vantage available to certified divers only—and snorkeling options are available. Most opt for the snorkel option, which gives you a just-as-good view.
Here's what to expect from a typical manta snorkeling excursion:
1. Where to go
Several Kona-based snorkeling guides and dive outfitters such as Jack's Diving Locker, Sea Paradise, and the outfitter I went with, Hang Loose Boat Tours offer similar experiences aboard the different company boats. Not all operators run every night, so find one leaving on a day that suits your schedule, and book online or by calling the shops directly. All boats visit one of two manta congregating sites depending on ocean conditions and spotting reports from recent evenings.
2. When the fun begins and what's included
Most tours leave around 5 or 5:30 p.m. to take in the sunset (highly recommended) before unloading passengers into the inky sea, or well into the evening around 8 p.m. Some, like Hang Loose Boat Tours, have complementary snack service enroute to the manta site and post snorkel. All operators provide snorkeling gear, safety equipment, such as a life preserver (which also helps you hover above the mantas), and wet suits or fins. Several have started incorporating glow lights to easily spot all snorkelers in the ocean. A typical manta snorkel costs between $80-$110 and lasts between two and a half to three and a half hours.
3. What happens?
After arriving at the snorkel site and waiting for nightfall, it's time to suit up and head to the sea. Kona's water temperatures usually hovers between 78 and 81 degrees Fahrenheit even at night, so the water is warm. Once in the water, you'll swim toward a light board that attracts the manta rays by attracting their food source. You'll be asked to hover on the surface, legs flat out behind you so as not to touch the manta rays.  From the edges of darkness, mantas will glide in and under the light board before doing vertical flips in the water column going from bottom to top. This is how they feed and you can see right into their gaping mouths as they get closer to you. Don't worry! They only eat microscopic plankton.
While you hover there be sure to look at the patterns on their bodies. Each one is unique, like a finger print, and the Manta Pacific Research Center keeps a log of all the ones that have been spotted in the area. Popular easily identifiable mantas include Big Bertha (a 40+ year old manta with a wing span of 16 feet), Lefty (missing part of the left fin used to scoop plankton into his mouth) and Koie Ray. If you spot a manta with a pattern that's not in their database, Manta Pacific Research Center will look to you to name the new manta!
The manta rays have a protective coating on their bodies that can be rubbed off by errant fins or hands, and that compromise their immune system, so look but don't touch. The show lasts between 30 minutes to an hour, and groups have reported seeing as many as a dozen manta rays in that time period.
Trust me, it's a magical experience and worth every penny.