What Travelers Need To Know About the Coronavirus—UPDATED
With the first confirmed case of COVID-19 in Hawaiʻi on March 8, we answer your questions about the fast-spreading respiratory disease.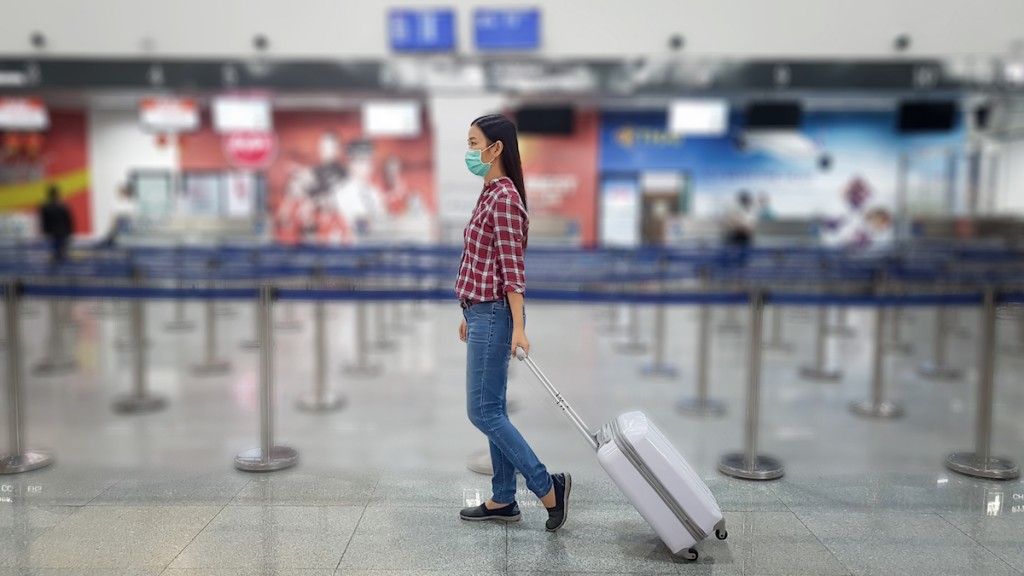 UPDATED: March 17, 2020
On March 8, Hawaiʻi had confirmed its first case of COVID-19, a respiratory disease first detected in China that has spread to almost 70 locations internationally.
That week, event organizers started canceling or postponing events, from the 26th annual Honolulu Festival, which draws thousands of people, to the Los Angeles Clippers, who have played in Hawaiʻi the last three years and decided not to return this year. Since then, there have been cancelations every day, from the Merrie Monarch Festival in Hilo to the temporary closure of ʻIolani Palace in Honolulu. The city also shut down Hanauma Bay—the only beach in the state that's closed right now—and restaurants are shifting to takeout and delivery service.
SEE ALSO: What's Canceled, What's Not in Hawaiʻi Right Now (updated daily)
So what should travelers be concerned about?
We try to answer some of your more pressing questions about traveling to Hawaiʻi right now.
How widespread is the coronavirus?
According to data compiled by Johns Hopkins, there have been nearly 200,000 confirmed cases of COVID-19 worldwide. In the United States, there are more than 5,800, with confirmed cases in all 50 states. In the U.S., more than 100 have died (as of today). There have been no deaths linked to the disease in Hawaiʻi. Millions of people around the world are on lockdown and 37 states, including Hawaiʻi, have closed their public schools. And the U.S. government has advised the public to avoid crowds with more than 10 people. That has led to massive cancelations of events, festivals and concerts around the state.
Is it safe to travel to Hawaiʻi?
The Islands are not listed by the Centers for Disease Control and Prevention as places to avoid. That would be China, Iran, Italy, South Korea, Ireland, the United Kingdom and most of Europe. The CDC also discourages any cruise ship travel.
Currently, there are no direct flights between Wuhan, China and Hawaiʻi. China Eastern Airlines suspended its flights between Shanghai and Daniel K. Inouye International Airport on Feb. 3. It was the only Chinese carrier with direct flights to Hawaiʻi. There are no regularly scheduled flights from mainland China to Hawaiʻi right now.
Hawaiian Airlines today announced it would adjust flight frequencies between Hawaiʻi and Tokyo's Haneda Airport at the end of March due to slowing travel demand attributed to the COVID-19 virus. The airlines also stopped flying to Australia and New Zealand and suspended its thrice-weekly nonstop service between Honolulu and Sapporo from April 2 through July 18. Hawaiian, which has served Sapporo since 2012.
About Hawaiʻi's only confirmed case, Dr. Sarah Kemble, the state Department of Health's deputy state epidemiologist said during a press conference today that the person "fell ill while here in the islands, contacted their doctor, got tested and assessed appropriately, and was able to go home and is doing fine at home. We know the person did not have any contact with anyone once he got home so that's good news for us."
Older adults and those with chronic medical conditions should consult a healthcare provider before traveling.
Are airlines offering travel waivers?
Travel waivers allow passengers to change to alternate flights without paying a change fee. According to a list provided by the Hawaiʻi Tourism Authority, the following airlines offer travel waivers for new flight bookings if purchased within the listed dates. (Contact individual airlines for details.)
Air Canada: March 4-31, 2020
Air New Zealand: March 5-31, 2020
Alaska Airlines: Feb. 27-March 31, 2020
American Airlines: March 5-31, 2020
Delta Air Lines: March 1-31, 2020
Hawaiian Airlines: March 1-16, 2020
JetBlue: Feb. 27-March 11, 2020
United Airlines: March 3-31, 2020
WestJet: March 3-17, 2020
Even if you bought tickets outside these windows, you should ask anyway.
Can you cancel a trip you've booked because you're afraid of the coronavirus?
Possible. It depends on whether you purchased a refundable ticket or have "Cancel For Any Reason" travel insurance. CFAR policies typically need to be purchased within a couple of weeks from the time you booked the trip and they often cover about 75% of your costs.
Some credit card companies have automatic travel insurance for trips bought by their cardholders.
Can't you catch the virus on the plane since you're breathing recycled air?
According to the CDC, most viruses and other germs do not spread easily on airplanes because of how air circulates and is filtered on board. Although the risk of infection on an airplane is low, travelers should try to avoid contact with sick passengers and wash their hands often with soap and water for at least 20 seconds or use hand sanitizer that contains 60% to 95% alcohol. The virus is thought to spread mainly from person to person, particularly between people who are within 6 feet of each other or through respiratory droplets produced when an infected person coughs or sneezes.
Are airplanes and other forms of public transportation clean?
Some airlines are getting more serious about cleaning. American Airlines announced it started conducting a "more thorough cleaning of all hard surfaces" and has removed self-serve snack baskets on some international flights. Alaska Airlines says it has been "enhancing" aircraft cleaning between flights since March.
In Honolulu, the city put out a press release today, saying that while its crews routinely clean all public transit vehicles it's taking proactive steps to increase cleaning of frequently touched areas onboard TheBus and TheHandi-Van. Those areas include seats, grab bars, and door entrances and exits. "We have stepped up the cleaning of touch surfaces in our vehicles and request that all riders assist by staying home if they are sick, washing their hands frequently, and covering their cough or sneeze, especially when riding TheBus and TheHandi-Van," said Roger Morton, Oʻahu Transit Services president. "By working together, we can keep our public transportation system, as well as our community, as safe as possible."
You're already in Hawaiʻi. What can you do?
Here are the best ways to avoid the respiratory illness:
Wash your hands often with soap and water for at least 20 seconds.
Avoid touching your eyes, nose, and mouth with unwashed hands.
Avoid close contact with people who are sick.
Stay home when you are sick.
Cover your cough or sneeze with a tissue, then throw the tissue in the trash.
Clean and disinfect frequently touched objects and surfaces using a regular household cleaning spray or wipe.
If you develop a fever and symptoms of respiratory illness, such as cough or difficulty breathing, or have been in close contact with anyone known to have COVID-19, contact a healthcare professional immediately and follow these tips from the CDC.
Sign up for notifications here.