What Waikīkī is Like Right Now
The usually-bustling neighborhood on the island's south shore is quieter—and packed with locals.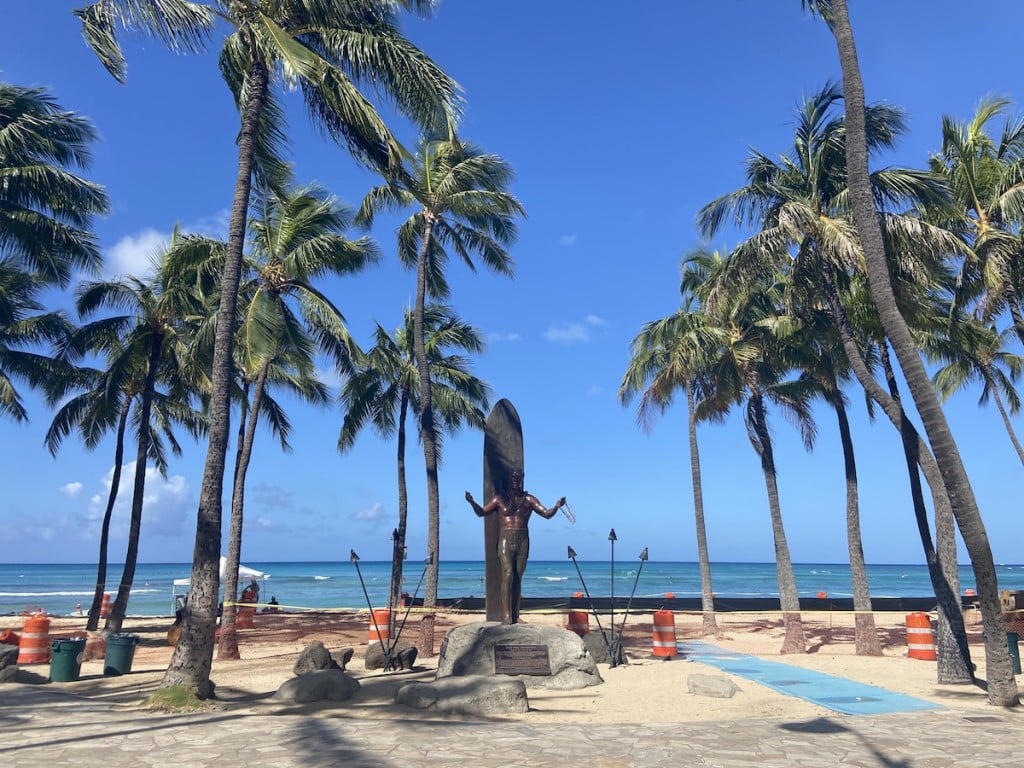 This is the first of three blogs about how Oʻahu neighborhoods have changed since the spread of COVID-19. Read what Kailua looks like here and Haleʻiwa here.
Growing up on Oʻahu, there were only three reasons I ventured into Waikīkī: to go to a wedding or prom, to surf, or to celebrate a special occasion at a fancy hotel restaurant.
As I got older, though—and acquired a driver's license and car—I found plenty of reasons to "cruise Waiks," as we locals would say. Surfing aside, I enjoy walking along Kalākaua Avenue to discover shops and eateries unique to the area or listening to live Hawaiian music at restaurants like House Without a Key or Duke's Waikīkī against the backdrop of a setting sun. I just love the energy of the place: the perfect waves, the perpetual sunshine. And everyone here seems like they're on vacation. (And they probably are!)
But since the spread of COVID-19 forced a statewide shutdown in March, trans-Pacific travelers have been required to self-quarantine for 14 days once they arrive in the Islands. (This changes slightly on Aug. 1 when travelers who test negative for COVID-19 can bypass the mandated quarantine.) Most hotels, restaurants and visitors attractions here and around the state temporarily closed during this time. Hawaiʻi went from welcoming about 35,000 people a day last year—including residents and visitors—to nil.
But, as the state slowly reopens, there has been an uptick in travelers to the Islands. On Saturday (the most current numbers available by press time), 2,296 people arrived in Hawaiʻi, according to the Hawaiʻi Tourism Authority, 600 of which identified themselves as tourists.
So what does Oʻahu look like these days?
Our team visited three of the most popular visitors destinations on the island—Waikīkī, Kailua and Haleʻiwa—to tell you how these neighborhoods have been affected by COVID-19 and the lack of visitors to Hawaiʻi.
What's Changed
It's apparent that tourism is down. The streets of Waikīkī are far less crowded now than it was pre-COVID. Many hotels are still closed, but lots of restaurants and shops have reopened. But expect some changes: Face masks are required, social distancing is encouraged and public seating in places like the International Market Place and Royal Hawaiian Center are closed.
Major attractions like the Honolulu Zoo and Waikīkī Aquarium have reopened but with changes to hours and safety protocols. You can only walk through the zoo following a one-way path and some enclosed exhibits limit the number of people inside. The playground, bird sanctuary and petting zoo are closed. The aquarium accepts only advanced online booking and the number of people inside are limited.
Diamond Head State Monument is still closed.
Beaches, though, reopened in May, and both the sand and ocean are packed with locals who have returned to—or rediscovered—Waikīkī. Weekends bring the biggest crowds, but people flock to the beach or surf breaks all day long.
Our Recommendations
Many restaurants are open—mostly for take-out and delivery—and aren't crowded. So if you ever wanted to try the famed acai bowl from Island Vintage Coffee or kouign amann from Kona Coffee Purveyors, this is the time.
On Sundays through July, Kalakāua Avenue is closed to vehicular traffic from 6 a.m. to noon. Kalākaua Open Street Sundays lure bicyclists, joggers and walkers to enjoy Waikīkī.
SEE ALSO: Explore Waikīkī Without Traffic—or Cars—on Open Street Sundays
Where to Park
The Royal Hawaiian Center (2201 Kalākaua Ave.) offers free 3-hour parking with any purchase.
Spend $10 at any shop at the International Market Place (2330 Kalākaua Ave.) and get three free hours of parking.
Buy anything at Waikīkī Beach Walk (201 Beach Walk) and get free 3-hour valet parking.
There's affordable parking at the Honolulu Zoo (151 Kapahulu Ave.) and meters around Kapiʻolani Park.