Where to camp on Kauai this summer
Camping on Kauai is the most affordable way to land yourself an ocean view room.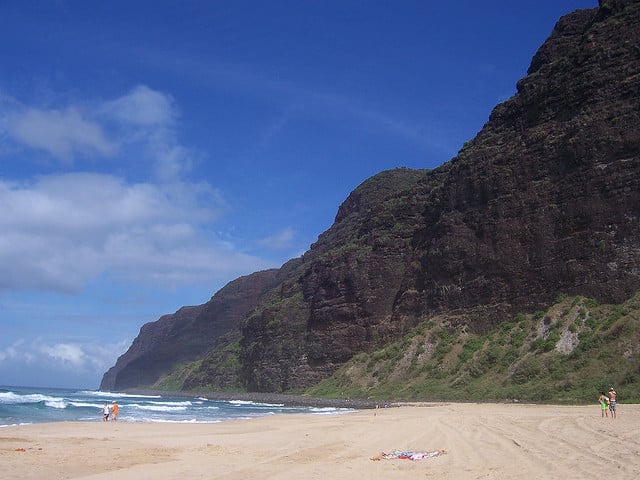 Kauai's Mount Waialeale, widely considered one of the wettest spots on earth, averages 394 inches of rain per year. And it's thanks to that amazing amount of precipitation that the island is abundant with lush, jungle-like scenery.
During the summer season, however, the Garden Isle's notoriously rainy skies clear up, morphing some of its typically wetter zones into drizzle-free playgrounds. Of course, there's no guarantee that the weather gods won't rain on your summertime parade. But this is for certain: If you're looking to incorporate a camping trip into your Kauai vacation, your best bet for a soggy-free experience is to plan it between May and October.
Camping on Kauai is the most affordable way to land yourself an ocean view room. All you have to do is decide which view in particular you'd like to reserve.
Anini Beach Park
At this Kauai County campground, snorkeling and some of the safest swimming on Kauai can be had right outside your tent door. Hawaii's longest stretch of coral reef guards this 2-mile north shore coastline from the open ocean, creating lake-like waters that are flush with tropical reef fish and honu (green sea turtles). Anini is a particularly well-suited campsite for families with young children. Pavilions, picnic tables, restrooms and cold showers are located onsite.
Hanalei Beach Park
Pitch a tent at the intersection of Hanalei River and Hanalei Bay, the island's famous half-moon shaped shoreline, which is guarded by gorgeous green mountains. The views here are incomparably beautiful. And the ocean and river waters are ideal for all sorts of activities, including surfing, swimming, stand-up paddling, kayaking, sailing and fishing. End your days with a stroll on Hanalei Pier, where you'll have a front-row seat to watch the sun set into the surf. Restrooms, cold showers and picnic tables are located onsite and the shops and restaurants at Hanalei town are less than a mile away.
Polihale State Park
Hot, dry and isolated, it's located at the end of an unpaved, pothole-laden road. It's a long, bumpy haul, and many rental car companies prohibit use of their vehicles on this park access way. But the backdrop of high sea cliffs, colorful sunsets and deep, white sands that skirt the seashore make this beachfront camping destination well worth the trip, if you can finagle it. Polihale is the place you go when you want to get away from it all. Far removed from town centers and commercial lights, there's no better beach for stargazing. The waters here, however, can be rough with strong currents, so be sure to monitor the conditions before jumping in. A reef-protected area called Queen's Pond on the southern end of the beach offers the safest swimming conditions. Restrooms, picnic tables and cold showers are available. Read our story, "Polihale or bust" for more.
Kokee State Park
If you prefer mountains to beaches, the numerous campgrounds at Kokee State Park are for you. Complete with panoramic ocean, valley and waterfall views, Kokee offers wildland camping from a 4,000 feet elevation, as well as pig hunting, seasonal plum picking and trout fishing. Kokee is a hiker's paradise with dozens of diverse trails to choose from. This is also an excellent area to observe native plants, forest birds and insects, some of which are found nowhere else in the world. At the park, there are some food concessions, a museum and gift shop, picnic pavilions, water fountains, restrooms and cabin lodging are available.
How to get your permit
Now that you've picked your desired camp spot, the next thing to know is that you're going to need a permit. For the six county camping sites — Haena, Hanalei, Anini, Anahola, Salt Pond and Lucy Wright beach parks — permit fees are $3 per adult per night for nonresidents and free for Hawaii residents. Children 17 years of age and younger are also free and must camp with at least one adult 18 years of age or older. Kauai County camping permits are not available at the camp sites. They can be acquired at the Lihue, Kapaa, Kilauea, Kalaheo and Hanapepe neighborhood centers during limited hours listed at Kauai.gov/camping. Completed camping applications are also accepted by mail at the Department of Parks and Recreation.
There are also 10 state parks on Kauai, most of which are located near or within Kokee State Park. The two outliers are Polihale State Park, located at the end of a long dirt road on the island's extreme west end, and Napali Coast State Wilderness Park, most of which is only accessible by foot or kayak. Permit fees are $12 per campsite per night for up to 6 persons for Hawaii residents and $18 per campsite per night for up to 6 persons for nonresidents. Campsites or cabins located at Kauai state parks may be reserved up to one year in advance. For Kauai Forest Reserves, all sites are maximum 90 days advance purchase.