Where to Watch Humpback Whales from Shore Across Hawaii
Here's how, where and what to bring if you're hoping to spot these massive mammals.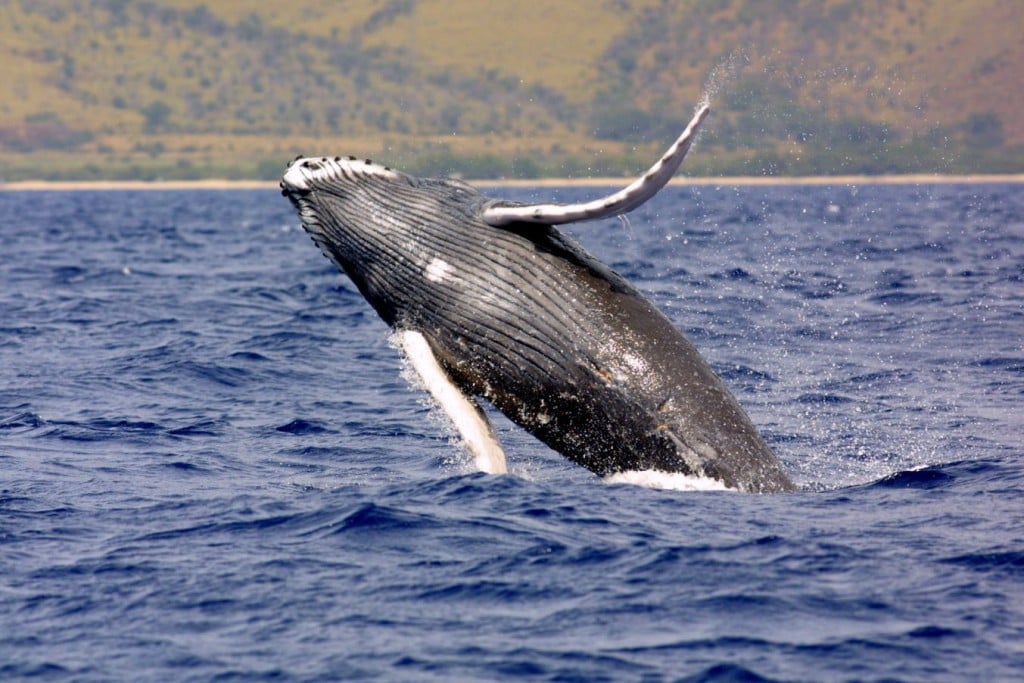 Hawaii is a favorite wintering spot for na kohola (humpback whales) and has one of the largest seasonal populations of North Pacific humpbacks in the world. It's also the only U.S. state where humpback whales mate, calve and nurse their young. Whale season in Hawaii lasts from November to May, with the peak of the season between January and March.
Here's how, where and what to bring if you're hoping to spot these massive mammals.
What to bring:
Be sure to check the daily weather report. Clear skies are best if you're trying to spot the whales from shore.
Binoculars or spotting scope: It's easier to spot a whale with your naked eyes, and then zero in on them with binoculars or a spotting scope mounted on a tripod for a better view. Keep in mind that using binoculars on a boat may induce seasickness.
Camera: Take a zoom lens—the further the better.
Hat/Sunblock: Be sure to protect your skin and eyes from the sun, even on a cloudy day. Polarized sunglasses are best for whale watching. If you're going out on a boat, a light jacket is recommended.
Food and water: If you're planning to be out whale watching for extended periods of time, don't forget to bring bottled water and snacks. Just be sure to pick up after yourself to keep the wildlife safe.
What to look for:
Spouting or "blows": The most common giveaway of a whale's presence is an explosive exhale through its blowhole as it rises to the surface. Adults will blow every 10 to 15 minutes, and calves every 3 to 5 minutes.
Pec slaps: The slapping of a whale's fin against the water's surface.
Breaching: You can't miss this one. Breaching refers to a whale launching itself out of the water, and falling back with a massive splash and is a common sight from shore.
Where to spot whales from shore:
Oahu
Makapuu Point: The lookout is just off Kalanianaole Highway after Waimanalo (approaching from the north) and Sandy Beach (approaching from the south).
The Makapuu Lighthouse Trail, at the easternmost part of Oahu, offers an amazing view of the Windward Side and the island of Molokai in the distance. The channel below is a popular route for humpback whales migrating back to their feeding grounds in Alaska. The state park provides telescopes, which come in handy for spotting whales catching a breath.
Halona Blowhole: From town, travel east on Kalanianaole Highway toward Hanauma Bay. Halona Blowhole is the second lookout area past Hanauma Bay. If you're coming from Kailua, travel south on Kalanianaole Highway through Waimanalo past Sea Life Park and Makapuu Point. Turn off into the paved parking lot just past Sandy Beach.
Renowned for the naturally shaped lava tube that shoots water straight up into the air, sometimes 30 feet high, the blowhole is also a great place to spot whales.
Maui
Puu Olai: Turn off Makena Road into Makena State Park's "Big Beach," where the trailhead to the summit is located.
Maui is known for having the highest concentration of humpback whales, especially off its south and west shores. A 15-minute climb up this 360-foot volcanic cinder cone will take you to the perfect elevation to see pods of whales traveling past.
Hawaiian Islands Humpback Whale National Marine Sanctuary Visitor Center: 726 S. Kihei Rd. From the Kahului Airport:  Take Highway 380 W, turn left on Puunene which turns into Highway 311, then turn left on S. Kihei Rd.  From Lahaina:  Take Highway 30 to Maalaea, turn right on Highway 31 N. Kihei Rd., then turn right on S. Kihei Rd.
Be sure to visit the education center and take advantage of the viewing scopes set up on site. The Sanctuary office at this location serves as the base of operations for the annual whale Sanctuary Ocean Count project and also hosts volunteer training, workshops and meetings.
Hawaii Island
Lapakahi State Historical Beach Park: HI-270, Waimea. Turn off Akoni Pule Highway between Kawaihae and Hawi.
Perched on lava-rock terrain at a 100-foot elevation, the Lapakahi State Historical Park is a restored 14th-century Hawaiian fishing village. On the northwest side of the park is an elevated bluff where you can catch amazing sunsets and humpback whales basking in the warm water of the protected marine reserve. Bring an umbrella or cover if you go during the morning or midday.
Puukohola Heiau National Historic Site: 62-3601 Kawaihae Rd, Waimea.
Puukohola means "whale hill" in Hawaiian, and there's a good reason for that. This excellent vantage point has sweeping and elevated views of the ocean and is located next to Spencer Beach park, where there is parking, plenty of picnic tables and a campground.
Kauai
Kilauea Lighthouse: 3500 Kilauea Rd, Kilauea. Turn off Kuhio Highway onto Kilauea Road; proceed to end of the Kilauea Road.
Kauai's historic north shore lighthouse has been a beacon for mariners since 1913. It is now part of the Kilauea Point National Wildlife Refuge. Spot humpback whales spouting, breeching and slapping a half-mile offshore from the lighthouse. The elevated peninsula also offers a spectacular view of Mokuaeae Island, a bird preserve and haven for Hawaiian monk seals.

Molokai
Hale O Lono Harbor: From Maunaloa town, head south beyond paved road onto dirt road. Head left at the fork in the road and drive until you get to the harbor.
Located on the southwest end of Molokai, down a dirt road heading south from Maunaloa Town, you will find a man-made harbor with sweeping views out to sea. Nearby is a white-sand beach that's great for snorkeling, fishing and whale watching.

Get involved:
Participate in the annual Sanctuary Ocean Count project and help document and tally humpback whales from the shores of Oahu, Hawaii Island and Kauai. This year, the count will be held at an estimated 60 sites with over 2,000 volunteers, on Saturday, January 28, Saturday, February 25 and Saturday, March 25 from 8 a.m. to 12:15 p.m.  Although you must RSVP in advance, no training is required for Oahu and Hawaii Island, but a free training session is required on Kauai.
For more information, call (808) 725-5923 or email oceancount@noaa.gov.