Why flying out of Hana was the best $35 I spent
You'll see a helicopter tour's view while also escaping that long drive back.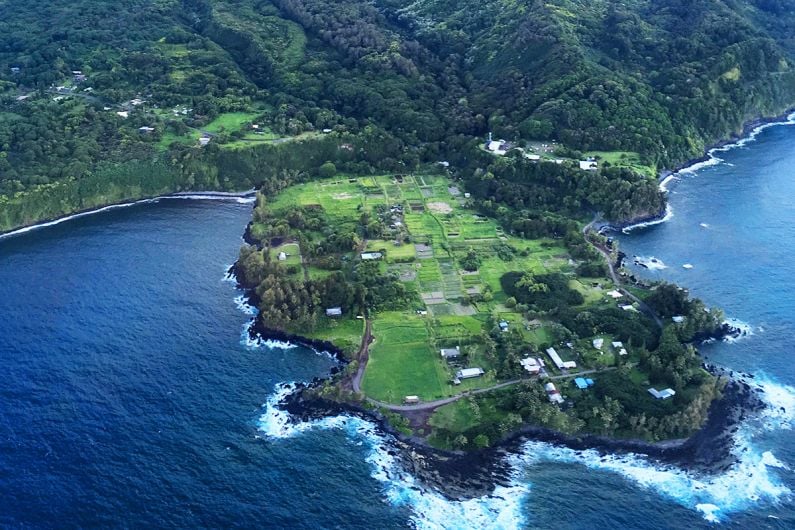 At least once in your lifetime, take the Road to Hana. The waterfalls, those valleys, a stunning black-sand beach, a jaw-dropping red-sand beach, banana bread stands every other mile and the charming small town of Hana itself, are well worth the few minutes of wooziness you feel after a day's worth of turns—620 of them, each way. But on my second visit, I decided to try something different.
After driving to Hana and staying a few days, I left my Enterprise rental car there and caught a flight to Kahului Airport. The airport in Hana is small—one building, one airstrip, and, when I arrived, one plane, a nine-passenger Cessna Grand Caravan. The only carrier operating out of Hana is Mokulele Airlines, and I was excited, but also nervous, to fly in my first small plane. What ended up happening was beyond anything I expected.
Check-in was a breeze, since our deputy editor and I were the only people at the airport. Then we were whisked away to board the plane. There was no one else to wait for; we were the only passengers. We picked any seat on board, then took off.
Once we were in the air and could see the Road to Hana below, I felt relieved to not have to drive those exhausting miles. The low-altitude flying experience, with detailed views of waterfalls and valleys and coastline, was unbelievably exciting considering we had only spent about $35 for each of our tickets.
We saw more waterfalls than I'd ever imagined, including some you can't see from the road. To top it all off, I saw my first full-circle rainbow, which appeared to be encircling our plane. Because we were allowed to use our cellphones, I captured everything on camera. You can check out the footage below.
What would have taken us a few hours took us, instead, 30 minutes. From now on, flying will always be part of my Hana itinerary for at least one leg of the journey.
Enterprise is the only rental car agency in Hana. You can reach them by calling the Travaasa Hana hotel at (808) 248-8211. Airline prices vary.