Why Hawaii's Beaches are Disappearing at an Alarming Rate
Due to rising sea levels, 70% of Kauai, Oahu and Maui beaches are chronically eroding.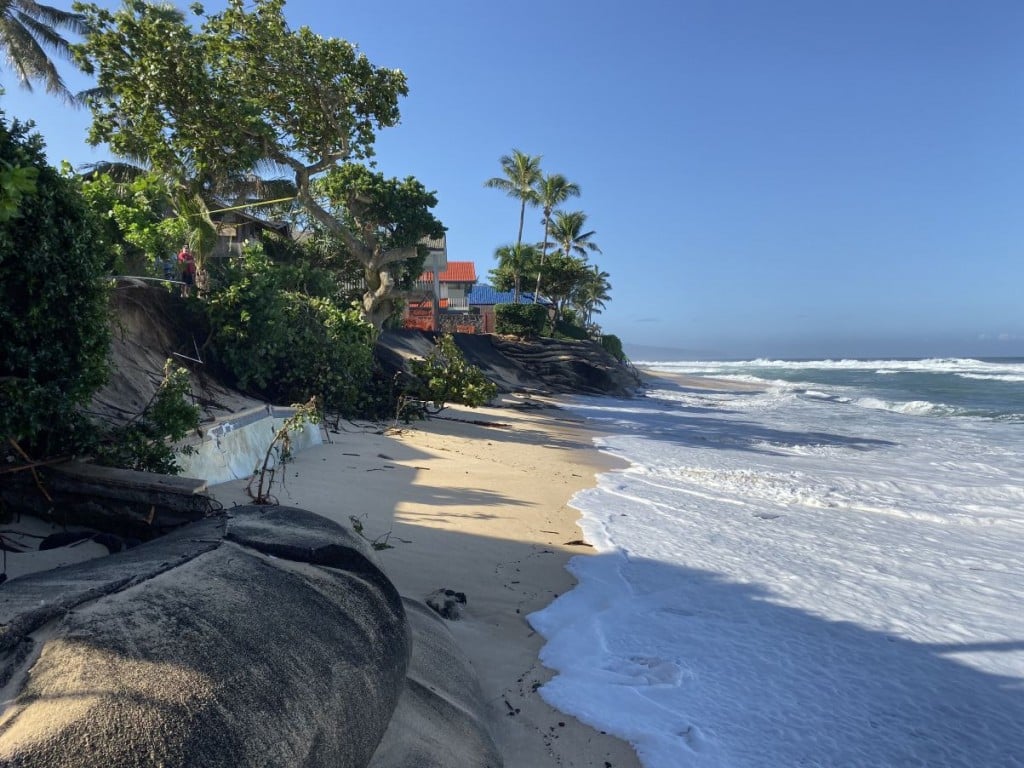 Standing on the new edge of his property along Sunset Beach, Ryce Reeves watches the ocean eat away at his shrinking yard, one wave at a time. He's called this plot of land on Oahu's North Shore home for over 40 years, but now Reeves is uncertain how much longer his house will survive. This area has seen some of its worst coastal erosion in the past decade, and the problem has now reached a new level of crisis. Houses from Sunset Beach to Mokuleia are falling into the ocean, and the remains of fences, treehouses and porches can be found on the beach after every major swell, like the one expected to hit north-facing shores this week.
"I probably had 30 or 40 feet [of beach] in front of my tree," says Reeves, "and in the last eight years, big swells have come in and taken most of my yard."
That same tree is now perilously close to falling down a 15-foot sand cliff. Without a definitive long-term solution, coastal residents like Reeves are doing what they can to save their homes.
"I think everybody on the beach, they're not asking for the world; we're just saying. 'Hey, can we protect our property?'" Reeves says.
The short-term solution currently allowed by the state calls for the use of are black synthetic tarps filled with sand and stacked on top of one another. Referred to as "sand burritos" by residents, only owners whose houses are in "imminent danger" may acquire permits to use this temporary erosion control measure. To qualify, a home must be within 20 feet of the shoreline. Building seawalls—another proposed solution—would only harden the shoreline and beaches would likely disappear anyway. The situation is heading to a critical point where current measures—"burritos"—won't be feasible or useful anymore.
Sam Lemmo, administrator for the state's Office of Conservation and Coastal Lands, says he has spent more than 20 years dealing with coastal erosion and has studied how the sand moves on the North Shore. Seawalls, he says, are not the solution.
"Much of the North Shore area where the houses are built are called storm berms. Sand built up there years ago to create these high berms and now the ocean is trying to take the sand from those berms back," Lemmo says. "The problem now is that we've built houses on top of these storm berms. … In the event a seawall was built to protect these properties, the beach itself would go extinct, as the shoreline would be unable to replenish its stock of sand."
So what can the state do? Outside of issuing permits for sand burritos, not much.
"We're basically just trying to manage erosion events while keeping an eye on making sure that we're not doing anything that is damaging the beach," says Lemmo. "I don't want to see homes tumbling down onto the beaches; that creates a whole set of problems that we are not prepared to deal with. Who's going to clean up the debris? How are we going to clean it up?"
And the issue isn't just isolated to the North Shore of Oahu. According to Charles "Chip" Fletcher, vice chair of the Honolulu Climate Change Commission, 70% of the beaches on Kauai, Maui and Oahu are chronically eroding.
"This is a statewide problem, this is a national problem, this is a global problem," says Fletcher, a professor at the University of Hawaii at Manoa and an expert on the state's shrinking coastlines. He attributes many of the problems Hawaii is facing to climate change and the subsequent rise of sea levels around the globe.
"Unfortunately we developed the shoreline 30 to 50 years ago with the assumption that it would be quasi-stable," he says. "We developed a policy called the setback policy, which is a distance back from the edge of the beach where there's a no-build zone. And that's 40 feet on [Oahu]. But the assumptions that we still operate from are false. They don't apply anymore because now we know that sea level is rising."
Fletcher says residents only have one option when faced with sea level rise: Move landward—not the best news for beachfront residents like Reeves.
The grim reality is that there is no long-term solution that will solve every problem. It comes down to the choice between saving beaches or saving homes.
"I would like everything to be perfect, but I'm old enough to know that it won't be," Reeves says. "At some point, I am willing to walk away from this and start all over again."
The ultimate goal, though—preserving Hawaii's beaches—is shared by everyone. They're too important economically, culturally and emotionally to lose.
"Where did you first come to understand clouds and sunshine and wind and waves and the sounds of nature? It was at the beach," Fletcher says. "It's where most of our children first learn to swim. It's a huge part of what it's like to live in Hawaii. We have an obligation to make sure that our children and grandchildren have those beaches. It's for them."