Why You Should Stop for Lunch at Hawaii Island's Volcano Garden Arts and Café Ono
Dine on healthy, hearty vegetarian fare and explore an eclectic art gallery and garden at this hidden gem, owned by artist Ira Ono.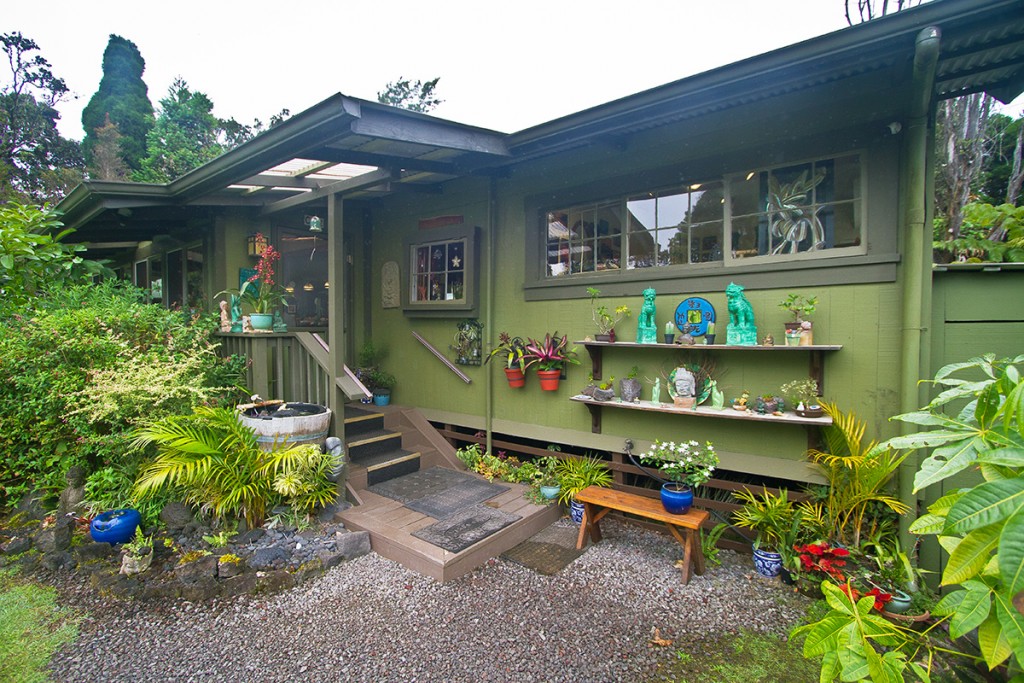 Nestled in an old Hawaiian garden estate surrounded by rainforest, nearly at the end of the town of Volcano on Hawaii Island, Café Ono is home to the best vegetarian lasagna we've ever had.
It may be one of the best places to stop for lunch before exploring Hawaii Volcanoes National Park, but the excellent vegetarian-friendly café tucked away in the trees is not all you'll find at the magical Volcano Garden Arts and Café complex.
The 2.5-acre grounds include a fascinating art gallery/shop featuring the work of owner and New York native Ira Ono, a well-respected artist in the community and beyond. His background in the visual and performing arts is showcased in the form of ceramic sculptures, clay masks and mixed media for sale, displayed in exquisitely designed themed rooms and little alcoves alongside art, accessories, jewelry and crafts for sale by several other local artists.
Café Ono's limited seasonal menu is exclusively vegetarian—but there's nothing lacking about it. Fresh ingredients and no small amount of culinary talent go into dishes like the mushroom miso goddess soup, the hearty and flavorful vegetarian lasagna and other regularly changing specials, garnished with colorful edible flowers and fresh herbs grown on the property.
At the café, you can pick up some locally made pastries for dessert and on-the-go snacks to munch on while exploring Hawaii Volcanoes National Park.
Step outside the café and meander down charming little garden paths lined with sculpted treasures collected by the owner (his collection of Buddha statues and artwork from around the world is impressive) and made by more than 80 local artisans.
Or you can order your food and eat beneath one of the artsy tented outdoor eating spaces designed to inspire your creative juices as much as your gastronomic ones.
Once part of the 1908 Hopper Estate, Volcano Garden Arts is a World Heritage Site just a mile from Hawaii Volcanoes National Park. The farmhouse and gallery that houses the café and art gallery was originally built from imported California redwood, hauled by ship, rail and horse-drawn wagon to the site at the turn of the century. In addition to the main structure, there is a rentable bed-and-breakfast one-bedroom cottage that includes a queen bed, complimentary breakfast, free Wi-Fi and private hot tub.
Next time you're on the Big Island, drop by this enchanted little sanctuary in the rainforest and explore what it has to offer.
Café Ono: Tuesday to Sunday, 11 a.m. to 3 p.m.; Volcano Garden Arts gallery: 10 a.m. to 4 p.m. daily. 19-3834 Old Volcano Road, Volcano, (808) 985-8979, volcanogardenarts.com. To reserve the cottage, visit volcanoartistcottage.com or call (808) 985-8979.