Winners announced for the 2019 aio Media Hawaii Lodging & Tourism Awards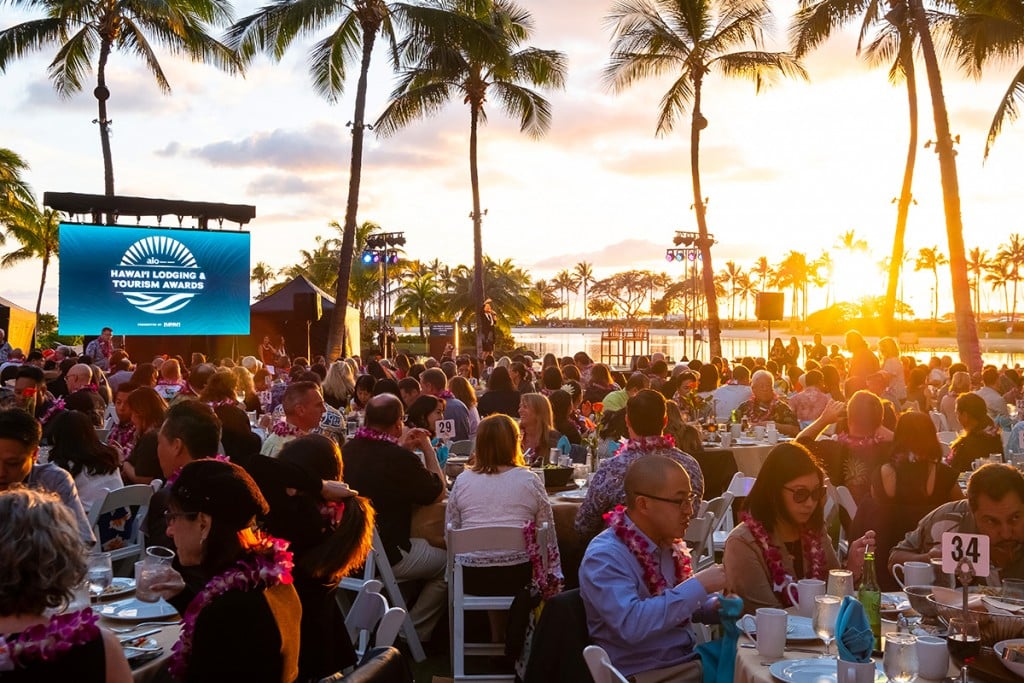 On March 1, 2019, the Hawaii Lodging & Tourism Association (HLTA), in partnership with aio Media (HAWAII Magazine, HONOLULU magazine and Hawaii Business), honored some of the Hawaii tourism industry's top achievers at a gala at the Hilton Hawaiian Village in Waikiki. Honorees were nominated across 17 categories, including hospitality, food, activities, events and individual contributions.
"The future of Hawaii's economy depends on the continued collaborations between local businesses and the lasting relationships we build with each other," said Susan Eichor, president of aio Media. "We are delighted to stand with HLTA in recognizing the very best Hawaii lodging and tourism companies that exemplify the spirit of aloha for both locals and visitors alike."
"Under a single spotlight, the aio Media Hawaii Lodging and Tourism Awards bring together Kalakaua Avenue and Bishop Street, the diverse Hawaiian Islands, and our many business interests—all to celebrate the visitor industry and its invaluable contributions to our progress. We are all in this together, and these awards showcase the best of the industry; its innovators and leaders, and what gives Hawaii its enduring appeal," said Mufi Hannemann, president and CEO of the Hawaii Lodging and Tourism Association.
A new addition to the program in 2019 was the Tourism Legacy Award, given to the individual who, during the course of his or her lifetime, has made a significant contribution to Hawaii's number-one industry. The recipient of this award was Dr. Chuck Yim Gee, dean emeritus of the University of Hawaii at Manoa's School of Travel Industry Management.
Nominations were submitted by the public in October 2018, and three (3) to five (5) finalists in each category were selected by a blue-ribbon committee.
The winners are listed below.
Tourism Legacy Award
To recognize an individual or organization that has made a significant contribution to Hawaii's tourism industry.
Dr. Chuck Yim Gee, Dean Emeritus of the University of Hawaii at Manoa's School of Travel Industry Management.
Dr. Gee, TIM School's longest-serving dean (1976–1999), has been awarded many accolades, including induction into the Pacific Asia Travel Association Gallery of Legends, the Award of Excellence for Tourism Education from the National Tourism Administration of the People's Republic of China, Travel Industry Association of America's Hall of Leaders Award, State of Hawaii Manager of the Year, and Taiwan Lifetime Achievement Award, just to name a few.
When the U.S. National Tourism Administration was established in 1982, he served three consecutive terms under the Carter, Reagan, and Bush administrations. He co-authored the World Trade Organization's Declaration of the Universal Right to Travel and the Declaration of Malè on Sustainable Tourism and the Environment. He has been an honorary professor at Nankai University, the Beijing International Studies University, Huaqiao University, and Shanghai Normal University.
While Dr. Gee was providing global leadership, his contributions to Hawaii never ceased. He served as chair of the State Tourism Policy Council, Tourism Education Council, Mayor's Committee on the Revitalization of Waikiki, and Mayor's Asia Pacific Environmental Summit, was the founding chairman of the Governor's Tourism Training Council and helped the State of Hawaii host the PATA annual meeting at the Hilton Hawaiian Village. This former member of the University of Hawaii's Board of Regents has published more than 30 journal articles and ten books, including the third edition of World of Resorts: From Development to Management.
Leadership in the Industry – Contribution to Tourism by an Individual
Individuals of any age who have made a significant and long-term contribution to Hawaii's tourism.
Cha Thompson
Cha marks her 50th year with Tihati Productions, the company she started with her husband Papaliitele Thompson. She was inducted in the Hawaii Business Hall of Fame in 1982 and Tihati was the first Polynesian show to perform at the White House in 2008. Her company has traveled the world, representing Hawaiian and Polynesian authenticity.
Leadership in the Industry – Cultural Advisor
Open to all individuals who provide consultation or advice to keep the essence of Hawaiian culture appropriate and constant in tourism.
Vicky Holt Takamine
A kumu hula, Vicky is well respected throughout the Hawaiian community for her cultural expertise and advocacy work on behalf of Hawaiians, their cultural traditions, and the protection and preservation of the cultural and natural resources of Hawaii. She has received numerous awards for her dedication and artistic practice including the 2017 Kukui O Lota Award and 2016 Doris Duke US Artist Fellow, and is now helping lead an effort to bring the Festival of Pacific Arts and Culture, known as the Olympics of Pacific culture, to the Hawaiian Islands for the first time in 2020.
Leadership in the Industry – Young Achiever
Open to all up-and-coming leaders under 40 with a strong connection to tourism.
Keri Brown
As the Director of Revenue Management for the Waikiki Beachcomber by Outrigger, Keri has dedicated her hospitality career to the field of revenue management, a department she firmly believes to be the future of the industry. She is co-chair of HYPE, HLTA's Hospitality Young Professionals and Entrepreneurs.
Leadership in the Industry – Outstanding Individual in Music & Entertainment
An individual who has made a strong commitment to tourism through music and entertainment.
Raiatea Helm
Raiatea is recognized as one of Hawaii's premier female vocalists and a keeper of the Hawaiian falsetto tradition of the early to mid-20th century.  Accompanying herself on ukulele, with a 2- to 3-piece band that includes guitar, slide steel, and bass, Raiatea captures the attention of audiences throughout her native islands and around the world, interpreting traditional Hawaiian song with the mastery and control of a jazz vocalist.
Agritourism– Agriculture Tourism Destination
Any agriculturally based operation or activity that brings visitors to a farm or ranch.
Kona Coffee Cultural Festival
The Kona Coffee Cultural Festival is celebrated each November for 10 days with events that enrich  and ensure that the story of Kona coffee's cultural heritage continues to be shared with residents and visitors alike.  Kona coffee's world-renowned reputation, along with the unique cultural treasures behind nearly 200 years of Kona coffee history, tells the story of coffee traditions that produced this American legacy.
Agritourism – Farmers Market
A market that features everything from produce to prepared foods and even arts and crafts. These events bring residents and visitors together to enjoy the fruits of many hours of hard labor.
Kapiolani Community College Farmers Market
The KCC Farmers' Market just celebrated its 15th Year Anniversary. In September of 2003, the market started with just seventeen vendors and has grown to an amazing 70. People from down the street to across the globe flock to this amazing destination every Saturday morning to gather their weekly produce, hot prepared foods and of course, delicious sweet treats.
Best Tourism Events – Agriculture Event Using Locally Grown Products
Open to all agricultural events and festivals that cater to visitors and residents, while showcasing local products.
Hawaii Food & Wine Festival
As a nonprofit that has given more than $2.1 million to organizations that support sustainability, culinary education and agriculture, the Hawaii Food & Wine Festival is about community. It raises up the entire state by enhancing its profile as a singular culinary destination and cultivates future talent in the kitchen and in the fields.
Best Tourism Events – Heritage and Cultural Event
These events and festivals highlight the unique culture of the islands.
Kauai Chocolate & Coffee Festival
Two of the best things in life are celebrated and sampled at the Kauai Chocolate & Coffee Festival. This annual event showcases Hawaii's cacao and coffee industries and the talents of local farmers, roasters, manufacturers, chefs and chocolatiers while bringing economic prosperity to Kauai's Historic Hanapepe Town.
Attractions/Activities – Achievement in Sustainability
Recognizes a company that is maximizing social and economic benefits to Hawaii's communities and businesses while respecting, nourishing, preserving and enhancing Hawaii's natural, cultural and human assets.
Andaz Maui at Wailea Resort
Since its conception, Andaz Maui has proven its commitment to environmental responsibility. During construction, the property reused 93 percent of the structural walls, floors and roof; and what it didn't recycle, it replaced with healthier low-emission materials, from flooring to paint. Andaz Maui doesn't just recycle on property; it recycled the actual property.
Attractions/Activities – Activity or Adventure Company
By land, sea or air, these companies provide our visitors with some of the most exciting ways to experience Hawaii at its best.
Kualoa Ranch
Kualoa Ranch Private Nature Reserve is dedicated to preserving the natural beauty of its three amazing ahupuaa for future generations of kamaaina and visitors to experience. Whether through agriculture, aquaculture, livestock or adventure activities, Kualoa strives to support preservation, sustainability and community in all that it does.
Attractions/Activities – Major Tour & Transport Operators
Roberts Hawaii
With more than 1,800 employees, Roberts Hawaii is the state's largest employee-owned tour and transportation company. Founded in 1941, Roberts provides top-notch transportation services and a wide variety of sightseeing tours, entertainment and excursions in a safe, customer-focused manner.
Excellence in Food and Beverage – Casual Dining
Side Street Inn
Since opening its first location in 1992 in the heart of Honolulu, Side Street Inn has garnered a multitude of awards and accolades for its inviting atmosphere and award-winning "gourmet comfort food." In 2010, a second location opened just outside of Waikiki in Kapahulu. Today, both locations remain true local bars, each with steady regulars, a frequent mix of our island's talented chefs, coaches and famous faces. They are gathering places for everyone to enjoy tasty beverages and our island's best local cuisine, viewing their favorite sports game or celebrating a special occasion.
Excellence in Food and Beverage – Fine Dining
Morton's the Steakhouse
What began in Chicago in 1978 is now one of the most award-winning steakhouses around. For over 40 years, Morton's The Steakhouse has been on a mission to provide "The Best Steak… Anywhere." Focusing on quality, consistency and genuine hospitality, Morton's seeks to provide not only memorable cuisine, but a memorable experience at its location at the Ala Moana Center.
Best Hotels/Accommodations – Boutique Hotel
Hotels with fewer than 200 rooms but which may be upscale in design and often combine historic details with chic elegance.
The ISO
The ISO stands for Island, Sky and Ocean, and serves as Kauai's exciting new oceanfront boutique hotel. Created especially for today's active traveler who enjoys life to the fullest, adventure, romance and discovery await the guests of this chic new gem sitting on the edge of Kauai's gorgeous Coconut Coast.
Best Hotels/Accommodations – Small Hotel
Fewer than 399 rooms.
Four Seasons Resort Oahu at Ko Olina
An oasis of luxury on Oahu's leeward coast, the Four Seasons Resort Oahu balances a classic Hawaiian style with one-of-a-kind luxury. Edged to the north by the pristine beauty of Lanikuhonua and to the south by Ko Olina's four lovely beach coves, Oahu's first Four Seasons is recognized by Travel & Leisure as one of the world's top resorts.
Best Hotels/Accommodations – Large Hotel
More than 400 rooms.
Outrigger Waikiki Beach Hotel
Built on the site of the original Outrigger Canoe Club, the legendary Outrigger Waikiki Beach Resort represents the essence of Hawaii's nostalgic beach culture. It's home to iconic Duke's Waikiki, Hula Grille and Blue Note Hawaii, plus it offers guests a treasure trove of ocean activities from surf lessons to Standup Paddleboard yoga.
Best Hotels/Accommodations – Luxury Accommodations
These hotels and resorts have a four or five—diamond or star—rating by AAA or Forbes Travel Guide.
Aulani, a Disney Resort & Spa
Walt Disney Imagineers worked hand in hand with local artisans and cultural experts to create the Aulani, A Disney Resort & Spa on 21 oceanfront acres in Ko Olina on Oahu. Inspired by the natural wonders and rich traditions of Hawaii, Aulani Resort is the ultimate family getaway—celebrating the beauty, history and welcoming spirit of the island.
---
About the aio Media Hawaii Lodging & Tourism Awards
Aio Media and the Hawaii Lodging & Tourism Association believe that Hawaii, as a destination, is more than just sand, surf and sunshine. Hawaii is a destination for the world's best professionals in the visitor and hospitality industry. That is why aio Media and the Hawaii Lodging & Tourism Association have formed a partnership to honor the visitor industry's top achievers. The annual awards program recognizes and celebrates the expertise and aloha of both individuals and businesses who are doing excellent work and keeping Hawaii a premier global destination.